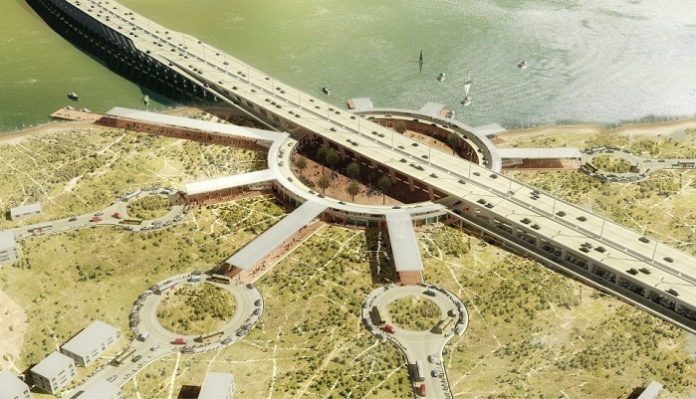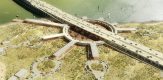 The Lagos State Government has signed a Memorandum of Understanding (MoU) for the construction of a 38km 4th mainland bridge in Nigeria. For the first time in history the State Government is embarking on the construction of a long-span bridge and expressway without the Federal funding given that the project is solely funded by the private sector.
The bridge is expected to fulfill Nigeria's 14 years waited dream come to reality and gear the state's economy growth. The bridge project will be executed by the Public Private Partnership (PPP) initiative at a cost of US$4241.8m. The project will be delivered within a period of 3years.
Governor Akinwunmi Ambode revealed the state's bridge construction plans during the MoU signing ceremony held at the Banquet Hall, Lagos House, Ikeja. Governor Ambode also stressed on the need for the bridge has become imperative following the phenomenal growth of the state with a population of over 21 million people who have instead increased the commercial activities and traffic gridlock.
The state's economic situation has led to the construction of the bridge which is expected to serve as an alternative route to the Eastern axis and at the same time decongesting heavy traffic in the State.
According to Governor Ambode, the bridge is expected to offer the required transportation compliment to the rapidly growing industrial activities on the Eti-Osa – Lekki – Epe corridor of the State. He added that, the proposed alignment of the Bridge will pass through Lekki, Langbasa and Baiyeiku towns along the shoreline of the Lagos Lagoon estuaries. The bridge will as well run through the Igbogbo River Basin, passing through the Lagos Lagoon estuaries to Itamaga Area in Ikorodu.
The alignment will also cross through the Itoikin road and the Ikorodu – Sagamu Road connecting the Isawo inward Lagos Ibadan Expressway at Ojodu Berger axis. The Bridge will be made up of eight interchanges that will facilitate the effective interconnectivity between different parts of the State.
The bridge will be a four lane dual carriageway. Each carriageway will be made up of three lanes and two metres hard shoulder on each side. The bridge will be constructed such that a generous median will allow future carriageway expansion and light rail facility.
However, the project will be delivered on a Win-Win framework for all investors. Governor Ambode ha also reassured Lagos residents that his administration will remain committed transforming the State to a world class transportation system as a vital component, which according to him is a key requirement for the sustenance of economic growth in the State.