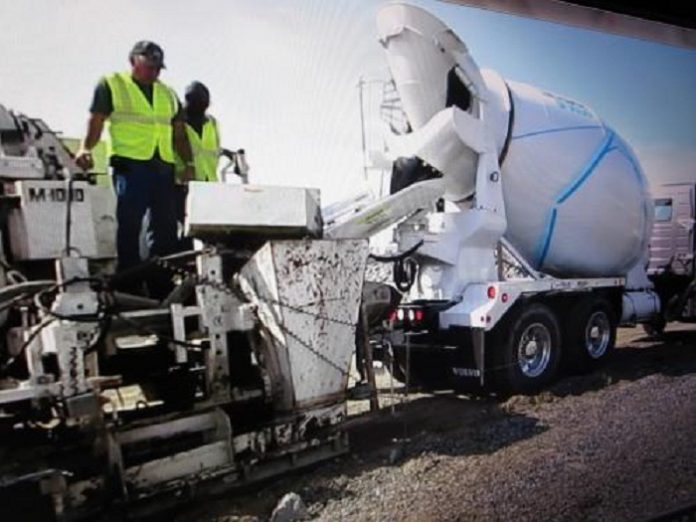 Low-low ratios soon to be available with the I-Shift HD automated manual transmission will make Volvo mixer and dump trucks more able to support concrete and asphalt paving and other jobs requiring very slow movement, the company's executives said during a demonstration at the North American headquarters of Volvo Construction Equipment in Shippensburg, Pa.
"Extreme startability" and low-rev cruising at highway speeds are other advantages of I-Shift with Crawler Gears, as it's formally designated, shown to customers and trade press reporters June 27-28. One or two added ratios to the builder's 12-speed I-Shift allows easy starting under heavy loads and on steep grades, said Wade Long, director of product marketing, one of the executives present at the event.
With the "C-1" gear, a Volvo VHD with the 14-speed version of I-Shift crawled at 0.6 mph, compared to about 2 mph for a truck with a 12-speed gearbox. Its C-2 ratio is a step toward the transmission's normal 1st gear. All can be selected by using switches on an I-Shift's T-handle selector, but sometimes its electronic controls will choose lower ratios when it senses heavy loads or steep grades.
"This lets us go after more vocational applications than we formerly could," Long said. Extreme startability also allows use in tractors pulling extra-heavy combination vehicles, as the transmission will be approved for gross combination weights of up to 220,000 pounds, with prior application approval by Volvo engineers.
I-Shift with Crawler Gears goes into production in October, and will be available in two versions:
• 14 forward gears, including one low crawler (19.38 ratio) and one ultra-low crawler (32.04 ratio) with an overall ratio of 41.08
• 13 forward gears, including one low crawler (17.54 ratio) with an overall ratio of 22.35
Thanks to overdrive top gears, a Volvo truck "can go down the highway at 1,330 rpm at 70 mph" depending on rear axle ratio and tire and wheel size, said Magnus Koeck, vice president, marketing and brand management. This saves fuel, speeds trip times and boosts productivity.
Heavy duty versions of the I-Shift, whether in 14-, 13- or 12-speed configurations, have gears and other hardware that have been hardened to withstand frequent shifting in rugged operating environments.
The transmission received additional updates to improve shift performance and overall durability, including improved split synchronizer components, an updated engaging sleeve and main box parts fashioned from reinforced material, Volvo executives said.
A revised countershaft design helps enable faster shifting between gears, while new software enhancements – Volvo's I-See predictive cruise control feature – can help improve fuel efficiency by learning and adapting to the road.
Although I-Shift penetration in highway applications reached 83% in May, only about 25% of construction-truck customers chose automated transmissions, Koeck said. The crawler-gear options are expected to increase that percentage.