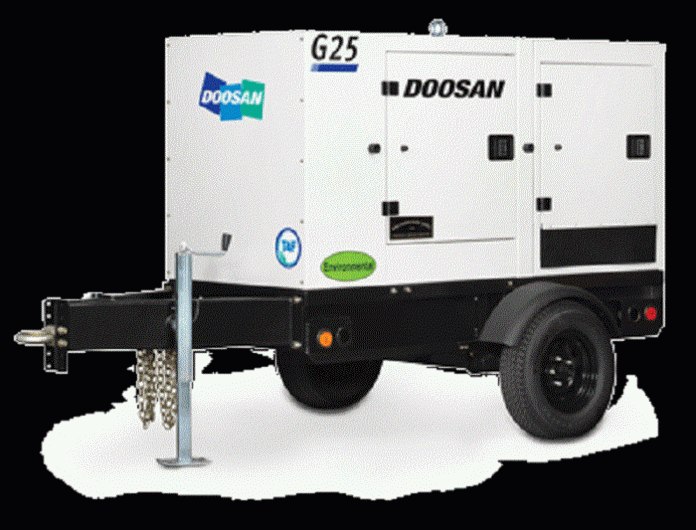 Alrode-based equipment manufacturer Doosan is targeting its newly launched diesel generators at industrial applications in Africa, primarily for prime power applications requiring 24/7 operation.
The Doosan G-series range of diesel generators – featuring 30 models – provides electrical power generation for medium to high industrial demand, ranging from 58 kVA produced by the smallest generator in the G-series – the Doosan G60 – to 847 kVA produced by the largest generator in the G-series – the G850.
The G-series range is manufactured in Malaysia and designed specifically for use in Middle Eastern and African conditions. Prior to being launched in South Africa, the G-series has been selling in the Middle East for about three years, with the first unit being sold locally in June.
Doosan South Africa states that various quotations, orders and tenders for diesel generators are currently being fulfilled within South Africa.
Regarding after-sales support and servicing, Doosan notes that all its engines are Doosan products, thereby ensuring quick servicing and sourcing of parts from either local Doosan stockholdings or from overseas Doosan warehouses. The company adds that, although it has a large domestic stockholding of key parts, those not available in South Africa are timeously air-freighted from overseas, limiting generator downtime for local clients.
A key feature on all G-series generators is the incorporation of a digital controller from Deep Sea Electronics, which allows easier monitoring of generator performance and which can be set up to be monitored remotely using a cellular application.
Other than using any of the G-series generators for prime power applications, the range can also be used for standby power applications. In this setup, the generator's start-up and operational procedures are fully automated in the event of a power failure, and feature start-up and cool down procedures to prolong engine life and enhance reliability.
Further, specifically for standby applications, the generators can be fitted with oil and coolant heaters to ensure lubricating oil and cooling liquids are warmer than the ambient temperature, thereby accelerating the warm-up procedure and resulting in accelerated time between starting and being put under full load.