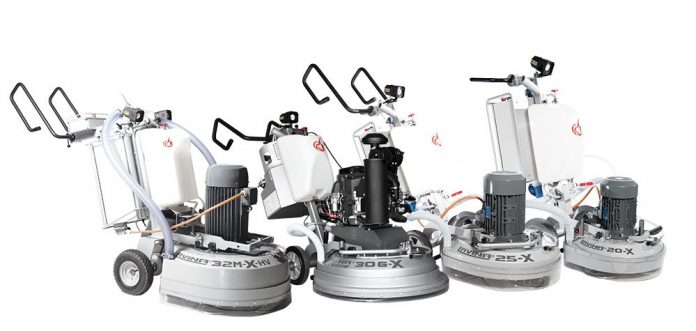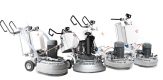 LAVINA® floor grinding and polishing machines, manufactured by Superabrasive, have provided contractors with superior performance for over 10 years, and the latest LAVINA® X series is the most efficient, versatile and easy to use LAVINA® line ever.
New features include: chain-driven forced planetary drive (25" and up), updated heads design, metered water flow for more efficient wet grinding, improved handle locking technology for better stability, and a maintenance access window on the machine base for a quick and easy belt maintenance (25" and up).
Superabrasive's most popular grinder, the 30-inch propane L30G-X, offers some of the highest productivity rates and literally zero time to set up on the jobsite, with no electrical wiring needed. It features a low-profile base for reaching under cabinets and shelving, three large 13.5" heads, and now a FX600V Kawasaki engine.
The LAVINA® line also offers two Self-Propelled grinders in 25" and 32" models (not remote-controlled!). L32M-X-HV is ideal for big commercial jobs, and features a large 32-inch foot print, with six 9-inch heads, a powerful 25 hp motor, and up to 1000lbs grinding pressure.
The self-propelled drive guarantees a constant grinding speed and consistent scratch pattern. This minimizes the operator's fatigue as well as the risk of mistakes going too fast or too slow, and improves productivity.