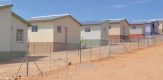 Namibia's Urban and rural development minister Sophia Shaningwa appealed to people getting houses through the mass housing programme not to default on their payments.
She said this when she handed over 284 houses to beneficiaries recently at Eenhana. The houses are part of the mass housing programme, and were constructed by the National Housing Enterprise (NHE). "It's a joyous moment for anyone to own a house and to have the security of having a place to call home, and I believe this is the feeling you have on this day. As you rejoice, however, I wish to implore you to look after these houses and ensure cleanliness at all times. I also urge you to pay your mortgage fees promptly, and to avoid arrears," she stated, adding that prompt payments will help the NHE to build houses for other people who are also in dire need of them.
The politician also noted that government believes in value for money, and will not tolerate poor workmanship. "In this connection, I am calling on the NHE and contractors to ensure that the houses they are building are of good quality, as well as to ensure that financial resources that have been provided or paid to them are utilised effectively in order to achieve the desired outcomes." Shaningwa further said that her ministry is committed to spearheading and coordinating the implementation of housing development initiatives in the country. "In this regard, we will continue to support agencies such as the NHE, community-based housing organisations such as the Shack Dwellers Federation of Namibia, and the private sector, who share the vision and resolve of the government to provide good quality and affordable houses for our people," she stated. Police officers, Namibia Defence Force members, prison service members, teachers and many others were amongst the beneficiaries at Tuesday's handover.