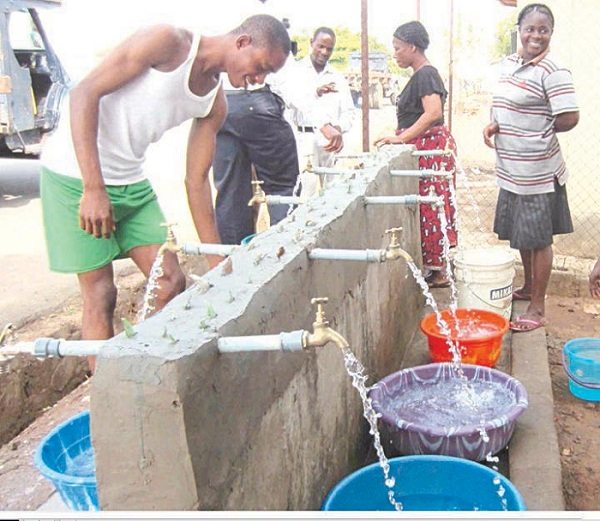 Water vendors, popularly called mai ruwa, are making brisk business in Lagos State as a result of scarcity of water to cater for the need of the increasing population of the state.
The scarcity of water in the city has given the business more patronage as many water vendors, particularly from the northern part of Nigeria, service the residents who have not been linked to public water supply system.
With the rise in volume of the business which started in Lagos many years ago with the mai ruwa merely hanging a pole of two dangling buckets of water over his shoulders, a water vendor now does his business through a long iron cart that contains 10 25-litre kegs.
With the high patronage and turnover that the business enjoys, the number of mai ruwa in the metropolis has remarkably increased.
Patrons of the water vendors admits that the scarcity of water for domestic use in Lagos compels them to patronize them. Many said they do not, however, apply the water they buy from the mai ruwa for drinking purposes since they are not sure it is purified to make it potable.
"As you can see, the tap water is running here, but the pipes are rusty and overdue for change. The water is directly from the Lagos State Water Corporation but it is dirty and I have stopped fetching it. I instead patronize the mai ruwa," says Mrs. Elizabeth Olawale a resident of Ikorodu.
Lagos State currently produces about 210 million gallons of water per day from its various water plants, which is far below the demand of the residents, which was estimated at about 540m gallons daily.
The major public waterworks run by the Lagos State Water Corporation (LSWC) include the Adiyan Waterworks with a capacity of about 72m gallons per day; Iju Waterworks with a capacity for 45m gallons daily and Ishasi Waterworks which produces about four million gallons per day.
Lagos water officials attributed the big shortfall to the population explosion in the metropolis, a situation that was said to have overstretched many social amenities.
The Managing Director, Lagos Water Corporation, Mr. Muminu Badmus, an engineer, admitted that there were noticeable challenges in water supply owing to "certain constraints." He assured that the corporation would do all the needful to ensure that the commodity is available to the residents.