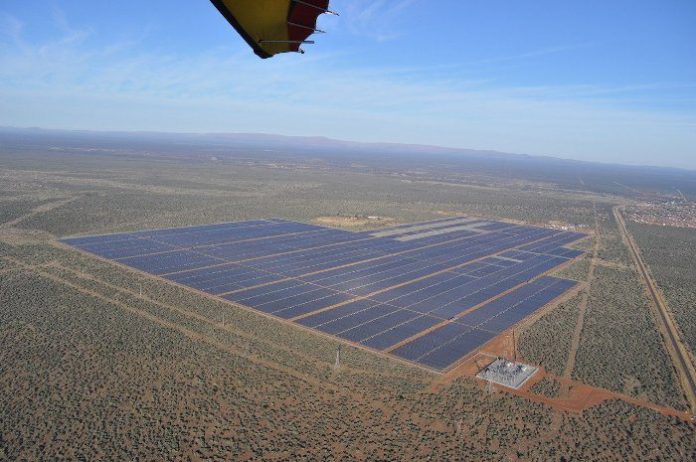 An ENGIE-led conglomerate with partners, SENER and ACCIONA, held a ground-breaking ceremony for their Kathu Solar Park in the town of Kathu, Northern Cape Province.
Construction has started after the signing of a 20-year power purchase agreement (PPA) between ENGIE and Eskom, South Africa's national energy utility. The 100MW Kathu Solar project is likely to be ready by mid 2018.
The project is a concentrated solar power (CSP) park that is being constructed by Spanish engineering and construction companies SENER and ACCIONA.  SENER has designed and patented a parabolic trough technology to be used exclusively for this project. The project will also be outfitted with a molten salt storage system that will allow 4.5 hours of thermal energy storage to lengthen the operational capacity of the plant after the sun sets. The project is expected to produce adequate power to supply about 150,000 houses.
Mr. .Bruno Bensasson CEO of ENGIE Africa Business Unit  said the project will be their first  Concentrated Solar Project .He also said that the project supports the country's strategy  of  increasing the input of renewable energy and  shows their commitment to be a chief partner in getting sustainable power generation in the continent.
ENGIE appointed the joint venture between SENER and ACCIONA to offer engineering, procurement and construction services for the solar project. About 1,200 jobs will be created locally during the construction period.
It is expected that the Solar Park will save six million tones of CO2 over 20 years and will additionally encourage local economic development through diverse projects such as a local community trust for the benefit of the local communities
"SENER's patented concentrated solar power solution, SENERtrough2®, is the best cost efficient solar thermal energy innovation. All plants designed and built by SENER exploit a molten salt heat storage system that enables continued power generation when the sun fails to shine.