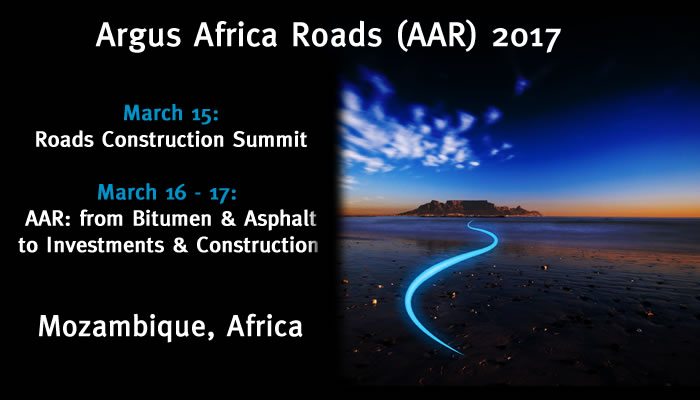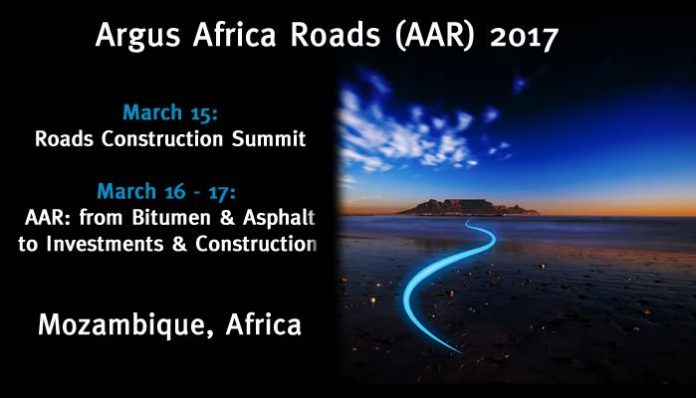 Date:15-17 March
Venue: AFECC Gloria Hotel in Maputo, Mozambique
Argus Africa Roads 2017, is a high level roads construction maintenance event that brings together senior executives from African governments, international donors and investors, national road agencies, construction companies and asphalt and bitumen producers and refineries, and more.
Argus Africa Roads is the only event in Africa giving attendees the opportunity to:
Hear from senior government executives from over 15 countries across Africa
Participate in one-to-one meetings with key market players
Gain access to over 200 companies involved in bitumen and asphalt production and marketing.
The event confirms 7+ governmental road agencies as speakers, including: Silvestre Elias, ANE National Roads Administration; NdyamukamaKayamba, Ministry of Works, Transport and Communications; Eng. Trevor Hiwa, Malawi Roads Authority and Jacob Ruwa, Kenya Roads
 We also have various industry speakers including Dave Bennet, Group Five Civil Engineering; Christophe Jacquet, Total; George Mturi, CSIR; and Andrew Wayira, Shell to name a few.
2017 will include the Road Construction and Maintenance Summit, as well as a "Highway to Success" Road Show.  At this year's event, there will be a Leaders' Debate where Governments, bitumen and asphalt producers and construction companies will debate important factors affecting the industry.
We invite you to join us at the event, and are excited to offer you a 10% discount when you bookwith the exclusive discount code: CONREV10
For more information on the conference:
Or contact:
Tel: +44 (0) 20 7780 4341
Email: [email protected]