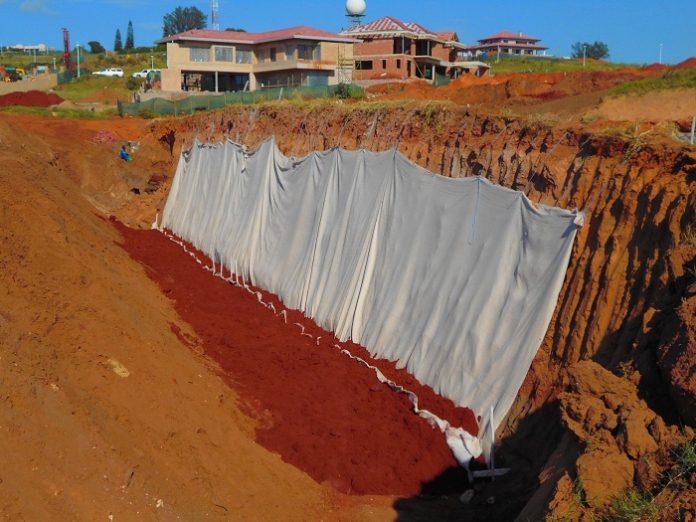 Mhlanga, north of Durban, has long been the zone of choice for those looking to escape the inner residential suburbs of Durban and, as demand grows, sites are extending further north, beyond Herrwood Drive.
Izinga Ridge is one such exclusive residential property development which comprises four unique, gated, cul-de-sac villages.  When various options for the water containment of Phase 2 of the project were proposed, consultants from Hatch Goba decided that a proven Kaytech manufactured geosynthetic clay liner (GCL) would be the best possible solution.
Although strategically placed attenuation ponds have been constructed to prevent stormwater from flowing into the eThekwini stormwater system, the challenge posed was the prevention of potential stormwater breaching the attenuation ponds, impregnating the surrounding embankments and causing damage to newly built roads and residences.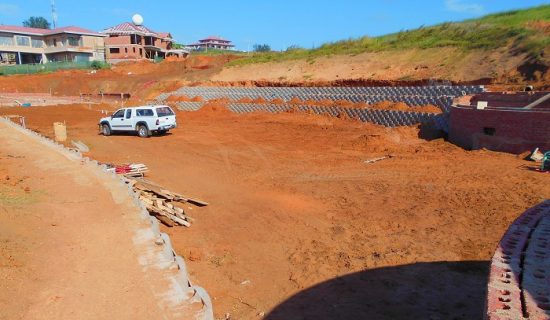 The solution was Kaytech's EnviroFix Thermal Lock GCL, a needlepunched and reinforced composite clay liner produced by sandwiching a uniform layer of sodium bentonite clay between two layers of durable geotextile outer layers. Sodium bentonite is a naturally occurring clay mineral that swells on contact with water. When this hydration occurs under confinement, as in EnviroFix, the sodium bentonite swells to form a low permeability clay liner with the equivalent hydraulic protection of approximately one metre of compacted clay.
In April 2015, Vumani Civils commenced the project by excavating one metre below the base of the attenuation ponds. EnviroFix was then strung up as a curtain liner behind which backfill was compacted in layers. The process was repeated until a height of approximately six to eight metres was reached, resulting in an installation of 749m2 of EnviroFix X1000.
By needlepunching fibres through the sodium bentonite clay, a completely uniform, reinforced GCL is produced. The Thermal Lock proprietary heat treating process is then used to modify and permanently lock the needlepunched fibres into place. This procedure gives EnviroFix its unique properties; including increased internal shear resistance and long term creep resistance.
The clay component in this most versatile product is therefore no longer the limiting factor, allowing EnviroFix to be used on steep side slopes, ensuring low permeability without sacrificing slope stability.
The exceptional ease and speed of installation of EnviroFix impressed the contractor who was able to substantially decrease his total construction time. Since EnviroFix is subjected to an intensive quality control programme during manufacture, the expensive and time consuming onsite quality assurance testing required for compacted clay liners, was significantly minimised.
Compared to using a HDPE liner or a compacted clay core, EnviroFix was by far the easiest and most economical solution.
With EnviroFix in place, this prestigious Tongaat Hulett estate is assured that its storm water system will endure many years of heavy rains or floods.
For more information on Kaytech products and systems, visit www.kaytech.co.za