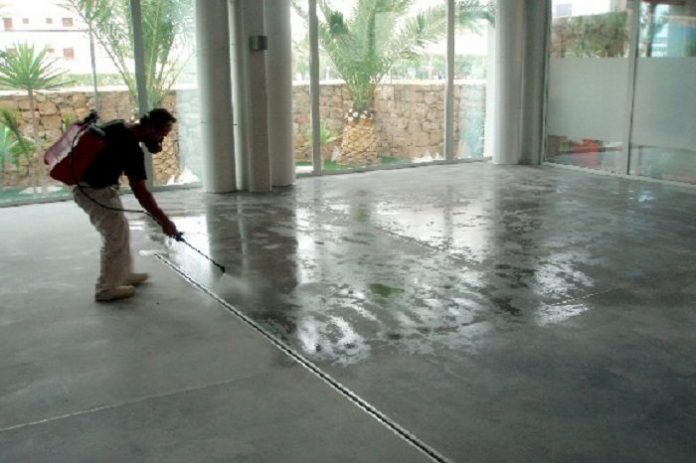 Concrete Surface Treatment is a process of successive stages that entails preparation, absorption, painting, application of mass and coating. Such treatment has a positive effect on the floor's functionality and other similarly important issues. The characteristics of a surface-treated concrete floor are affected by the correct selection of the concrete type, preparation and surface treatment combination.
Surface preparation methods for concrete floors
As a first step, all traces of calcareous salt, grime, oil and paint stains should be removed from the concrete floors to be treated. Next, all laitance must be removed from the floors. Laitance refers to a layer located on top of a concrete surface, consisting of water and fine sand known as filler, which rises to the surface while the concrete surface is being floated. When laitance hardens, it forms a dense but brittle layer. The laitance layer needs to be removed in order for the primer — which is used in the surface treatment of concrete floors — to be able to penetrate the porous concrete properly. Laitance can be removed either mechanically or chemically. An untreated concrete floor should be covered with protective covers during construction-phase painting and installation. This will prevent the need to remove oil or paint stains at a later stage.
Grinding
Grinding is the most widely used method of removing laitance layers and other impurities. The process of surface grinding removes all fine laitance and other traces of weak surface layers from the entire floor area, revealing the fine-grained aggregate.
Surface grinding can be regarded as a minimum requirement in the preparation of industrial facility floors. The process of in-depth grinding removes a floor's surface layer from the entire floor area, revealing the coarse aggregate.
Scarifying
A concrete floor can be scarified using a pneumatic, electrical or internal-combustion driven milling cutter, which creates a rough surface and removes all of the laitance. This is a highly effective and efficient technique, especially for the removal of oily or grimy surfaces from old floors, and of coating films and peeling paint surfaces. When performed correctly, scarifying is carried out twice, with the second round being performed perpendicular to the first.
The form and depth of the marks left by the milling cutter depend on the type of cutter (its steel type) used and the cutter's depth adjustment. Different cutters are available for different surface materials. Hard metal cutters are normally used in the scarifying of concrete surfaces. Dust nuisance can be alleviated by using milling cutter devices connected to industrial extractors.
 Shot-blast cleaning
Shot-blast cleaning is one of the most efficient methods of removing laitance, grime and poor surface material.
In shot-blast cleaning, steel pellets are blasted with huge force at the floor surface to be cleaned. By varying the pellet size and velocity, it is possible to adjust the efficiency of the cleaning process and the resulting surface profile.
A shot-blast device is constructed in such a manner that all loose laitance, all dust and all steel pellets can be collected using an extractor. The device separates cement dust from steel pellets, which are recycled during the cleaning process until they themselves turn to dust and are deposited in the dust container. After a shot-blast cleaning operation, a separate vacuuming process is usually unnecessary. If the floor has deep potholes or cracks, shot-blasting may leave steel pellets within such fissures. Should this be the case, all pellets must be removed before the coating is applied.
Shot-blast cleaning is practically dust-free. As a cleaning method, it is ideal for the removal of laitance from even, hard industrial cement floors. However, shot-blast cleaning may be too efficient for the removal of laitance from hand-floated cement floors. The surface profile left by the device could be too rough if the blasted floor is to be coated with only a thin paint or varnish coating. Shot-blast cleaning is also suitable for the cleaning of horizontal steel and asphalt surfaces.
Etching with hydrochloric acid
During etching with hydrochloric acid, the laitance layer is dissolved in hydrochloric acid, forming a calcium chloride solution and sludge consisting of filler material and silicic acid. The resulting sludge is practically neutral. If the floor to be etched contains grease, oil, grime or a similar substance, such impurities must be removed using an emulsifying preparatory washing, before etching with hydrochloric acid is performed.
Eng Charles Idowu the Technical Director at CoverTec Products insists that, the use of extremely small size (Nano) molecular technology in product formulations allows the production of ultra-thin water based coatings and surface treatments that bond covalently to the surface.  "The results are sealers with much greater adhesion and increased durability when compared to conventional surface treatments," he said
CoverTec Products is a manufacturer of floor, roof and wall waterproofing maintenance products. "Using nanotechnology, we produce an ultra-thin protective surface layer that is low in VOC (low emission) breathable and extremely oil and stain resistant. Our sealers do not lift and flake like standard sealers and coatings," said Eng. Idowu.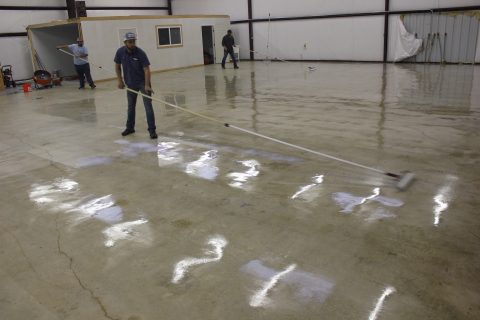 "Unfortunately, we see too many flooring projects that are ruined in the first few months simply because the surface has not been adequately protected.  Understand that floor hardeners are not acid or motor oil resistant.  Water repellents are not going to protect your concrete against brake fluid or food stains and grease.  Make sure you ask the floor treatment suppliers for products that will protect against your specific exposure conditions and level of traffic," affirmed Eng. Idowu.
Andrew Dekker National Operations Manager at Tal insists that the client should specify the performance and products they actually need for the specific job. "Ensure they are applied correctly and perform to your requirements and also use an ISO certified supplier with a track record," he said.
Tal is a major player in tile and construction adhesives with a track record of more than 40 years "We manufacture our products in South Africa, Kenya, Egypt and Tunisia. We export from these manufacturing units to 25 African Countries. Majority of our products are water based and environmentally friendly. If available we also use recycled material but this depends on sophistication of the recycling market in particular African countries," asserts Mr. Dekker.
"Discuss in detail with the material manufacturers your actual requirements. It is standard practice to follow old outdated specifications," said Mr. Dekker. "Education and training is required for the whole market," he added.
Stefano Di Cesare of Klindex argues that, Africa holds enormous potential and that is why they are always keeping an eye open to the floor treatment scene in order to improve their retail and making their brand stronger. "We continually invest time and money in research and development in order to offer the best products available to world-wide customers," he said.