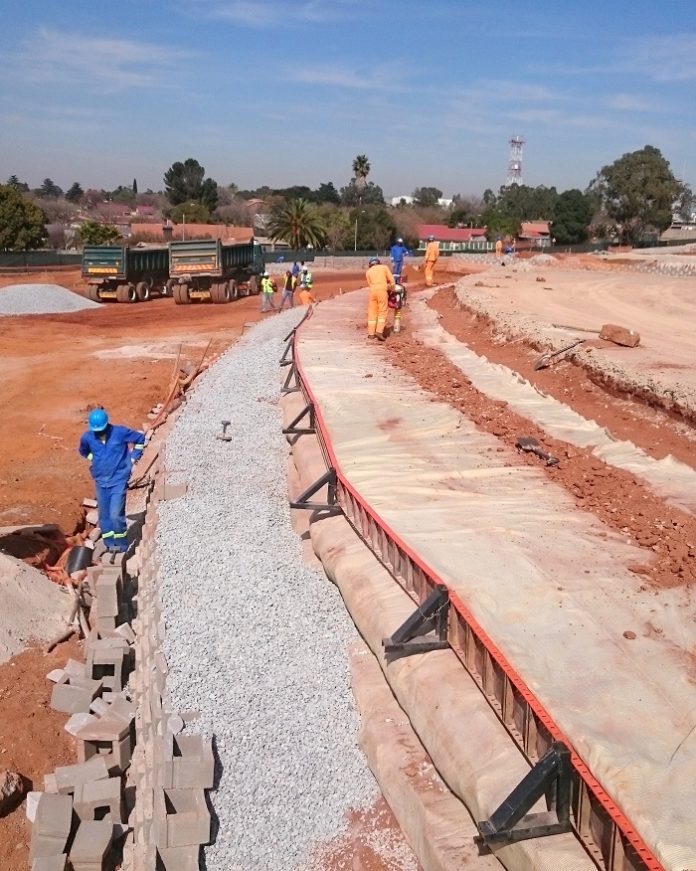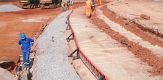 Kaytech provided the optimum solution for a wrap-around wall reinforcement project initiated by the Gauteng Growth & Development Agency (GGDA) and its subsidiary, the Gauteng Industrial Development Zone (IDZ).  The site was at Bonaero Park in Kempton Park where the Jewellery Manufacturing Precinct was to be constructed.
The project formed part of the Bulk Earthworks, Phase 1, in which platforms, constructed to provide a level area, required reinforcement of the earth retaining walls.
After a meeting between Kaytech's Tyrone Naidoo and a consulting engineer from MarGad, it was decided that RockGrid PC 100/100, a far more economical option compared to conventional reinforcement, would be the ideal product for this application. Liviero was awarded the installation contract.
RockGrid PC is a unique, composite geotextile comprising high tenacity, bi-axially orientated multifilament polyester yarns in conjunction with a nonwoven layer, the combination of which gives RockGrid PC its special characteristics; a high tensile modulus that provides excellent reinforcement and minimum creep deformation as opposed to polyethylene or polypropylene grids or woven fabrics, while the nonwoven layer not only provides optimum water transmissivity compared to woven fabrics, but a high resistance to installation stresses.
In October 2015, installations of the wrap-around design commenced. RockGrid PC 100/100 (1.5 metres)was placed at the base of the two metre high retaining walls and subsequently covered with imported fill material (G7).
In lifts of 300mm and to a final height of 2 to 3 metres, the rest of the RockGrid PC 100/100 was unrolled to wrap around and cover the fill material.
A tension groove was excavated into the fill for tensioning of the geotextile. The unsurpassed drainage capacity of RockGrid PC facilitates the reduction of pore water pressure which improves shear characteristics and increases stability.
Prior to unrolling the next layer of RockGrid PC 100/100 above the first lift, a light spread of coarse sand was installed to assist with friction between the fabrics. A layer of loose 19 mm aggregate was placed at the front of the PC grid.
This acts as a drainage layer to relieve any hydrostatic pressure that might be applied to the block facing. The design was completed with aesthetically pleasing concrete blocks.
The installation of RockGrid PC 100/10 (13 000 m2 in total) not only saved both time and money, but simply and effectively provided the necessary reinforcement and load bearing capacity for the embankment.
Construction of the Jewellery Manufacturing Precinct is the first Greenfield project within the Gauteng IDZ and will go a long way in supporting industrial development in the area.
For more information on Kaytech products and systems, visit www.kaytech.co.za
Ends
INFORMATION FOR MEDIA/PUBLICATIONS ONLY (NOT FOR PRINTING):
Issued for:       Garth James
Kaytech Engineered Fabrics
Tel:                  (031) 717 2300
Issued by:        Lori Booth
Media Magenta for Kaytech
Tel:                  031 764 3932 / 083 788 1702
Email:              [email protected]