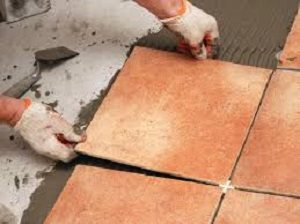 By Dennis Ayemba
Construction models widely established in many countries generally ignore the environmental, social and economic impact which can result as a consequence of their activities.
In the medium to long term, unsustainable building may compromise future needs. One of the priorities of the construction sector should therefore be to develop and implement solutions aimed at maximizing  sustainable development.

At the moment, of all the building certification systems, the one which has the greatest international presence is the LEED certification system. The pilot project which was developed by the U.S. Green Building Council (USGBC) was launched in 1987. LEED promotes sustainable building whereby priority is given to a balance between existing concepts and emerging technologies. It provides a tool for recognizing projects that implement strategies aimed at minimizing the associated environmental impacts. The LEED system certifies buildings rather than companies' environmental aspects, products or materials.
Florim affirms that, currently the raw materials used for manufacturing tiles are the typical ingredients of porcelain stoneware, which is made from a blend of clays, sand and feldspars. Porcelain stoneware has a very low environmental impact since it eliminates the need to quarry the natural raw material; although the end result accurately reproduces the original, natural materials.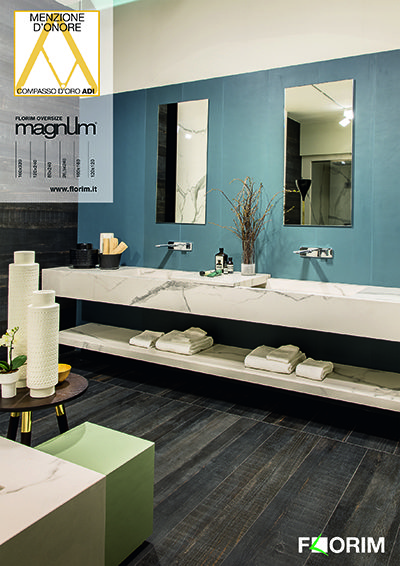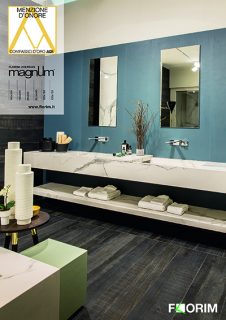 Florim is one of the leading company on the international ceramics stage with a unique focus on research and development, innovation and products of outstanding aesthetics. The company offers a very wide, diversified portfolio of brands, each of them conceived to respond to all the market's demands. Florim has always implemented a policy of carefully monitoring its operations and their impact on the surrounding environment. One example is its investments in photovoltaic panels (16,000 m2), which cover an area of 30,000 m2, and in cogeneration plants, which enable the company to produce almost 70% of its electricity needs.
Florim is at the state of the art with regard to environmental sustainability, and to keep one step ahead of the field, it has also focused on certifications. All its products hold the international forms of certification that identify green products: Ecolabel, Bureau Veritas, LEED membership and Greenguard. Moreover, the fact that some products are only 6 mm thick reduces impacts in terms of raw material and freight.
LEED buildings with ceramics as a construction material
The commitment to sustainable construction is of particular importance for the ceramic tile industry as a producer of construction materials that contribute to the achievement of third-party environment certifications. By their very nature, ceramic tiles can contribute to the acquisition of LEED credits in: Materials and Resources: reuse of the building (MR credit 1.2), management of construction and demolition waste (MR credits 2.1 and 2.2), recycled material content (MR credits 4.1 and 4.2), and regional materials (MR credits 5.1 and 5.2). Since ceramics are materials that have the same longevity and lifetime as the building, they can contribute to obtaining 1 point with credit MR 1.2 by helping to meet the demands of this credit in terms of maintaining the nonstructural interior elements in the reuse of a building. It is also important to stress that ceramics, being inert materials, can be used as a filling material after the useful life of the building, so that if a building is recycled or if 50 or 75% of non-hazardous construction and demolition waste is recovered, 1 or 2 LEED points will be obtained respectively.
In the category of recycled material, it should be noted that the LEED requirements require the builder to use materials with recycled content such that the sum of post-consumer recycled content plus one half of the pre-consumer content constitutes at least 10% (which would provide 1 point) or 20% (2 points), depending on the cost, of the total value of project materials. The value of the recycled content of the manufactured product is determined by weight. The recycled fraction of the product is then multiplied by the cost of the product in order to determine the recycled content.
In the opinion of Riccardo Montanari of Casalgrande Padana S.P.A, recycling water, gas and raw material for production of tiles is quite important to ensure the earth remains green. "It is also important to respect all the social and labor regulation because they all contribute to sustainable development," he added.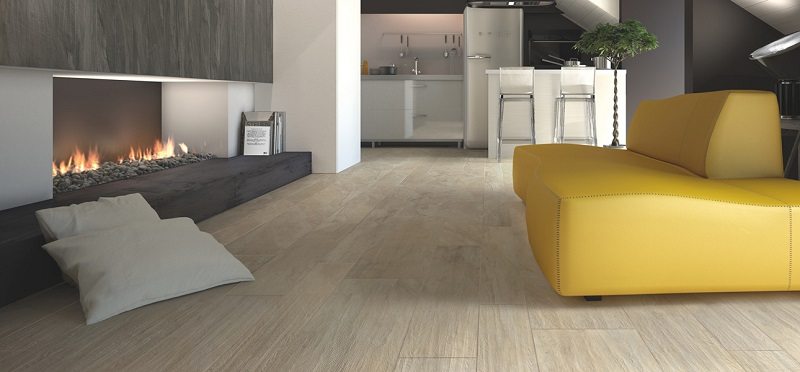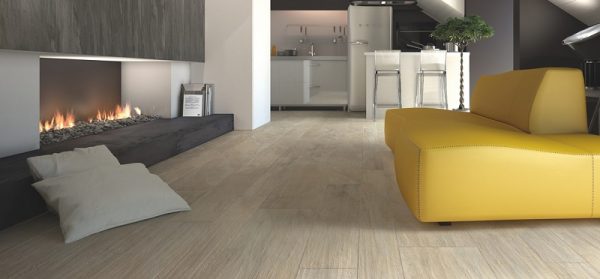 Casalgrande Padana has been producing advanced ceramic materials for over 50 years; innovative and environment friendly solutions for the creation of coatings, floors and coatings. "We have a unique capacity production for many different products and this aspect permits the architect to select and combine in the same projects many different products, always keeping the highest Italian quality," he said
"Now Africa requires high quality tiles not only the product, but also new technologies; like in particular the innovative systems for external facades and swimming pool. This is why we have an engineering department that strives to give our clients the necessary technical support in cooperation with Litokol; one of the world leaders in the production of adhesive, grout and material for laying tiles in any destination," he affirmed.
According to Shakti Mohanty of Royal Ceramics, tiles are the most important factor for finishing a house or commercial space in the modern day. "Use of tiles gives great finishes at a lesser cost than natural stone," he said.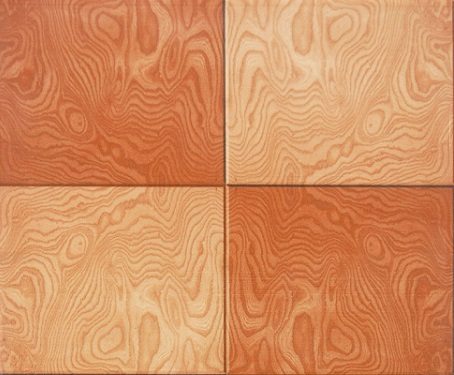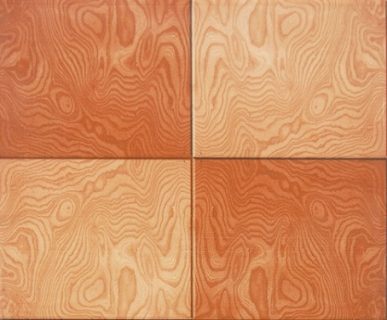 Royal Ceramics is a manufacturer of ceramic and porcelain tiles for Nigeria and other West African countries. "Our product is one of the few porcelain/vitrified tiles manufactured in Nigeria. We have finishes of various types which help the construction industry especially architects, builders and real estate developers; from normal small size ceramic tiles to glaze finishes, for both walls and floors," he said.
"We are a 100% indigenous company which uses local resources in Nigeria thus greatly contributing to the mining sector," added Mr. Mohanty.
Sustainable sites
For the LEED programme it is important to reduce the heat island effect that occurs in urban areas due to accumulation of heat, so as to reduce the temperature difference between developed and undeveloped areas. Among the different strategies that LEED presents for this section is the use of paving materials with a Solar Reflectance Index (SRI) greater than 29, which would provide 1 point. For example, light-colored ceramic products can replace traditional exterior paving materials on pavements, patios or parking areas, since they have a high SRI that minimizes heat absorption or the heat island effect.
According to Ruth Renwick Owner of Renwick Handmade Tiles, there is some kind of bonding liquid used in the making of the grout. "tiles are a perfect medium for heat island effect as they are made with high heat. They stay cool longer than other building materials and are easy to keep clean; plus they retain their color and shape.," she said.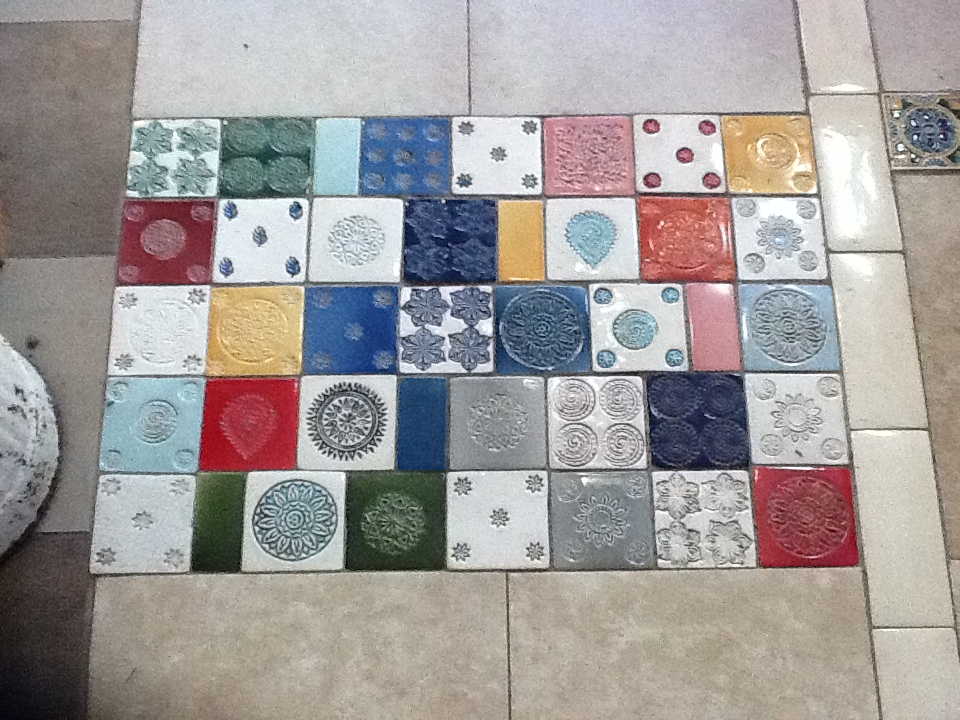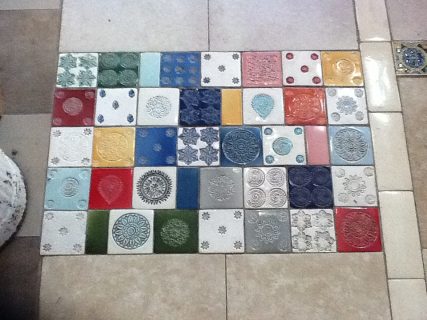 Renwick Handmade Tiles makes a wide range of Victorian, patterned and plain tiles. "We not only make them available to in South Africa and other African countries but to other continents; anywhere there is a courier service we can send them. Furthermore we create our designs using several different methods from hand carving to hand painting.  I always say that we have an artist that can paint your mothers face on a tile. But we did get commissioned in Austria to paint portraits for a grave yard.  We can create a tile with company logos on them," she said.
"I am excited to see geometric shapes coming in. We are busy with a job in Kenya that combines a carved geometric design on a subway tile. I Love it," said Mrs. Renwick. "Our classic Victorian tiles always remain a favorite, but we are using much more vibrant colors in them these days," she added.
Environmental quality of indoor air
There is growing concern about the impact that Volatile Organic Compounds (VOCs) may have on people's health. For this reason, LEED seeks to reduce the amount of indoor air in a building that is irritating or dangerous to the health and welfare of users due to the vaporization of carbon compounds by using materials that release no VOC emissions or low amounts of these. Therefore, the use of ceramic tiles as a general lining on the inside of a building will be awarded the highest score in this section, 1 point.
The CEO of iTILE Mr. Sam Rego insists that, due to the fact that porcelain ceramic tiles are fired at extremely high temperatures in the manufacturing process they have no VOC emissions. VOC's (Volatile Organic Compounds) are the main contributor to the indoor air being dangerous to the health and welfare of the occupants. "The wider use of ceramic porcelain tiles for both domestic and commercial use will result in reduced VOCs and a better and safer environment for those who occupy the areas where the tiles have been laid," he said.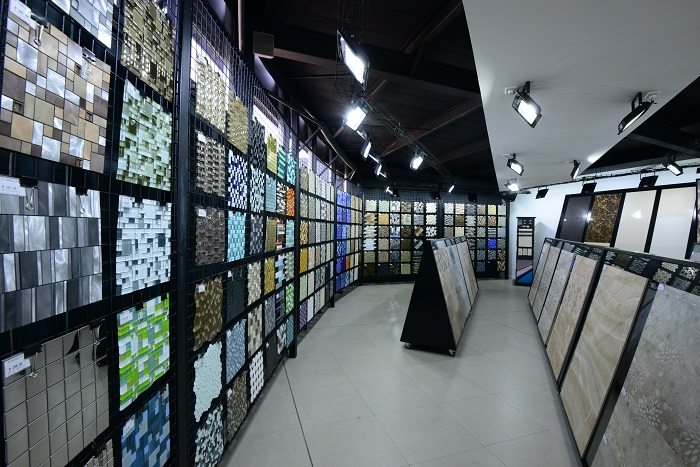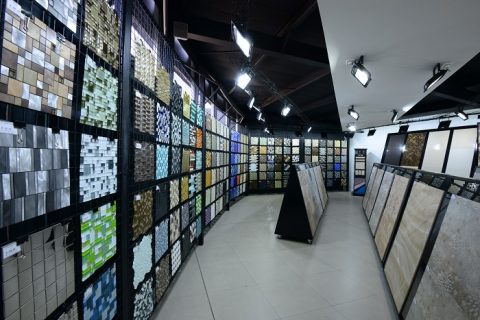 iTILE has a beautiful selection of ceramic porcelain tiles, both local (South African) and imported from Europe as well as Asia. At the moment they only have stores in South Africa; however they do sell to countries all over Africa. "We pride ourselves on exclusivity which is difficult to find as most tile retailers purchase from the same suppliers. Finding exclusivity means looking where no one else is looking. We take extreme pride and care in choosing our ceramic porcelain product range," said Mr. Rego.
"When purchasing tiles, have a very clear idea of what needs those tiles are going to have to satisfy. Important things to be aware of include where your tiles are going to be laid. Are they going to be used indoors, outdoors, in high traffic areas, near water? Answering these questions will play an important role in which tiles you choose and the success of the tiling project. Buying tiles that are not suitable for the area they are going to be laid is a costly experience, therefore, rather take the time and possibly spend a little bit more money to get the right tiles," advised Mr. Rego.
According to Dewald Viljoen of Johnson Tiles, they manufacture glazed ceramic tiles which are inert to VOC's and therefore have no dangerous emissions.
Johnson Tiles has a proud history rooted in the design and manufacture of high quality wall and floor tiles since 1901. With companies on five continents it is one of the largest manufacturers of ceramic tiles in the world. "We manufacture according to ISO 13006:1998 and SABS 1449:1996 standards. An on-site technical laboratory conducts quality checks daily at every stage of the manufacturing process to ensure our products reach the market at the highest quality standards. "We also have an in house design team who are highly trained with a great deal of experience in design. These designers are up to date with the latest trends and travel regularly to international and local design shows," he said.
"Recently, there has been an economic slowdown in retail sales across the manufacturing industry as well as the importation of cheaper, lower quality tiles from overseas. In that case, we advise that when purchasing a tile the buyer should ensure that the tile being purchased is suitable for the area it is going to be installed.  One of the ways to do this is by checking the PEI (Porcelain Enamel Institute) rating. The higher the PEI rating the more suitable a tile is for commercial use," said Mr. Viljoen.
Mr. Abdul Patel of Lifestyle Ceramics is of the opinion that, one should not focus only on price but try to find a balance between environmental quality, price, and design. "It is advisable to choose products that are green and comply fully with international health regulations and safety measures," he said.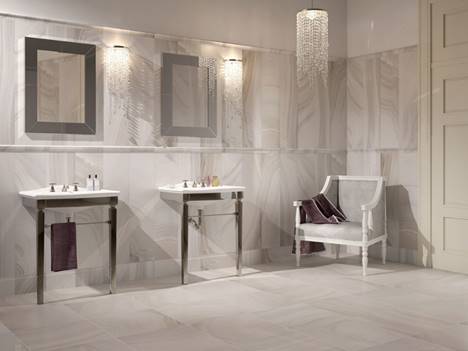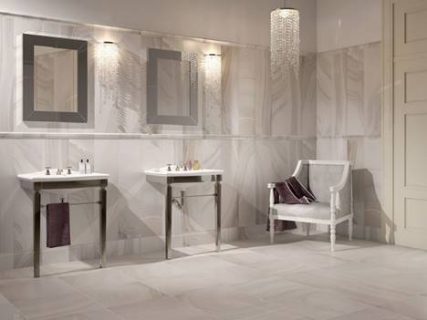 Lifestyle Ceramics are authorized dealers of Roberto Cavalli luxury tiles, Versace Ceramics, Valentino tiles, Villeory and Boch bathroom ware. "These brands are only available at a handful of selected locations on the African continent," said Mr. Patel. "We are suppliers of a huge range of ceramic and porcelain tiles from Italy, Spain, Brazil and the Far East We regularly do projects in Botswana, Zambia, Malawi, Mozambique, and Zimbabwe," he added.
"Take your time and carefully select the correct materials. Tiles are an investment into your home and the value of property always increases in the long run," advised Mr. Abdul.
Innovation in design
Exceeding the credit requirements and/or proposing a project strategy not covered by LEED that provides measurable environmental benefits is rewarded with a maximum of 5 points. In this sense, the ceramics industry has made significant progress in reducing the environmental impact of its production process and launching on the market products that are innovative in terms of sustainable building materials, such as ceramics with a photo-luminescent coating that accumulates incident light and returns it by shining in the dark; or incorporating a catalyst glaze which, in the presence of sunlight and humidity, causes pollutant emissions (NOx and HNO3) in urban areas to react, transforming them into substances that are harmless to human health (nitrates); or tiles that are resistant to dirt; self-cleaning tiles; among others.
On the authority of Elisabetta Costi of Gardenia Orchidea designing of tiles should be geared towards producing environmentally friendly products.
Gardenia Orchidea was founded in 1961, based on a new vision of the home environment, a vision based on relentless innovation in design and constant evolution of production's methods.
Today Gardenia 's technology includes the most innovative systems for producing (L) large size tiles and latest release of Digital Printing and a 10000 tons press with tallest tower's dryer.
Gardenia produce over 4 million square meters through a fully automated and integrated factory with robots, material movers, integrated in line with cut and rectification systems, automatic packaging and palleting systems, all Made 100% in Italy.
The company has started since 1997 a partnership with the fashion house VERSACE, with whom Gardenia shares many values like: the importance of design, the unique sensitivity in interior design, the design for change, always at the highest quality standards.
Evolving styles and exclusivity with the highest possibilities for personalized design, is what the brand Gardenia is famous for worldwide.
Coem Ceramiche Offers the beauty of natural stones in porcelain stoneware with excellent technological qualities, ideal for floor and wall tiling in both residential and commercial settings "We are extremely strong in the South African market, but at the same time we work constantly with northern African countries. We are available to sell our tiles to any contractor or distributor that is willing to buy them in any State of the African territory," he said.
"The only challenge this industry is facing, especially for Italian tiles, is the low-cost competitor.  More and more competitors from China and India copy Italian products and sell them at extremely lower prices. The quality and the look are not even comparable, but in the parts of the world where people don't look for quality, or aren't able to afford it, they are always gaining more and more power on the market. This leads to a progressive fall of prices. We invest a lot on quality which leads to high production costs," said Mr. Cattini.
Oguzhan Aksoy of Aluminium Park argues that, the African market generally chooses Chinese products because of their pricing. Turkish products are superior on quality than Chinese products plus the price margin is not that big. "I urge the African market to consider Turkish products; maybe they will pay a little bit more money but they will definitely get value for money," he said.