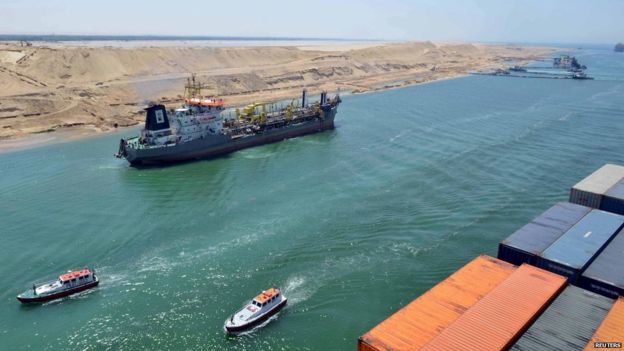 President  Abdel-Fattah El-Sisi has on Wednesday toured the ongoing construction of the Suez Canal tunnels during his three-day stay in Ismailia governorate while attending a semi-regular youth conference.
The project whose expansion began in 2014 aims to increase the traffic handled by the canal. It deepens the main waterway and provides ships with a 35km (22 mile) channel parallel to it.
Egypt's government hopes the revenues will revive the economy – but analysts have questioned the projections.
They point out that the volume of world trade has not been growing at the pace needed to deliver the sums Egypt hopes to collect.
Mr El-Sisi said that the project was carried out by Egyptian firms and that no foreign companies had been sough to complete its construction.
The Suez Canal tunnels project aim to connect the Sinai Peninsula with the Nile Delta. He added that construction on the project's four tunnels would be completed by 30 June.
El-Sisi thanked the workers for their efforts, saying the project proves that Egyptians can complete big projects.
The president was accompanied by Prime Minister Sherif Ismail and Defence Minister Sedki Sobhi as well as a number of youth participating in the three-day conference, which began on Tuesday.
The youth conference sessions and workshops are planned to address issues including a recent surge in the price of foodstuffs, the government's efforts to improve the healthcare system and sustainable development in the fields of gas and power.
This month's event is the third in a series of such gatherings.
The first regular conference was held in December in Cairo. El-Sisi announced the decision to hold regular youth conferences in October, as one of the takeaways of the first annual National Youth Conference held that month.