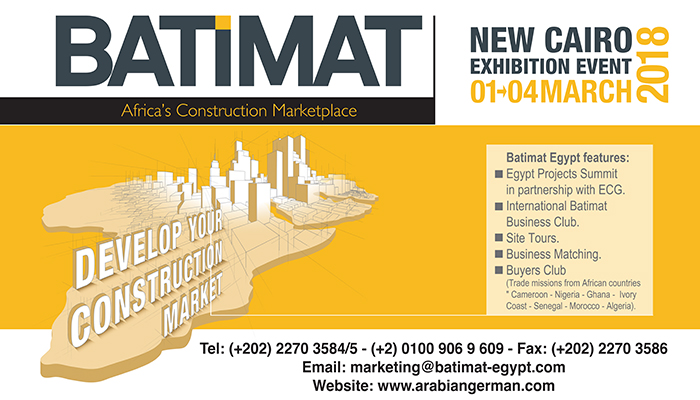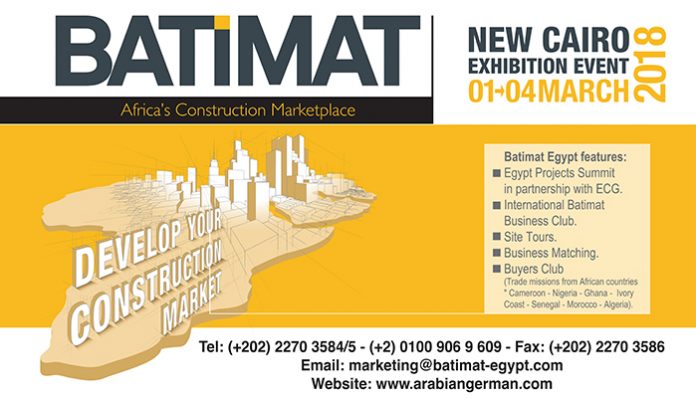 Batimat Egypt is leading construction show in the region. Its second edition will be held from 1 to 4 March 2018 at the New Cairo Exhibition Center. Batimat Egypt is the place to be to meet the biggest network of the key players of the Construction Field, get in touch with the latest innovation and showcase your products and services to the largest audience.
The trade show displays a wide array of sectors making it the one stop for all who are part of the Building Industry.
Our Exhibitor Profiles: 
Building Materials & Equipment
Interiors and Finishing Materials
PMV (Plant Machinery Vehicles)
Power & Electricity
Lighting
HVAC
Solar Power
Batimat is presenting a number of Special Features to Maximize your Participation Experience:
International Business Club
Live Demonstrations
Site Tours Additionally, in partnership with the Engineers Consultants Group, Batimat will be hosting the third edition of Egypt Projects Summit, the biggest gathering in the construction industry, the hub for all aspects of constructions & building materials in Egypt & a unique opportunity to gain unprecedented access into the biggest project's market in the Middle East & Africa.
 About the Organizers:
Reed Expositions France, the world's leading B2B and consumer event organizer and Arabian German for Exhibitions & Publishing, the premium event organizer, with 10 years experience in the construction industry in Egypt & the Middle East.
Visit our website for more information. http://www.batimat-egypt.com/
Or contact us on [email protected]