The community-centred renaissance
Implementation of the R34 million (US $2.43 million) New Multi-Purpose Sports Centre (Soweto Sports Arena) project in Nancefield, Located in Klipspruit, Soweto, underpins the Johannesburg Development Authority's (JDA) commitment to the fulfillment of Nancefield Transit Oriented Development vision. The Nancefield Transit Oriented Development aims to create a transformed area, with the vacant and underutilized land parcels developed with higher density housing typologies and supporting social facilities, and bring development opportunities that will be able to attract private sector investment, including business development. The emphasis on transit oriented development with Nancefield Train Station as a focal point and a safe, walkable environment is critical. There is a need to integrate key properties such as the Maponya Mall and the new Soweto Nike Centre to create a vibrant activity hub that is a destination within the Gauteng region.
Facilities
The New Multi-Purpose Sports Centre (Soweto Sports Arena) will have the following facilities: the New Basketball Oriented sports centre, Two New Outdoor Basketball/Netball pitch, New Splash Pad and Play Equipment, Associated servicers, Parking, Seating Areas and Landscaping.
Capacity building of black-owned businesses
As with previous phases, The JDA has ensured that the local community benefits from the Nancefield TOD Phase 4 project. Terms of the contract that the JDA signed with the 100% black-owned main contractor, Shomang Construction, obliges the contractor to ensure that the local community benefits from the projects in two ways.
Firstly, the JDA's contract with Shomang Construction stipulates that over 40% of the project (R12.5 million) are to be subcontracted to 100% black owned local small micro and medium enterprises (SMMEs). Additionally, to ensure continuity, previous local labourers together with five (5) SMME contractors that were already appointed by the previous Main Contractor, were re-instated subject to them complying with statutory requirements. Other SMME contractors for the remaining trades were appointed as the project progressed.
Secondly, as part of the development of skills of surrounding communities, training for 80 local labourers are being conducted in different trades ranging from steel fixing, scaffolding, plumbing etc. So far, 22 labourers from the local community have been engaged.
Thirdly, mentorship has been carried out to assist local SMME's to raise their grading and to better understand the business part of construction for their continuity and sustainability.
On the right track
As the implementing agent, thus far, the JDA is impressed with progress on the project, and it is confident that it will be completed as planned, on budget and to the expected quality standards.
The main objective of the Johannesburg Development Agency's Nancefield Transit Oriented Development (TOD) is to develop facilities that will bring economic activities to communities. And the New Multi-Purpose Sports Centre (Soweto Sports Arena) project in Nancefield is no exception.  
Key players
Archway Projects
Role: Principal Agent/Project Manager
Iyer Urban Designs
Delegated Role: Architects & Urban Designers
Koor Dindar Mothei (KDM) QS
Delegated Role: Quantity Surveyor
Nako Iliso Civil and Structural
Delegated Role: Civil & Structural Engineers
Employer's Agent: Mott Macdonald PDNA
Delegated Role: Electrical & Mechanical Engineers
Empowerisk
Delegated Role: Occupational Health & Safety Consultants
Tshidi Gudlhuza Planners & Associates
Delegated Role: Public Participation Consultants
Contractor: Shomang Construction
Appointed SMEs: Phil then Trading , Re I Filwe Katlego, Tshepo Projects, MACSAP, Rockwell Communications, Pebetsi Holdings, TTM Civil Works, Mmangwanya Trading, Umthombongashi Construction and Services, Vuyelwa Frank Projects, Tahok Projects, Muziwazwano Landscaping, Uptown Trading and Zibaxa Projects.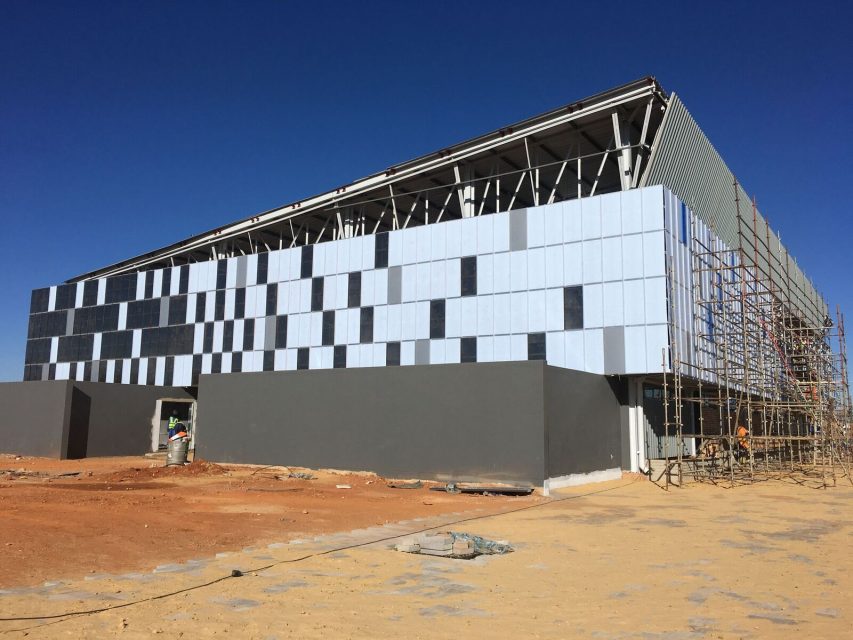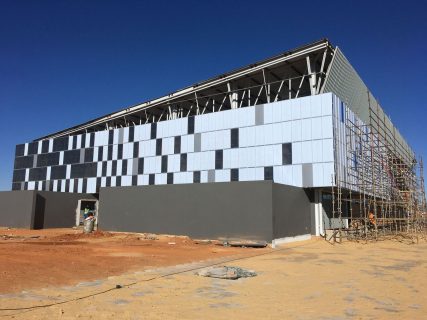 Fostering social integration through recreation
Located in Klipspruit, Soweto, the Sports Complex is the fourth phase of the Nancefield Station Precinct project, a multi-phased public environment upgrade. The Nancefield Station Precinct is a City of Johannesburg Transit Oriented Development (TOD) project.
Through the Nancefield Station Precinct upgrade, the City of Johannesburg aims to provide "a restructured space economy that gives poor households better access to well-located accommodation, jobs and markets; optimised land use and energy consumption; and improved living standards and mobility for large numbers of people in well-serviced and managed transit neighbourhoods". The City's vision is to transform the space to include decent housing and social facilities and attract business investment to the area.
In a nutshell, the TOD seeks to achieve the following:
Create a visibly improved public environment in the Nancefield Precinct;
Develop a unique identity and showcase the Precinct's potential; and
Support investor and public confidence in the area
The Sports Complex' architectural elements
In an interview with the team from IYER Architects, Construction Review grasps three key elements that have been considered in the Sports Centre's design, from an urban design and planning perspective.
Firstly, the idea was to create a landmark public building that contributes positively to the public realm of Klipspruit.
Secondly, the vacant site was used as a pedestrian connection to move across two sides of Klipspruit. Whilst a large portion of the site will be enclosed by fence or building, this connectivity has been retained by creating a landscaped pedestrian link connecting Mofokeng Street to a linear park, which was implemented as part of the broader upgrade.
Thirdly, there is an urban logic to the positioning of the building and external elements in relation to the context. The building is positioned close to the street to create a positive edge and interface. The external landscape elements (courtyard, training courts and splash pad) are located on the park side to act visually and spatially as an extension to this linear public space.
Sustainable use of resources
Worth underlining is the incorporation of innovations in the design to promote sustainable use of resources, which include:
Heat pump systems
Energy efficient heating, ventilating, and cooling system
Lower volatile organic compound (VOC) Paint and finishing materials
Low water consuming sanitary fittings
Vandal proof sanitary fittings
Intruder-proof glazing
Use of polycarbonate material for second storey wrap-around screen. Brings in light without the cost of full height glazing.
Cladding on walls – no painting required, lower maintenance
Quality assurance
A number of steps are being followed religiously in the course of construction to ensure that the architectural blueprint is being implemented as planned. These include:
A Quality Control Plan formulated by the contractor and approved by relevant consultants. The QCP has requirements that should be met by the contractor.
Regular site inspections
Samples approval of all items that are to be installed
Shop drawing process of special items
Mock-up samples of unique items
IYER is an intra-disciplinary studio specialising in urban design, planning; architecture and landscape design. These cross disciplines have created a project that is unique, of a high standard, holistic and responds well to its surrounding context. The firm looks forward to involvement in more urban renewal projects in the country.
Once complete towards end of 2017, the Multipurpose Sports Complex, will be a landmark building that will contribute positively to the realm of Klipspruit, Soweto.