An inverter's job is straightforward. They change PV-generated or battery-stored DC electricity into AC electricity that can be used by household appliances or sent back to the utility grid. The African market depends on inverter power when there are utility outages.
However, with numerous models and options, choosing the right inverter for your application has become a more challenging task. According to Mr. Jason Nicoll of PHD Powerhouse, making sure you have proper support and readily available spares with a great after sales service is paramount before purchasing a solar inverter. PHD supplies, installs and maintains tailor made UPS systems, Inverters and voltage stabilizer solutions for all industries.
Purchasing the right product for a particular application is very important; this is according to Roy of power projects an inverter supplier in South Africa. Inverters are specific to whether your system will be grid-tied or off-grid, and whether your system will include batteries, either for off-grid use or on-grid with battery backup. The  temperature spec is very important as some cheaper inverters will produce less power when they are hot. Delta solar inverters only de-rate 50 Deg C ambient and have a much lower start up voltage than other inverter thus giving you more kWh which at the end of the is the most important item.
Choosing a Grid-Tied Inverter
AC Output Power: The inverter's AC output power should be matched to the PV array. A PV array's Standard Test Conditions (STC) power rating will provide a good idea of the minimum size of the needed inverter.
For instance, a 5 kW PV array will require an inverter with about a 5 kW power output. If the climate interferes with the array preventing it from reaching STC power, it is possible to "undersize" the inverter by 10 to 20%. In that case, undersizing would need a 4 to 4.5 kW inverter for that 5 kW PV array.
The inverter may require 'oversizing' for arrays in higher elevated areas which are colder and sunnier; this is to avoid power clipping. In addition, a larger inverter can capture random moments of high PV output, such as those from cold, sunny days or from 'edge-of-cloud' effect and possibly leave room for future expansion.
According to Wendeler Hannes of Fronius, the only on-grid inverter manufacturer providing a Fronius Service Partner program to allow on-site repair; among other things, the grid-tied inverter should have a standardized mounting system for quick and easy installation, maximum fault tolerance and a high system performance under all environmental conditions. "The consumer can be guaranteed of all this factors if he buys from suppliers who not only provide quality products but also have reliable after sales service," he adds.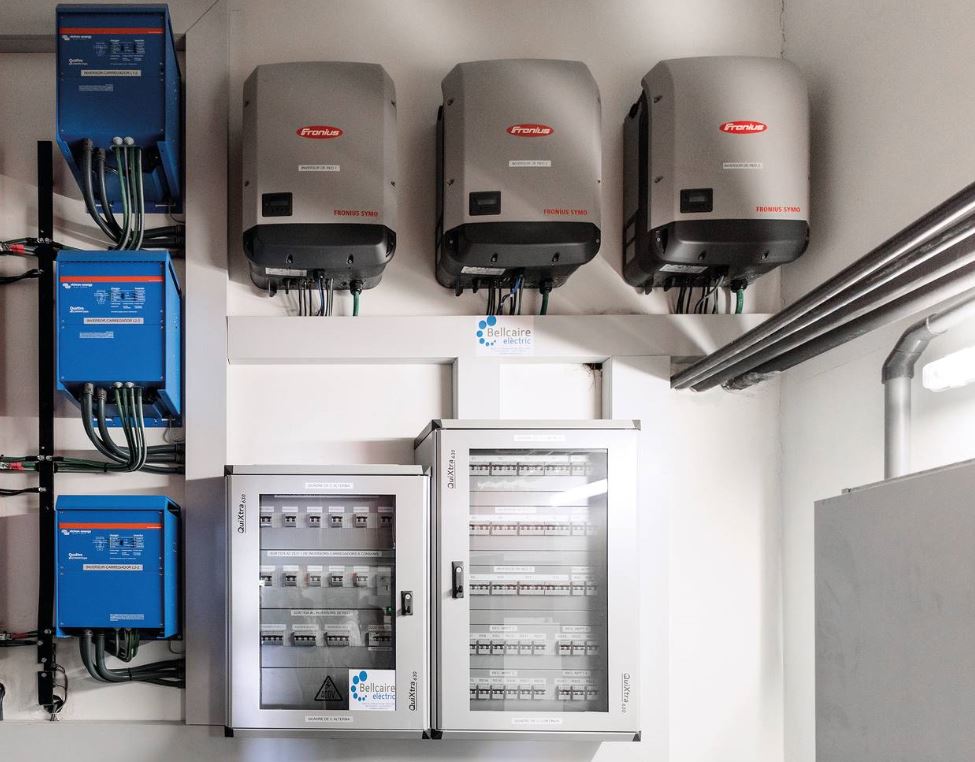 DC Voltage Input Window: This is the voltage range that the inverter will accept from the PV array. Local climate data and temperature coefficients will determine the maximum and minimum expected voltages. Exceeding the maximum voltage specification of an inverter may cause damage or fire in a worst scenario; and while it is not dangerous, too low array voltage can cause the inverter to stop processing power.
Maximum Power Point Tracking (MPPT): All grid-tied inverters use some kind of MPPT, which enhances the PV array power output. Most inverters simply follow one MPP for the whole array as it keeps on changing all day, but some models can follow two series-string MPPs for a fairly better energy harvest for arrays with numerous orientations. AC modules, DC optimizers and microinverters, all offer the ability to track individual module MPPs.
According to Mr. Zhao Wei a Strategic Marketer at TBEA Xi'an Electric Technology Co. a tech enterprise in China, inverter MPPT number to a great extent, determines the output of a photovoltaic power station, especially in a power station where there are shadows shade, different components and performance problems. "Obviously, the longer the plant life (attenuation) components MPPT high capacity has, the more the advantages. However, the input number of the inverter often determines whether a photovoltaic power station is easier to carry out with the design of the plate, and also saves the cable and other supporting materials," he adds.
The AC output voltage of the inverter should match the building or service voltage where it is interconnected. In most cases inverters are field-configurable for different output voltages, but for a few, this must be specified up-front.
Mr. Mahone of Green Light Energy in China mentions that, it is quite important to buy the famous brand in the market because their position in the market is reflective of their reliability. Green Light Energy is a manufacturer of on and off-grid systems with a market base in West Africa.
Choosing an Off-Grid Inverter
An off-grid inverter must have enough AC output power to cover any AC loads that might run simultaneously. For instance, in case of 2,850 W of AC loads, then it is advisable to choose an inverter with 3,000 W of continuous output power. Any surge requirements common with compressors and motors, such as in refrigerators, or well pumps need to be checked against inverter 'surge' or 'overload' specs
Since the inverter draws from a battery bank instead of the PV array; the DC voltage input needs to match the nominal battery bank voltage usually 12, 24, or 48 V. Inverter model numbers normally reflect both the AC power output and the DC battery voltage. For instance, the OutBack VFX 3648 can produce up to 3,600 AC watts progressively and works on a 48 VDC battery bank.
Most quality stand-alone inverters produce a pure sine wave. The utility AC electricity is a relatively clean sine wave form, and higher-end inverters match or beat this quality. Modified square-wave inverters are usually cheaper, but the power quality is fairly poor.
Many appliances actually run fine on a modified square wave, but some loads, including thermostats, clocks, fans, and power tool battery chargers, might not function properly. Sine wave inverters are mostly preferred, as they will run motors more efficiently, and consumer electronics with less electrical interference and noise. However, as Mr. David Gitiba the Business Development Manager of Phocos in Sub-Sahara Africa points out, it is very important to ensure you source the preferred product from reputable a manufacturer and supplier. Buying cheap, low quality products becomes very expensive in the long run.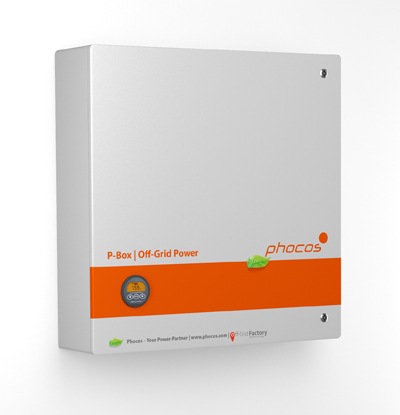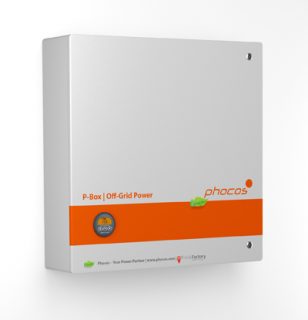 AC Output Voltage: Some off-grid inverters have a 120 VAC output, hence they need 'stacking' two inverters to make 240 V, or require a 120/240 step-up transformer. Other inverters have single-phase 120/240 V AC output. Since most larger generators are also 120/240 V, they have to be connected to an inverter that accepts a 240 V AC input, or run through a transformer to step it down to 120 V. Utilizing only one 120 V leg of a 240 V generator can enhance generator run time. Some inverters can also run three-phase AC loads.
When choosing an off-grid inverter, Mr. Carlos Lezana of Ingeteam in Spain mentions that, one needs to keep in mind the reliability of the product, as the full installation will depend on the inverter; quality current components that ensure a long durability, and compatibility with different battery models and bidirectional functionality with possibility of charging batteries and consuming from PV is also very important at the same time.
"An Inverter is the most critical component of a PV system. Get high quality inverters and check the after sales services, as it will have a great impact in the performance of your investment," affirms Mr. Lezana.
Ingeteam's PV solar inverters have been installed in many African countries which include: Namibia, Burkina Faso, Mauritius, Central African Republic, Uganda, Tunisia or Egypt. They sell string PV inverters (from 2.5kW up to 100kW) for residential, commercial and industrial installations, and we also sell central PV inverters (from 830kW up to 1800kW) for large-scale solar power plants.
According to Mark McHenry of Morningstar Corporation a world leading supplier of solar charge controllers and inverters with a presence in virtually every country in Africa, in addition to reliability, one should look for companies that have a good track record regarding technical support and service. Pure sine wave AC power, high efficiency, extensive electronic protections and self diagnostics, programmability and automatic control capability will all help to provide better performance and ease of use with battery based inverters.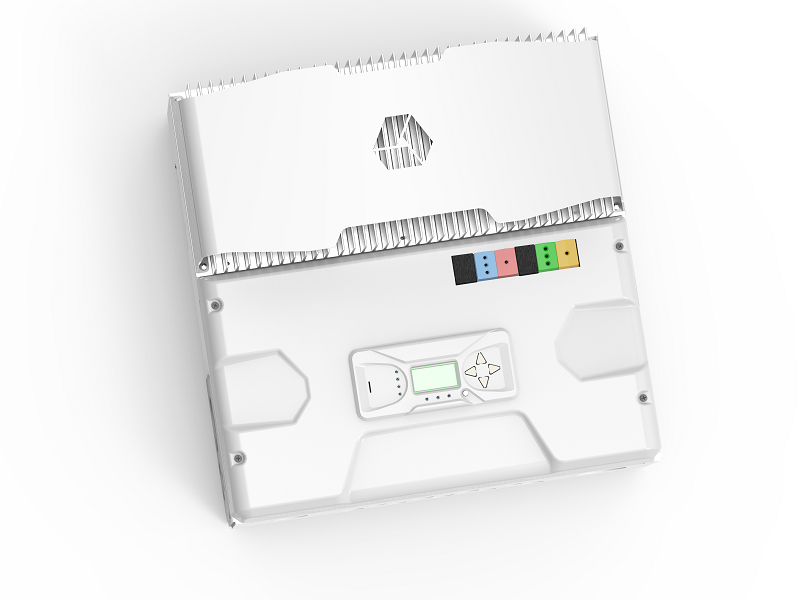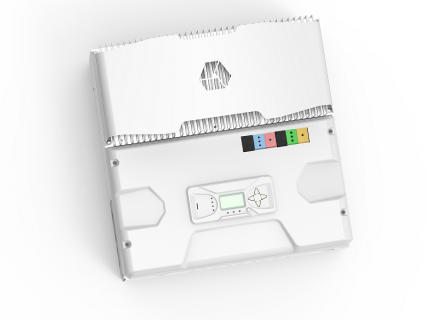 Additionally, Mr. Onur Ketenci of Savior Solar a provider of flexible solutions with advanced technology and strong support recommends that when it comes to an off-grid inverter, the consumer should go for smart inverters with MPPT solar charger to get high efficiency from that system.
"One of the most important things about off-grid solar system is proper system design according to the location and usage," he adds.
Choosing a Grid-Tied with Battery Backup
A Grid-tied with Battery Backup (GTBB) inverter should be able to work both as a stand-alone inverter and grid-tied inverter to energize loads when the grid is down. Choosing is quite simple, since there are few models available.
GTBB inverters must have a large enough AC power rating to pass through the full PV array output like a grid-tied inverter; and to power the backed-up AC loads subpanel like an off-grid inverter. In off-grid systems, the battery bank voltage must match the inverter; while in grid-tied systems, the AC output voltage must also match the utility voltage.
Most features of GTBB inverters are similar to off-grid inverters. Some GTBB inverters can also be used as off-grid inverters. They simply need some programming differences to let the inverter know whether it needs to interconnect with the grid.
Most importantly, according to Heinermann Christoph of KACO a leading solar inverter manufacturer from Germany with extensive experience in the Africa market advises consumers to talk to professional service partners in their market that asses the demand properly and offers suitable solutions.