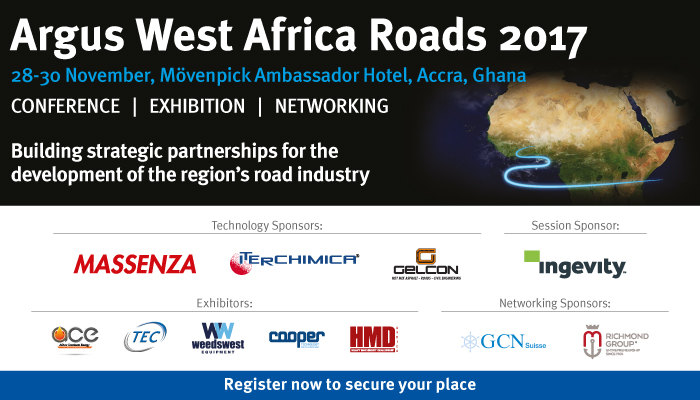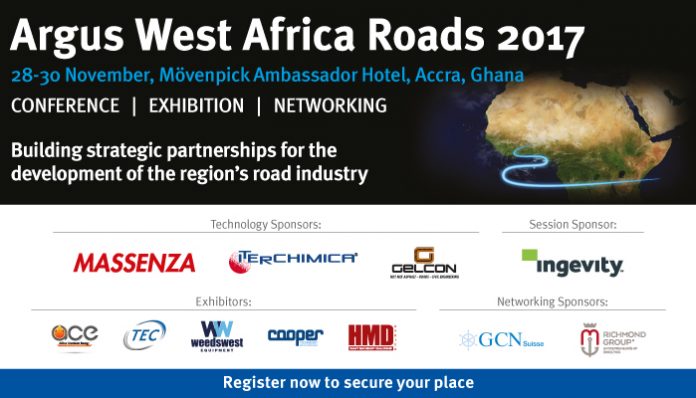 Building strategic partnerships for the development of west Africa's road industry
The inaugural Argus West Africa Roads conference and exhibition will explore upcoming infrastructure projects and opportunities for doing business in the region's road maintenance and construction industry.
Taking place in Accra, Ghana on 28 – 30 November 2017, speakers at the event include Hassan S. Tampuli, Chief Executive Officer, National Petroleum Authority (NPA); Collins Donkor, Director of Contracts, Ghana Highways Authority; SenyoKwasiHosi, Chief Executive, Ghana Chamber of Bulk Oil Distributors (CBOD), Eng. W.E.O. Apatu, Chairman, ABCECG – Building Contractors Ghana; Ben Torkornoo, Head of Operations, Ghana Oil Company Ltd (GOIL); DjibrilKanazoe, President and Director General, GroupeKanazoe; AminuAlhassan, Country Manager, Ghana, Group Five; MamadouDoumbia, Managing Director, SMB; Anthony Mensah, Group Head, Corporate Banking, Access Bank Ghana Limited , Frank Ramsey Lartey, Chief Executive Officer, Platinum Seal, Mam Tut Wadda, Principal Transport Engineer, African Development Bank, Mustapha Fasinro, Managing Director and Chief Executive Officer, Linetrale Petroleum,  Laurent Sourlin, Africa Bitumen Manager, Shell, Ronnie Muthusamy, Commercial Manager, Engen and other experts.
Hosted by Argus Media, the event brings together west African and international decision makers to explore the emerging business opportunities for the bitumen, asphalt and road infrastructure markets across the region.
Delivering specialized content with the Technical Focus Day and 2-day conference
The pre-conference Technical Focus Day on 28 November offers detailed analysis of key issues, led by subject experts. Topics include: the evolution of technology in west Africa, new technical developments in polymer-modified bitumen (PMB) and emulsions, maintenance and rehabilitation techniques and more.
The two-day Main Conference, 29-30 November, will challenge and educate delegates with in-depth analysis of the topics that are shaping the west Africa road construction industry. Topics include: identifying government strategies and commitments to building roads, improving the efficiency of the supply chain, reducing risk, improving infrastructure to support logistics, exploring the financial landscape and identifying sources of funding.
From keynote presentations to interactive panels, working groups, and on-stage interviews, experts from the most important organizations in the west Africa road construction industry will be represented across the main two conference days.
Event Name: Argus West Africa Roads 2017
Dates: 28-30 November 2017
Location: Accra, Ghana
Venue: Movenpick Ambassador Hotel Accra,PMB CT 343, Cantonments Ridge, Accra, Ghana
Website: http://www.argusmedia.com/events/argus-events/europe/argus-west-africa-roads/home/?utm_source=Partner&utm_medium=listing&utm_campaign=Lon-Conf-WAF17-cr