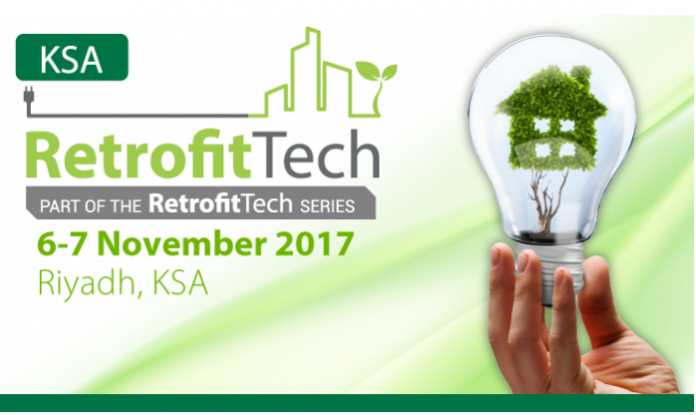 Riyadh (November 7, 2017), the 2nd annual RetrofitTech KSA seminar has been launched successfully at Mövenpick Hotel Riyadh. This seminar is organized by Advanced Conferences & Meetings in collaboration with their local partner XS Conferences & Exhibitions.
RetrofitTech KSA brought together key decision makers in the retrofitting sector to name a few: Wattaqa, Etihad ESCO, KEO International Consultants, SABIC's Home of Innovation™, KAPSARC, King Abdullah City for Atomic and Renewable Energy (K.A.CARE) and King Fahd University of Petroleum and Minerals.
Maen Nimrawi, Senior Commissioning Engineer at KEO International Consultants chaired the event. Stephane Le Gentil, the CEO of Wattaqa and the Clean Energy Business Council delivered the opening presentation on the state of the retrofitting market across the region and in Saudi Arabia. According to Le Gentil, there are key initiatives and investments currently being made in Saudi Arabia's retrofitting sector.
Ibrahim Mohammed the Execution Manager at Etihad ESCO delivered an update on the progress of Etihad ESCO "The official Dubai Super ESCO". Whilst Maen Nimrawi presented on existing building commissioning toward high performance building.
Mohammad Salah, Senior Applied Products Manager and Emmanuel Raisse Senior Manager at Daikin presented a case study detailing the contribution to the Saudi Arabia's 2030 Vision.
Another interesting presentation titled "Retrofit – more than just saving energy" was delivered by Moataz Hussain, Project Manager at Carrier Saudi Arabia.
The event included a networking break that brought together all attendees, speakers and sponsors in a professional friendly atmosphere.
The first day of RetrofitTech KSA created the perfect platform for the attendees to build relations, exchange ideas and seize business opportunities throughout the ACMi+ interface that allowed for many networking breaks which created a dynamic, efficient and relevant learning environment.
"RetrofitTech KSA is one of the best seminars for energy saving. It gives a new way of thinking about energy use" – HVAC Engineer, SMC Hospital
Solution providers like Carrier, Philips, Quantum Eurostar, Daikin, Talisen International, Neon Energy, Belimo, Opple Lighting, Zamil Coolcare and Gerab Energy Systems showcased their newest technologies and solutions in the field of water and energy efficiency.
"The seminar was well organized with professional speakers and great case studies. State-of-the-art technologies were presented and discussed at the event as well" – Executive Manager, ASHOM General Contracting
Day two (November 7) of the seminar featured many more interesting presentations, to name a few:  Increasing profits and shareholders value by reducing energy cost, retrofitting for sustainable built environment in KSA and a panel discussion about driving energy efficiency across planning, design, installation, and maintenance of HVAC projects.
For more information, please visit: www.retrofittechksa.com or contact Jessica Bou Samra at [email protected]