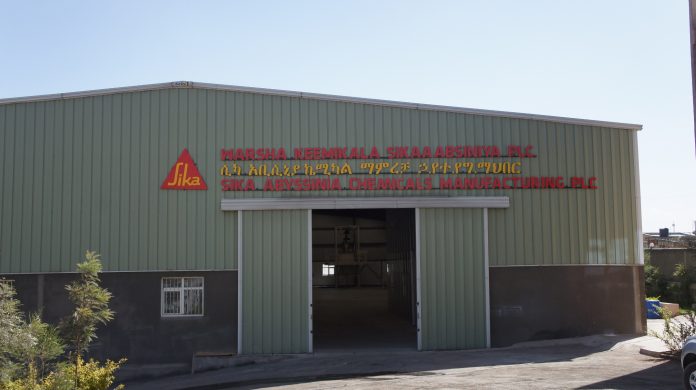 The new plant, located in Alemgena, Welete, will produce the most used construction materials in the local market, on categories Admixture, Waterproofing, Sealing & Bonding, Refurbishment, Flooring and Roofing categories
Sika Abyssinia, part of Swiss Group Sika AG, announces the inauguration of its first production facility in Ethiopia, a market with high potential for development in the construction materials segment. The company was founded in 2015 and the new production facility has been operational since June this year and is currently producing a wide range of Admixtures, Waterproofing, Sealing, Bonding and Flooring products.
The new plant has already started production with a full range of Admixture products like accelerator, retarder, water reducer, plasticizer, super plasticizer and waterproofing. It also produces a full range of silicones and epoxy flooring systems.
"We are also planning to expand production with other product ranges. In fact, more products will be launched at the beginning of next year, like roofing liquid applied membranes, hydrophobics,  waterproofing mortars, tile adhesives, grouts and dry shakes," stated Petrisor Grindeanu, General Manager Sika Abyssinia.
He also added that, with the inauguration of the production unit, Sika Abyssinia is also able to export to neighboring countries.
Sika is a Swiss specialty chemicals company with a leading position in the development and production of systems and products for bonding, sealing, damping, reinforcing and protection in the building sector and automotive industry.
"Established more than 100 years ago, our reputation for quality and reliability is illustrated through a portfolio of full range chemicals for the construction industry and also innovative solutions. The development of Sika does not stop here as the company has an ambitious strategy for the African Continent," stated Ivo Schadler, Head of EMEA, Sika AG.
He also added that the establishment of Sika Abyssinia Chemical Manufacturing PLC, the subsidiary of Sika AG on the local market, was a natural step given that Ethiopia is the second largest economy in sub-Saharan Africa in terms of population, and the fourth largest in terms of economic output.
"Because we strongly believe in the potential of the local market, we have established the first production plant with a fully equipped laboratory facility, in Alemgena, Welete. The new company adds to 18 other subsidiaries across the African continent. In fact, on the African market, Sika AG has been present since 1947. With such local set-up, Sika is in the position to serve the needs of customers and to transfer its know-how to the Ethiopian construction sector," said Jean de Martres, Sika Africa Area Head.
Sika Abyssinia's facilities: production hall, R&D center, office building and training center
In addition to the production hall, Sika Abyssina also owns a R&D center to test and adapt products to local needs. To this, a modern office building for the employees of the company is added, as well as a training center.
"We estimate that the local construction market has a great potential for development and we are counting on a double digit increase from year to year in the next period. In this context, Sika will provide the best solutions to support the needs of the local market for new houses, but also for private projects such as warehouses, production halls, commercial areas," said Petrisor Grindeanu.
He also added that another important segment of the construction market is represented by the government projects, such as the infrastructure ones.
"We know that we are pioneering in many of the segments of the local construction market and we are glad to assume that role. Also we believe that the Ethiopian customers will benefit from local product formulations that are perfectly adapted to the raw materials and local requirements, as well as from shorter delivery times. This step creates a foundation for further growth in this promising market," said the General Manager of Sika Abyssinia.
The company already has a close relationship with its customers by providing full technical support, training for workers, development of specialized contractors for high tech applications, on site assistance and on product specification.
SIKA CORPORATE PROFILE
Sika is a specialty chemicals company with a leading position in the development and production of systems and products for bonding, sealing, damping, reinforcing and protecting in the building sector and automotive industry. Sika has subsidiaries in 99 countries around the world and manufactures in over 190 factories. Its more than 17,000 employees generated annual sales of CHF 5.75 billion in 2016.