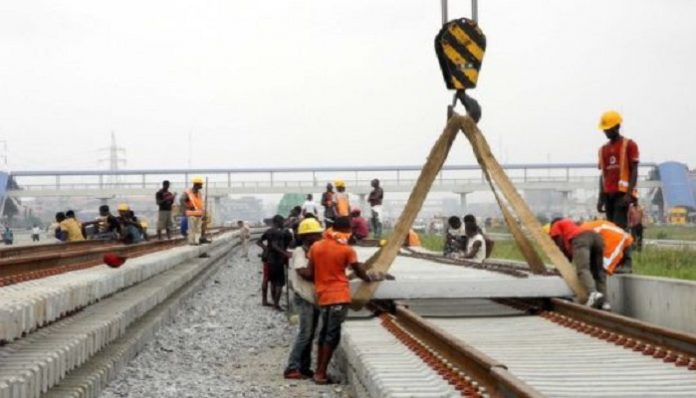 The Federal Government of Nigeria has confirmed it is going demolish the Jibowu and Costain bridges in Lagos State to pave way for the ongoing Lagos-Ibadan rail project.
Minister of Transportation, Mr. Rotimi Amaechi, issued out the demolition confirmation statement shortly after his inspection tour on the Lagos-Ibadan rail project.
"The Jibowu bridge and that of the Costain, we have agreed the two of them have to go. We have agreed with the governor of Lagos State on the arrangements we have to make before the bridges go. They cannot just go like that because of the management of traffic," said Amaechi.
"So, what we agreed on is that we are constructing new bridges at Costain so that by the time we finish them, we will demolish the existing ones," he added. He further added that, the one at Jibowu, they will build a flyover across it before demolishing it.
Reacting to the extent of work done on the railway project, the former Rivers State governor said they are impressed with the progress of work, but they expect more from CCECC. That is why they want them to increase the speed at which they are going.
"Yes, I am a lay man, but I have engineers supervising the construction and I know that by now they are supposed to have laid the tracks. I expected that they can lay the tracks within a period of one month," he noted.
Amaechi equally spoke on the challenges of the gas pipeline crossing the railway line, explaining that, if the issue of the transmission lines with the NNPC gas pipeline is not addressed, then there will be no railway line.
"I cannot tell you how soon we can do that because I am not with the NNPC. But what we know is that we have a target date. However, I want to say that there is no way you can do construction without challenges in different forms and kinds," said Amaechi.
"The difference between this construction and the rest is that journalists are physically present with the minister while the work is going on. In other constructions, what the journalists may see is the finished product and may not know what they went through," he commented.
Speaking on the completion of the rail project; "do not forget that the contract is for three years, but we are chasing the Chinese to see that they finish it in 2018. We have made it clear that we need it before January 2019."