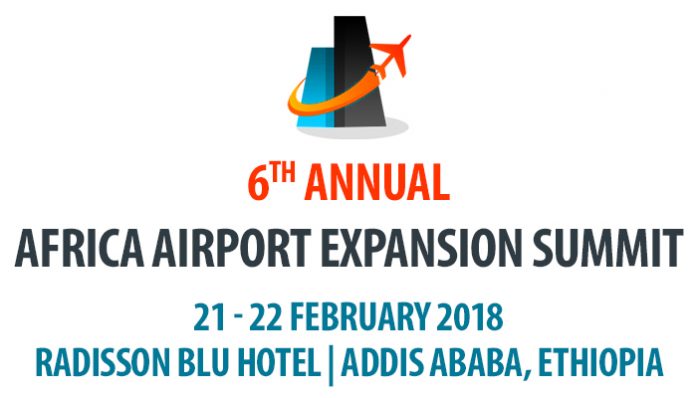 Lnoppen, in partnership with Ethiopian Airlines; organizing the 6th Annual Africa Airport Expansion Summit and inviting executives of the airport & aviation industry to gather in Addis Ababa for this year's conference.
This year's conference will take place from Wednesday 21st to Thursday 22nd February at The Radisson Blu Hotel Addis Ababa, Ethiopia. The summit will be focusing on a broad range of topics relevant to the businesses of aviation and airport industry, (Trends, market growth, investment, development, finance, facilitation, safety & security, cargo, ATM, Airport City development, technology etc.).
Eight of the ten fastest growing aviation markets will be in Africa by 2034. IATA projects a 5.1% growth in passenger numbers across the region by 2035 where nearly 300 million passengers will travel to and from African destinations and as a result, airport development projects today are mushrooming across the continent. Majority of airports in Africa are undergoing expansion in a bid to cater for rapidly growing passenger and cargo traffic volumes.
At the 6th Annual Africa Airport Expansion Summit; government officials, investors, civil aviation authorities and airport management groups will go in discussion with consultants, architects, construction companies, equipment providers and service groups, to explore the market and support the project development.
Some of the eminent speakers of the summit who would be sharing insight including but not limited to:
Hon. Aggrey Henry Bagiire, Minister of State for Transport, Ministry of Works & Transport, Republic of Uganda
Tekle G/Yohannes Managing Director Ethiopian Ground Services, Ethiopian Airlines
Tewedros Dawit, CEO, Ethiopian Airports
Alexander Herring, General Manager Africa, ADB Safegate
Andreas Jäger, Manager Africa, Airport Consulting Vienna
Col. Dokisime Gnama Latta, Director General, National Civil Aviation Administration, Togo
Emanuel Chaves, Chairman, Aeroportos de Moçambique, E.P.
Fateh Bekhti, Executive VP, Africa & Middle East, International Federation of Air Traffic Controllers' Associations
Flora Kumama Wakolo, Chief Air Traffic Control Officer, Kenya Civil Aviation Authority
Hamza Saidi Johari, Director General, Tanzania Civil Aviation Authority
Joseph Okumu, Airport Manager, Kisumu International Airport, Kenya Airports Authority
Karin Mulder, Vice President for Ports & Airports, KfW IPEX- Bank GmbH
Marcel Langeslag, Project Manager, NACO – Netherlands Airport Consultants
Moritz Breickmann, Investment Principal, Africa Infrastructure Investment Managers – AIIM
Pacifique Musongera, Director Airports and Air Navigation Services, Burundi Civil Aviation Authority
Paule Avomo Assoumou Koki, Director General, Cameroon Civil Aviation Authority
Priscilla Schelp, Manager, M2P Consulting
Simon Kaboré, Executive Secretary, Union of Airport Administrators West & Central Africa
Steven Verhasselt, Vice President Commercial, Liege Airport
Zitto Alfayo, Manager, Project Finance, African Export-Import Bank
Those who are interested in attending the summit, please take note that registration will be open until 19 February 2018. To request the conference agenda or get more information, please visit http://africa.airportexpansionsummit.com
If you would like more information about this topic, please contact Bora Erel – Noppen Belgium at +32 1422 40 02 or email at [email protected]