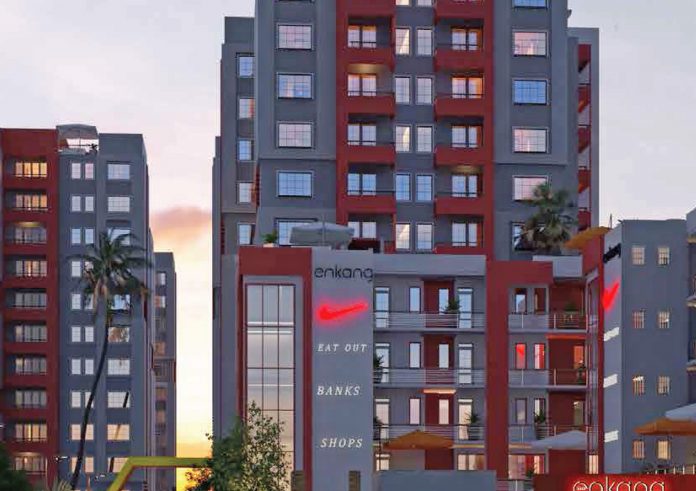 Ngong Road has always been considered a prime area to live or work in. Its proximity to amenities, major  health facilities, educational institutions and other services has seen many upwardly mobile individuals flock the area in search of property to buy or rent. Businesses have also not been left out; there are dozens of major NGOs and SMEs that operate from the relatively quiet area of Nairobi.
It therefore came as no surprise that Eris Property Developers chose Ngong Road as the location of their prime property.
Enkang Apartments comprises 370 residential units of various configurations. The development consists of studio apartments as well as 1, 2 and 3-bedoom apartments spread out on 6 blocks each having 11 floors. The 1-bedroom and studio apartments are tailored for young professional while the 2 and 3-bedroom units are ideal for growing families. The studios occupy 31square meters while the 1, 2 and 3-bedroom units measure 50, 85 and 110 square meters respectively.
All the units are designed with vast open spaces allowing owners to customize their interiors to suit their tastes.
Besides the residential units, Enkang features a 4-storey commercial centre at the entrance from Ngong Road (the development can also be accessed from Wahu Road at the rear).The commercial centre will house a spa and salon, restaurants, a mini-mart, gym and health clinic.
Estimated to cost at least Ksh1.2 billion (approximately US120 million), the development is being undertaken in two phases with the first phase commencing in August last year and expected to be complete in April 2019 while the second phase is scheduled for completion in May 2020.
According to the developers, Enkang was conceived as a modern and affordable property, a haven of peace within 15-20 minutes of the Central Business District. With growing infrastructure expansion in the area (Ngong Road is being converted into a dual carriageway with the first section already complete), property owners in the area are enjoying capital appreciation.
Features and amenities
Each block features an open roof terrace where residents may congregate for parties of get-togethers. Each unit has a kitchen yard and a balcony. There is a high window to wall ratio.
There is a jogging track around the complex and ample children's play area.
The entire development will enjoy solar water heating and a pressurized water system. A borehole with ensure that water is available throughout the development. The developer has also provided a back-up generator to run essential services and common areas whenever is outage from the utility provider.
Security has not been taken for granted: an electric fence with CCTV motion sensor cameras will be installed. In addition, all entries and exits within the development shall be manned.
Each block shall have a high speed lift controlled by a card.
Parking is available in the ratio of 1:1.5.
Prices
Affordability is one of the underlying pillars of Enkang. Studio apartments start from Ksh 3.2m while the 1, 2 and 3-bedroom apartments start from 4.5m, 7.5m and 8.5m respectively.
Project Team
Developer – Eris Property Developers
Architect – AIA Architects
Project Manager – Sterling project management
Structural Engineer – Edcons (K) Ltd
Quantity surveyor – Zimaki Consult
Services Engineer – Corporate Facilities Consulting Engineers
Main Contractor – China Jiangsu International
Electrical Subcontractor – Speedmark electrical services
Mechanical Subcontractor – Waterwise Services
Lifts – Sumacer Kenya