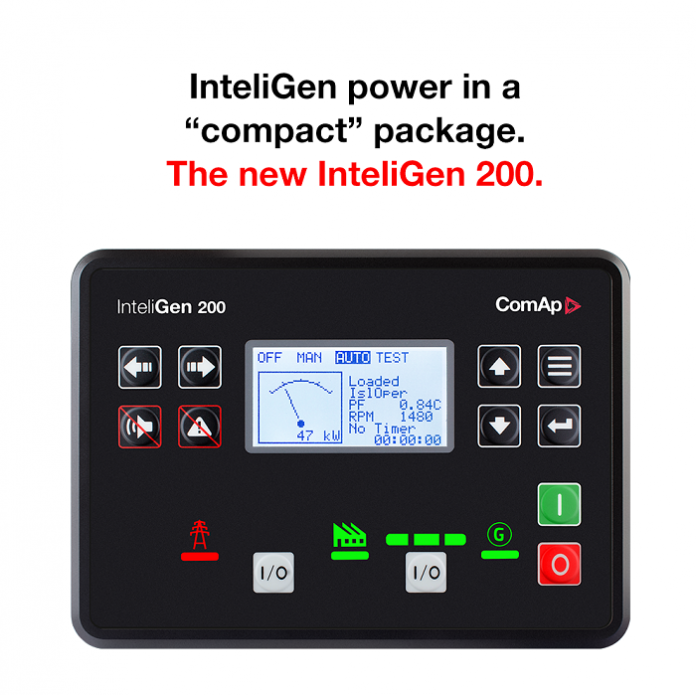 Building on the success of the best-selling InteliGen NT and InteliCompact NT controllers,
ComAp unveils the InteliGen 200, a new parallel gen-set controller suitable for all standard
parallel applications offering a new design, high flexibility and extendibility, whilst
maintaining intuitive configuration, operation and compatibility with its predecessors.
For over 25 years, ComAp has been leading the way in providing intelligent electronic
control products and solutions for power generation and diesel/gas engines that are highly
flexible, intuitive and scalable. In order to reflect the needs of our customers, we continue to expand and refine our product portfolio", says Jiří Dunovský, Director of ComAp's Industrial Power Generation division.
"That is why we have developed a new generation of gen-set controller, the InteliGen 200, that represents a scalable solution bringing the best of state-of- the-art technology to our customers in a way that reduces complexity and enables intuitive configuration and operation.
Compatibility, flexibility and dependability
With all basic functions predefined, customers can easily add and configure necessary PLC
blocks themselves using the intuitive PLC editor. The InteliGen 200 can be customized using plug-in modules (such as 4G/LTE, GPS, GPRS, RS232-485, and BIO8) and CAN modules (to expand the scope of measurement and signals that can be received).
The expansion and communication modules are designed to fit inside the controller itself, which not only reduces the space needed in the panel, but most importantly allows the customers to only select modules they really need. This also allows for easy future expansion of the controller instead of replacing the controller entirely, should the customer's needs change. While the compatibility with the previous generations of ComAp controllers is guaranteed, the innovation here lies in wide range of communication connections (USB/Ethernet/GPRS/3G/4G/LTE, RS232/RS485).
Improved platform – HW improvements, increased accuracy and better communication
The InteliGen 200 features an improved platform featuring an advanced processor,
increased memory and more space for extra terminals. Thanks to the integrated AVR
interface and basic group signals shared via CAN, less wiring is required.
The integrated USB port not only ensures better connectivity, but also enables configuration when standard power supply is unavailable. as the import or export of controller firmware and archives (configuration & history) using USB drive makes multiple gen-set configuration or site troubleshooting even easier. Improvements also include increased accuracy of voltage, current and power measurement. An RS 485 interface has also been integrated enabling a high level of system monitoring.
"Enabling switching between two applications, InteliGen 200 is a perfect solution for rental
companies, too," states Jan Donát, Product Manager, and specifies that single gen-set in
parallel to mains is equipped with functions such as auto mains failure start or peak load
shaving. When rented out to a customer the unit can be localized, tracked, or can be
'geofenced' with the use of the additional 4G/LTE GPS communication module.
Easy configuration and commissioning
Configuration and monitoring is supported by InteliConfig – a new version of ComAp's PC
software offering the possibility to control and monitor either one, or multiple gen-sets.
Thanks to manuals incorporated directly into InteliConfig and a context sensitive hint
feature, customers have always help at hand. By showing configuration and monitoring on
one screen, InteliConfig is also perfect for easy commissioning.