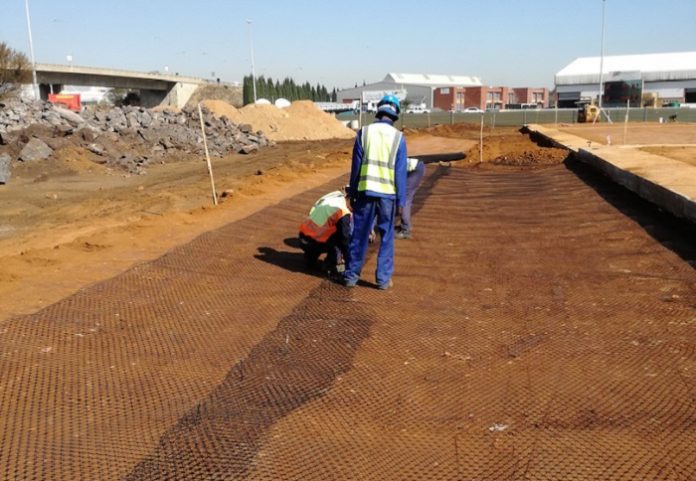 In May 2017 Endecon Ubuntu Consulting Engineers contacted Kaytech for a solution on a differential settlement problem at a site in Centurion, Gauteng where a new branch of XtraSpace, a container storage facility, was to be constructed. Kaytech proudly came to the rescue by supplying a revolutionary, cost-effective geogrid that ticked all the boxes.
When Endecon engineers discovered dolomite pinnacles at a depth of 150 mm below the natural ground level, they realized that even once the Wad and weak soils were removed and replaced with higher quality fill material, differential settlement might still occur. As a mineral composed of calcium magnesium carbonate, dolomite provides a higher load bearing capacity than fill material. Since the containers would easily span any voids and settlement, the main concern was to adequately reinforce the access roads between the rows of containers.
After a site inspection, during which photographs were taken and site information gathered, Byron de Cramer of Kaytech consulted with Tensar, the manufacturers of TriAx geogrids. A decision was made to crush a portion of the dolomite rocks and mix this with the in-situ material to create a G6 aggregate that would be included in the Tensar analysis to create a specific design for this project.
The rigid polypropylene triangular geometry of TensarTriAx, a significantly different structure compared to bi-axial geogrids, provides numerous advantages, including near uniform radial stiffness through 360o, and greater reduction in aggregate layer thickness. This reduces the quantity of natural aggregates required as well as the volume of material to be excavated. Trafficking trials have confirmed that Tensar TriAx functionally outperforms the best performing bi-axial geogrids available.
The design generated included compaction of the in-situ material to 100 mm above the top of the dolomite peaks to serve as a "cushion layer", covering this by simply unrolling a layer of Tensar TriAx TX160 geogrid.  Prior to surfacing, two 150 mm layers of the G6 material were installed above the geogrid.
The triangular structure of TriAx, in conjunction with increased rib thickness and junction efficiency, provides significantly improved aggregate confinement and interaction, leading to improved structural performance of the mechanically stabilized load-bearing sub-base. With tensile stiffness in three principal directions, Tensar TriAx is a truly multi-directional product with near isotropic properties.
Pentacon Civil commenced the project in May 2017 and by completion five months later, had installed 5500 m2 of Tensar TriAx TX160 that not only formed a durable, stabilized base for the entire road network and parking areas, but also provided a high strength temporary platform to facilitate construction procedures.
Thanks to Kaytech, the new XtraSpace Sandstone branch, standing on an exceptionally sound foundation, is now open for business.
For more information on Kaytech products and systems, visit www.kaytech.co.za