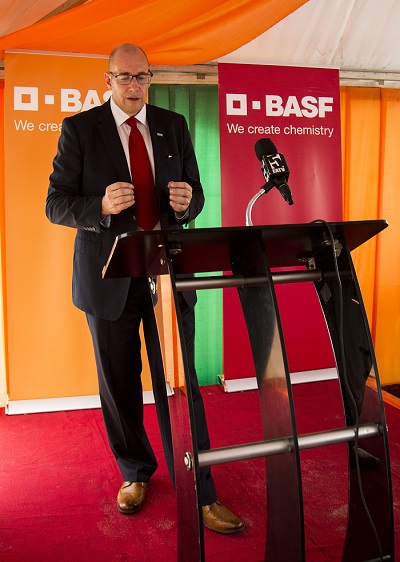 BASF, the world's leading chemical company, has unveiled a new office in Dar es Salaam, Tanzania. The office will offer both sales and technical support to BASF Tanzania customers.
BASF will increase business activities in Tanzania fostering more partnerships and business growth
The new office will offer more personalized service to BASF customers enhancing the reach to BASF innovative solutions & products
The opening of the new office demonstrates BASF's commitment to the already existing market in Tanzania
BASF began doing business on the African continent about 90 years ago focusing on the key industries of construction, textiles, automotive, agriculture, plastics, and healthcare sectors. The establishment of a new office in Tanzania will now expand BASF's footprint on the continent and will nurture partnerships and innovation geared towards sustainable growth.
According to BASF's Vice President for Africa, Michael Gotsche, "Our presence in Tanzania will allow us to respond to challenges arising from the competitive conditions in the market, while also extending our reach to more customers." Part of the company's growth strategy in Africa is to invest in local presence and local production. BASF has in the recent past opened offices in Zambia, Ivory Coast, and Kenya.
"At BASF we are constantly assessing the company's economic performance and take the necessary steps geared towards expanding into new markets and making our products easily accessible to our customers," says Gotsche. Drawing on professional experience and a broad portfolio that ranges from performance products, plastics, chemicals, oil and gas as well as crop protection products, BASF aims to ensure that existing customers get the service and support they need.
According to BASF Tanzania's Managing Director, Mats Idvall, BASF's top priority is to exceed its customers' expectations. "Tanzania represents a commercial and industrial hub for businesses thanks to its vibrant and stable economy", he said. "The establishment of this new office confirms BASF's commitment to growing the business in this important and strategic market," he added.
About BASF
At BASF, we create chemistry for a sustainable future. We combine economic success with environmental protection and social responsibility. The more than 115,000 employees in the BASF Group work on contributing to the success of our customers in nearly all sectors and almost every country in the world. Our portfolio is organized into five segments: Chemicals, Performance Products, Functional Materials & Solutions, Agricultural Solutions and Oil & Gas. BASF generated sales of €64.5 billion in 2017. BASF shares are traded on the stock exchanges in Frankfurt (BAS), London (BFA) and Zurich (BAS). Further information at www.basf.com
About BASF East Africa
BASF East Africa Ltd, the regional sales hub for the East African market, was established in Kenya in mid-2011 and is responsible for 13 countries. In 2014 a production facility to serve the construction chemicals market was inaugurated in Nairobi. BASF's Construction Chemicals division is the leading supplier of chemical systems and formulations for the construction industry in the region for more than 25 years. Continuous innovation and tailor-made solutions ensure its customers achieve greater success. In Ethiopia, BASF has a representative office taking care of various industry segments but with a strong focus on our agriculture business. BASF Tanzania Ltd was established at the end of 2015 and has an office in Dar es Salaam.
About BASF Tanzania
BASF was first established in Tanzania in the year 2015 with the main office being at Coca-Cola Road, Dar es Salaam. Its main focus is on construction chemicals, crop protection, care chemicals, performance materials, human nutrition, and health. Master Builders is the BASF global brand of advanced chemical solution in the construction industry. Further information at www.master-builders-solutions.basf.co.tz
Similar Posts: