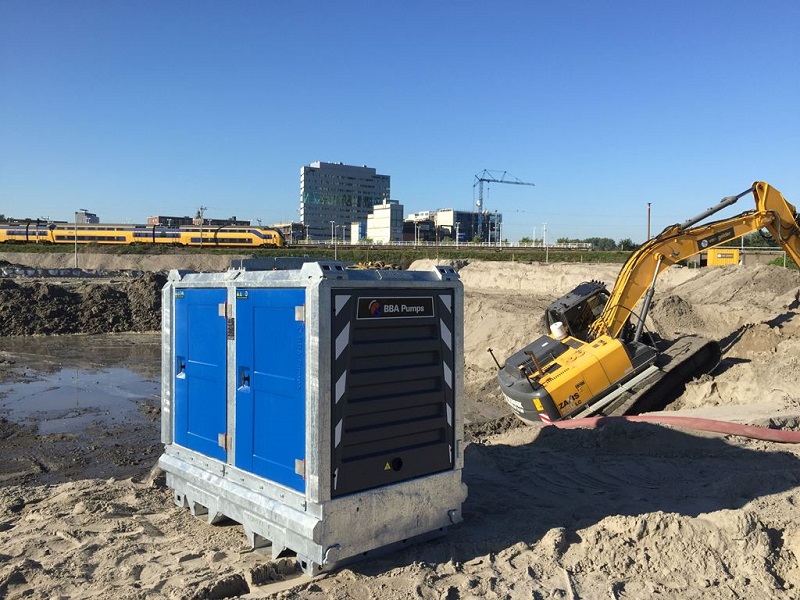 The new BV150 bentonite pump excels in efficiency. BBA Pumps doubles the efficiency with the new BV150 bentonite pump (versus the previous model). In addition to a high pump efficiency, the new BV150 bentonite pump further excels due the double float boxes and the complete internal flushing system. This cleans the mechanical seal during the pumping process and once you're finished you can then easily clean both float boxes and the check valve.
How does the flushing system of the bentonite pump work?
You can flush the pump with water after pumping through an external connection on the front panel. The internal flushing system is equipped with a manifold with ball valves. This sends the water for flushing to the critical parts of the pump and the vacuum system. In this way you can minimize the chance of downtime during the pumping process and ensure that the equipment is left perfectly clean after use.
Features
Max. flow 500 m3/hour (with fluid density 1000 kg/m³)
Max. head 42 mwc (at a pump speed of 2000 rpm)
Priming system MP100 (air capacity of 100 m3/hour)
Two float boxes (including "quick release" levers)
BBA Pumps has been a leading manufacturer of mobile pumps and piping systems for over 60 years. We supply and support our products all over the world. BBA pumps and accessories are developed for use in a variety of applications:
Construction
Wellpointing
Sewer bypassing
Mine dewatering
Benonite and drilling sludge