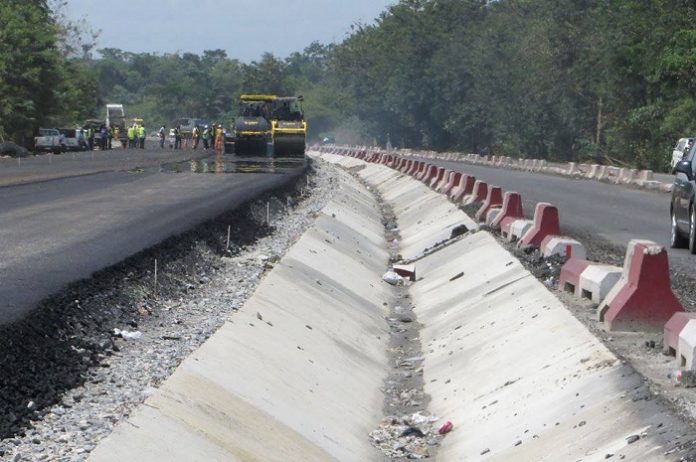 Rehabilitation work on the Lagos-Ibadan Expressway in good progress and is almost hitting the 60% mark complete. This is according to the two construction companies handling the rehabilitation work on the Expressway.
Reynolds Construction Company (RCC) and Julius Berger revealed the project status during a nationwide tour visit on the nationwide federal government's infrastructural projects. The tour was conducted by the Minister of Information, Alhaji Lai Mohammed.
The rehabilitation cost for the 132km long expressway road hits US $642.4m. However, the reconstruction of the expressway is divided into two sections in order to cut short the project completion duration.
Project sections
Julius Berger is working on the section one of the project which is from Lagos to sagamu. The 48 km project section is at 53% complete, entailing the laying of asphalt and construction of drainages. On the other hand RCC is handling Section 2 from Sagamu to Ibadan which is now at 58.27% complete.
Also read: Construction of Lagos-Ibadan expressway halfway complete
Naor Narkisi of RCC, revealed that the firm is extending two bridges at the 71 and 74km of the road section which is at Fidiwo and Four Square. The bridges will be completed by the end this month.
 According Narkisi, the total length of asphalt laid on the road section is at 28.3km for Ibadan bound track, while another asphalt is laid towards Lagos at the 29.7km mark. The total road length awarded to RCC is 84km and 23,347. 86 tonnes of bitumen has been used while the quantity of cement used is 18,730.14 tonnes. RCC has four years to complete the awarded 84 km road section. The company will as well install pedestrian bridges, street lights and under passes in some parts of the road.
Additional layers
However, it is expected that sections 1 and 2 will be completed substantially before end of 2018 and that every improvement made on the road, makes traffic to become more pleasant and enjoyable. Security is also enhanced while the economy grows.
According to Loesser Wolfgang, the Julius Berger Divisional Manager of West and Lagos, the company has already rehabilitated 53% of the road. Wolfgang added that there will be a large interchange at the Redeemed Church to tackle the huge traffic caused by the large number of people who gather every week to worship.
Nonetheless an additional layer of 15cm of top asphalt coating has been made on the road while the asphalt admixture is modified to prevent the road from corroding. Besides, the road is designed to be durable for 20 years from the effect of rotting.