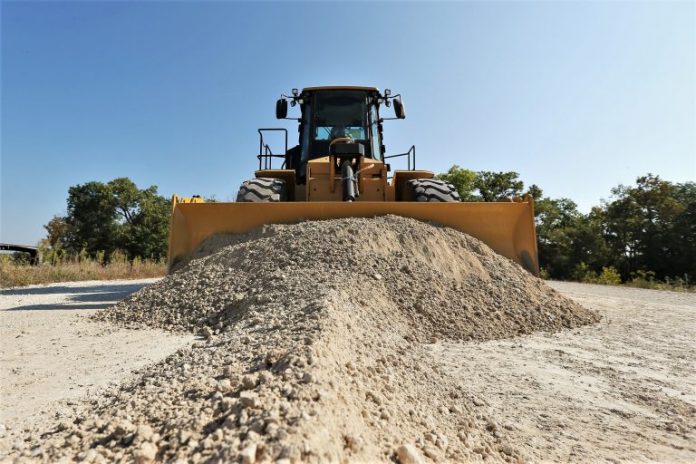 Caterpillar has introduced a new 814K wheel dozer with updated cab, new engine. The company says it provides more comfort to operators and easier serviceability.
The new machine is powered by a new Tier 4 Final Cat C7.1 ACERT engine that consumes less fuel than previous models and features engine idle shutdown and auto idle kick down.
The engine is paired with a Cat planetary power shift transmission, making this machine capable of handling demanding mining applications, Cat says. The transmission offers four forward and reverse speeds and Cat says shifting is smooth, even under load, thanks to the Advanced Productivity Electronic Control Strategy (APECS). APECS prevents loss of momentum on slopes during gear shifts, allowing the dozer to climb grades more efficiently and with less fuel burn.
New cab, controls
The 814K's standout feature is its new cab design. Isolation mounting and an air-suspension seat keep vibration away from the operator in the new 814K, and Cat says it has reduced operating noise levels inside the cab from 78 to 71 decibels. An optional sound suppression package lowers sound levels even further to 70 dB.
Because Cat removed the steering wheel from the 814K and replaced it with a foldable STIC (Steering and Transmission Integrated Control) armrest, there's more space in the cab and it's easier to get into and out of. Cat says STIC delivers a more responsive control feel to the operator while reducing fatigue by allowing simple side-to-side movements to turn the machine left and right. Gear selection is done through a rocker switch.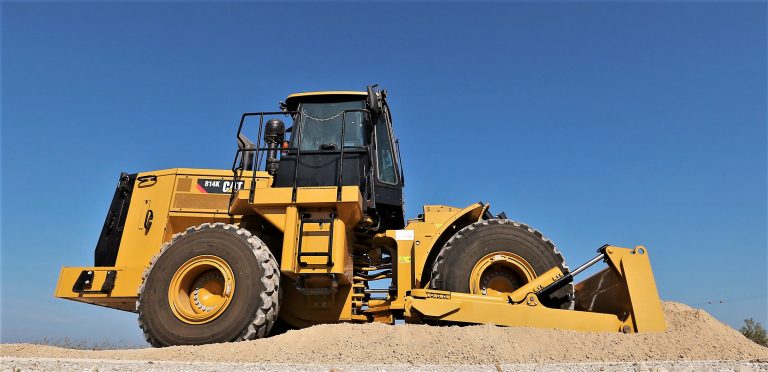 The dozer features load sensing hydraulics that provide hydraulic flow optimized to the demand of the implement and steering system to improve fuel efficiency and increase rim pull.
Inside the cab operators will also find a new touchscreen that displays machine operation data such as system temperatures, fuel use and machine hours. The new Vital Information Management System (VIMS) allows technicians to connect directly to the machine to access even more data and sensor information. This wealth of data can be used to generate productivity reports and monitor machine health.
Blades
Cat is making two blade designs available for the 814K: a 3.72 cubic yard straight blade and a 13.8 cu. yd. coal blade. The straight blade is designed for high production dozing on stockpile material and general earth moving. The coal blade provides precise and productive dozing while helping retain load control with increased capacity for lighter materials, Cat says.
Improved service ability
On the new 814K Cat has included a centralized ground-level service area for quick access to the following.Cat has also grouped the grease points for steering, hitch and rear axle trunnions along with easily visible fluid sight gauges to reduce daily maintenance time.
The 814K also features new high efficiency hydraulic filtration. Cat says this results in cleaner hydraulic oil, increased component life and an extension of the oil inspection requirement from 2,000 hours to 4,000 hours.