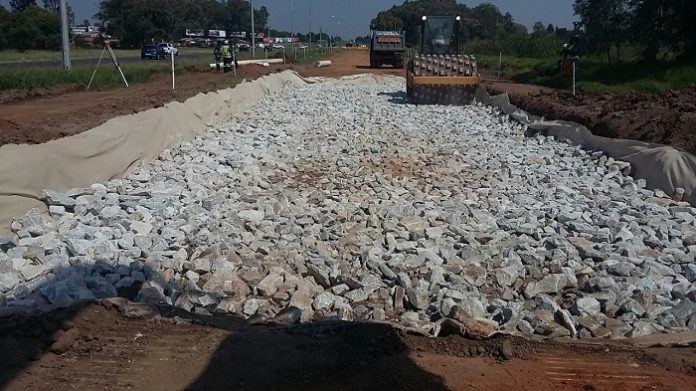 November 2017 saw the commencement of a routine road rehabilitation project on the R42, a provincial route connecting Vanderbijlpark and Bronkhorstspruit in Southern Gauteng. Aphane Of concern however, to the engineer from Aphane Consulting, were numerous wet areas that seemed impossible to compact.
Recognising that a composite geotextile would be the best solution to cover the wet areas, Kaytech's unique RockGrid PC was specified. The design included a pioneer layer of 500 mm dumprock to be wrapped completely, bottom, sides and top, with RockGrid PC 50/50. An imported G1 blinding layer installed above would provide protection of the geotextile.
First composite geotextile
RockGrid PC is the first composite geotextile to be manufactured in South Africa. Its unique characteristics are derived from a non woven layer, offering optimum drainage capacity and high installation survivability, in conjunction with high tenacity, bi-axially oriented multi-filament polyester yarns providing a high tensile modulus.
The section of the R42 earmarked for rehabilitation by Gautrans, the Gauteng Department of Roads and Transport was Barrage Road, between Makro Vanderbijlpark and the Vaal Mall. Basil Read was the main contractor while Kwa Mhlanga Construction was contracted to install RockGrid PC. With adequate drainage of the wet areas being vitally important, Kaytech's FloDrain system was also specified in conjunction with RockGrid PC. The in-plane drainage capacity of RockGrid PC will ensure interception of migrating seepage redirecting it to FloDrain collectors.
A pre-manufactured composite subsoil drainage system, FloDrain comprises a Flownet drainage core wrapped in a bidim filter jacket. Bidim is Kaytech's continuous filament, needle punched, nonwoven geotextile manufactured from 100% recycled polyester. The vertically installed FloDrain fin is connected to a Kaytech Geopipe whose 70% perforated surface area provides unsurpassed infiltration capacity. The highly economical, lightweight and flexible FloDrain system provides ease of transportation and installation while also being accompanied by quality assurance.
RockGrid PC and FloDrain
In total, 6 500 m2 of Rock Grid PC 50/50 were installed over the various wet areas creating stable platforms onto which the normal road layer works could be placed; 500 mm Dump rock, 150 mm Lower Sub base C4, 150 mm Upper Sub-base C3, 150 mm Base G1 and 50 mm Asphalt.
The use of RockGrid PC and FloDrain provided not only the highest quality basal reinforcement, separation and drainage, but also significantly cut the costs of the rehabilitation project, while the ease of installation and efficacy of these Kaytech systems greatly impressed both consultant and contractor.
For more information on Kaytech products and systems, visit www.kaytech.co.za