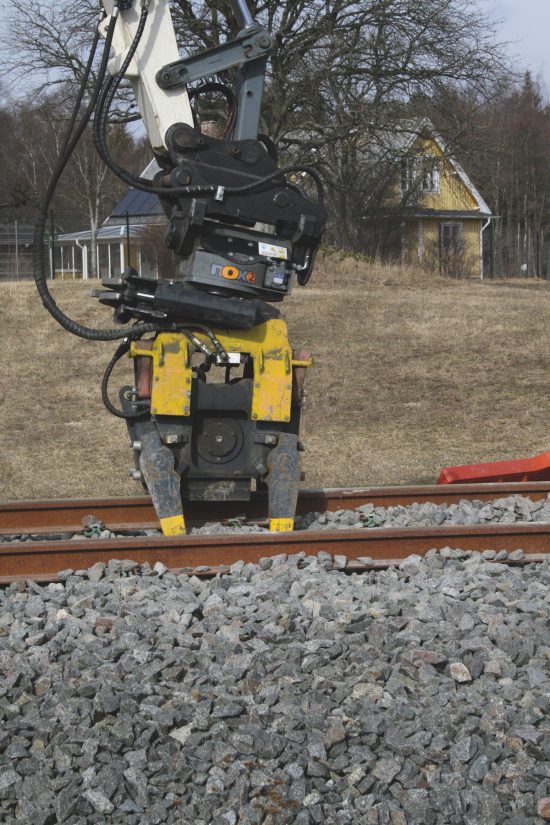 Kinshofer has introduced new (RST03) and double (DT03-22) railway ballast tampers for excavators, the company boasts they are the highest adjustable vibration frequency on the market.
The tampers are available with or without integrated 360-degree rotation and are designed to maximize efficiency when packing ballast under railway ties. The company says the attachments are also lightweight and quiet. They are geared for excavators with operating weights of 30,800 pounds to 48,400 pounds.
Vibration frequency
Each individual tamper has two motors and a vibrating unit, which operates at a vibration frequency of up to 60 hertz (3,600 rpm). Four gripper arms move together and apart while vibrating and shuffling the gravel before tamping it, to allow operators to quickly stabilize the ballast, the company says. The tampers deliver 16,500 pounds of compaction force.
The single-tamper RST03 has four arms that are thrust into the gravel and pack it by vibrating alongside and below the railway ties. The double-tamper DT03-22 pairs two single tampers so it can work along both rails simultaneously, according to Kinshofer.
It features a foldaway design, and operators can use in-cab controls to unlock and tilt the second tamper up 55 degrees for changing layers at track switch. The operator can hydraulically adjust the tampers' force from the cab, the company says.
Rails standard
The tampers' arms are equipped with rubber pads to reduce vibration against the machine, which decreases noise and wear. Hydraulic hoses connect away from the arms to prevent damage.
The tampers' depths are based on common rail standards, but Kinshofer can customize depths based on the type of tie, either concrete, steel or timber, the company says. It can also adjust the number of pads on each arm.
Both attachments can be used with Kinshofer's Nox-Tiltrotator for quick attachment change and 360-degree rotation. The DT03-22 weighs 3,960 pounds and the RST03 weighs 2,255 pounds. For operation, they require three hydraulic circuits, including one for hammer (vibration).