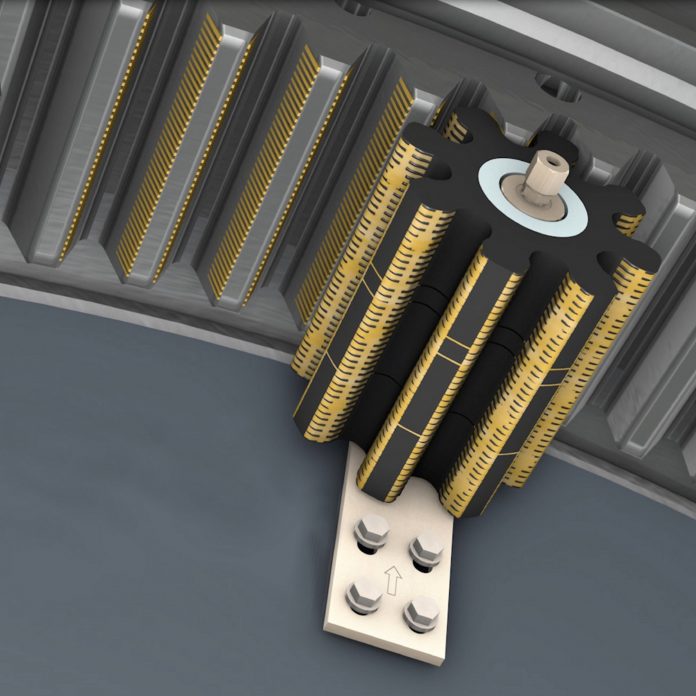 SKF announces the introduction of its Lincoln lubrication pinion LP2 for open gear wheels and gear racks. Complementing SKF's existing lubrication pinion line, the reliable LP2 features a modular design and the capability to lubricate fast-rotating applications up to 80 r/min.
As the lubrication pinion LP2 does not require pressurized air, there is no spray mist to contaminate the environment. Also, higher-viscosity lubricants, such as NLGI grade 2 grease, can be applied. When compared to manual lubrication, use of LP2 pinions provides better quality lubrication and reduces costs, labor and the risk of accidents.
The modular design enables customers to configure the lubrication pinion to meet specific application requirements. The LP2 is suitable for wind, mining, construction, marine and material handling applications, as well as slewing or pitch bearings.
Combining more than 100 years of SKF and Lincoln expertise, SKF offers the industry's most complete portfolio of innovative lubrication solutions – from manual lubricators and tools, to the most advanced centralized and automatic lubrication systems.
SKF is a leading global supplier of bearings, seals, mechatronics, lubrication systems, and services which include technical support, maintenance and reliability services, engineering consulting and training. SKF is represented in more than 130 countries and has around 17,000 distributor locations worldwide. Annual sales in 2017 were SEK 77 938 million and the number of employees was 45 678. www.skf.com