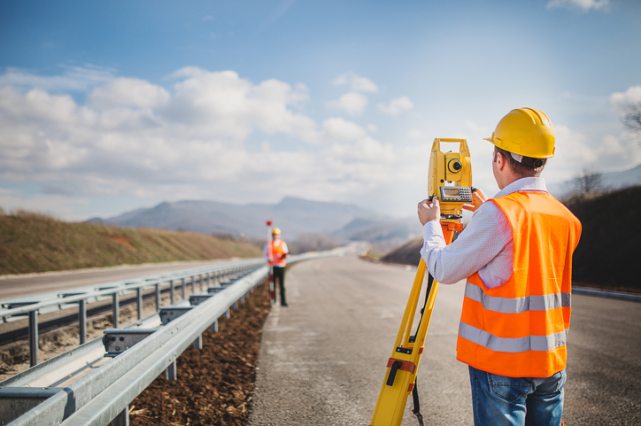 Surveying play an integral role in the construction industry. As in most things technical, advances in technology and systems have brought about dramatic changes in surveying as laser mapping and scanning systems for topography. All these advanced surveying equipment promise greater accuracy and precision, durability, and robustness
The following firms are the leading surveying equipment manufacturers in the world.
Robert Bosch GmbH
Robert Bosch GmbH, or Bosch, is a world leading multinational engineering and Electronics Company headquartered in Gerlingen, near Stuttgart, Germany, founded by Robert Bosch in Stuttgart through his early desires to be self-employed in 1886.
Right from the start, Bosch Company was characterized by innovative strength and social commitment through performing all the precision mechanical and electrical engineering work that came his way, such as installing telephone systems and electric bells back in the 80s.
Bosch Service Solutions is a leading international supplier of business process outsourcing solutions that facilitate customers' needs both private and commercial. The company communicates honestly and responsibly to deliver value-added services to clients who share in their goals of quality, growth, and profit.
They offer services in areas such as; multimodal transportation services, brings together vehicle technology, the data cloud, and services to offer complete mobility solutions, provide solutions for complex, technology-driven services, develop and operate new and innovative business models with clients.
Bosch develops innovative, high quality power tools that are guaranteed to produce professional results in all fields of craftsmanship. The tools are reliable, powerful and robust, fulfill the highest demands, and make your work easier. The company has Bosch cordless tools which excel especially due to their long lifetime, high performance capability, and very long runtime.Bosch software solutions help companies improve the way they run their businesses and bring new revenue channels and products to life.
Topcon Inc.
Having a core business founded on the surveying instruments, Topcon Inc. have maintained a leading rank in survey equipment manufacturing since establishment in 1932.
The company operates in three segments; the Positioning Business, which uses high-precision GNSS positing technology to achieve the automation of civil engineering construction and farming, the Smart Infrastructure Business, which applies the surveying technology the company have developed since their founding in the fields of infrastructure development and structural maintenance and management, and the Eye Care Business, which offers advanced solutions in the field of ophthalmology.
Thanks to the company's network of production, development, and sales locations, Topcon products and services are used throughout the world with overall sales ratio of 79% in FY 2015. They have also expanded business domains through M&A and alliances.
Topcon's major hit product was in 1978 when the company released the DM-C1, the worlds smallest and lightest electro-optical distance measuring instrument and theRM-100, the world's first refractometer to utilize near-infrared light and enable measurements utilizing on-screen operations via a TV monitor. These two products became explosive hits which brought about dramatic changes in Topcon's company structure.
Trimble
From its start in 1978 above the old Los Altos theatre in Silicon Valley, Trimble has been driving a focus on developing innovative positioning and navigation products.
By focusing its resources on harnessing and expanding the power of GPS through innovative products, Trimble spearheaded the rapid development of commercial and consumer applications, as well as military use of the new technology. Taking GPS from its exclusively military applications and applying it to traditional markets such as surveying and navigation would revitalize and redefine these markets, both highly dependent on positioning technology. Marrying GPS with other technologies, such as wireless communications, would spawn new and emerging markets that make use of position-centric information.
The company prides itself by being the company that introduced the world's first commercial scientific-research and geodectic-survey products based on GPS for oil-drilling teams on offshore platforms. For over 38 years, Trimble has created unique positioning products that help customers grow their business.
Trimble augments its organic product development with strategic acquisitions to bring the latest positioning technologies to a wider market
SokkiaCorporation
Sokkia Corporation is the United States subsidiary of Sokkia Co., Ltd., Tokyo, a world-leading manufacturer of precision measuring systems and provides diverse product line of complete solution for surveying, mapping and GIS, industrial measurement and construction applications.
For more than 85 years, Sokkia's complete line of surveying instruments, GPS products and accessories have provided its customers with quality the company boast that it's found nowhere else. With decades of experience, the company backs its products with the industry's most complete service and support capabilities, including regionally-located sales managers, technical support, online help, product training and a factory-trained repair staff and service facility.
The company's promise of 'precision and reliability' is displayed by their commitment to deliver products and solutions that are highly accurate, reliable, and developed to meet the needs of customers in their business areas: surveying, construction and industrial measurement.
Leica Geosystems
Formely known as Wild Heerbrugg, Leica Geosystems is a Switzerland based company that produces products and systems for surveying and geographical measurement (geomatics). Its products employ a variety of technologies including GPS satellite navigation and laser range finders to enable users to model existing structures, terrains in computer based systems to high accuracies, often under 1 cm.
The company has a team of well-qualified and competent team of engineers and consultants supports who have rich experience in the field of Scientific and Electronic instrumentation, control systems and Surveying Instruments that meet the exact requirement of their customers.