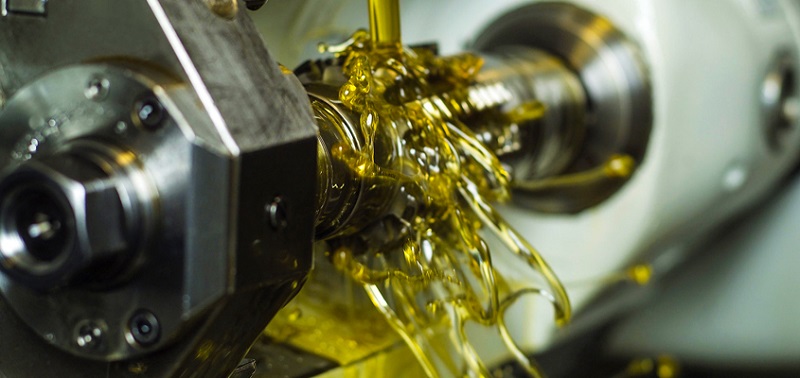 One of the most important things an operator can do for his construction machinery, is to make sure it is properly lubricated with a proper construction machinery lubricant. Many people believe that a lubricant is simply used to make things "slippery." While it is the primary function, there are more advantages to using the right lubricant. According to Derk Jan van der Veen marketing manager Rewitec Company based in Germany, any engine has metal friction and by adding an appropriate lubricant you can reduce the friction, reduce wear and by that save money.
In addition to friction reduction, it also reduces the amount of wear that occurs during operation, reduces operating temperatures, minimizes corrosion of metal surfaces, and assists in keeping contaminants out of the system.
Also Read:How high performance machinery lubricants work
Lubricants have many properties that can be mixed and matched to meet your operating needs. For example, there are different chemicals that can be added to allow a machine to efficiently run at extreme temperatures. We can also make a lubricant more effective in protecting machine surfaces under extreme pressures.
According to Peter Szarafinski, Head of Media Relations International of LIQUI MOLY its advisable to carry a wide range of oil and fuel additives. They are chemical tools which
should not miss in every professional's toolbox. They help to reduce friction, to decrease the operating temperature of the engine or the gear box, to remove deposits from the oil system, the combustion chamber or the fuel system, and many more. This improves operational reliability, reduces downtime and ensures a long operating life of the equipment.
Moreover, Marketing Manager at Rymax Lubricants, Melissa Niemeijer notes that lubricants play a vital role in the construction industry where equipment need to perform under severe conditions, from heavy loads and extreme temperatures, to excessive wear, dirt, and water contamination thus provide optimal protection.
"Rymax Lubricants allows extending drain intervals, minimizing downtime, and reducing maintenance costs. Since construction operations move frequently from location to location, a maintenance team will not always be present. Machine breakdown can lead to long unplanned downtime, which is something that needs to be avoided. Choosing the right lubricant is essential in helping to improve reliability, boost productivity, and reduce the frequency of breakdowns." She added
By looking at the demands of the machine, you can properly identify the type of lubricant best suited for its proper function.Moreover, to determine whether a construction machinery lubricant will be effective for the intended purpose, it's essential to look out for the following 3 indicators.
Viscosity
Viscosity describes the flow behavior of a fluid. The viscosity of lubricating oils diminishes as temperature rises and consequently is measured at a given temperature (e.g. 40°C). The viscosity of a construction machinery lubricant determines the thickness of the layer of oil between metallic surfaces in reciprocal movement.  The higher a lubricant's viscosity, the thicker it will be and the more energy it will take to move an object through the oil.
The most widely used unit of measurement of viscosity is the centistoke (cSt).One common scale used to describe viscosity in lubricating oils is the numerical grading given by The Society of Automotive Engineers, or SAE.
Viscosity index
The viscosity index is a characteristic used to indicate variations in the viscosity of lubricating oils with changes in temperature. The higher the level of the viscosity index, the lower the variation in viscosity at temperature changes.
Lethabo Letsoalo, Marketing Coordinator at Blue Chip Lubricants (Pty) Ltd recommends high viscosity indexes for hydraulic installations which operate under low and high operating temperatures.
Lethabo further explains that hydraulic oils with a stable high VI can stand higher mechanical stress and therefore have a longer endurance, without the danger of exceeding the minimum required viscosity. These type of hydraulic oils can generate energy savings, due to their ability to operate in the optimum viscosity range.
Consequently, if two lubricants with the same viscosity are considered at a temperature of 40 °C, the one with the higher viscosity index will guarantee:better engine start up at low temperatures (lower internal friction)a higher stability of the lubricating film at high temperatures
For example, if you are operating a piece of machinery over a wide range of temperatures, you will require a lubricant with a high VI, meaning that the oil will retain its lubricating characteristics whether it is starting up cold or running at full speed and peak temperature.
OEM certification
Engine oil being the blood of your construction equipment fleet, long hours and heavy loads take toll on the bearings and other moving parts in your diesel engines. It pays to use the most dependable, highest quality oils, lubricants and coolants to keep your construction equipment working. Therefore, according to Jim Girard of Lubriplate from Newark NJ, in the US, it is highly advisable to purchase lubricants that comply with the Original Equipment Manufacturers' (OEM) generic lubricant specifications.
"Machinery Lubricants thickened with either aluminum complex or lithium complex and manufactured with heavy base fluids are the most popular products for heavy duty construction equipment. For example, LUBRIPLATE No. 1444 grease is aluminum complex grease with a heavy base fluid and it also contains additive to make it very adhesive. This grease seals out dirt, rocks and other airborne contaminants hence preventing bearing failures," he adds.
Oxidation and corrosion
When lubricants are exposed to oxygen and certain metals or compounds at temperatures above 160 degrees Fahrenheit, they can be prone to oxidation. Oxidation of lubricants can lead to several undesirable consequences, such as increased oil viscosity, formation of corrosive acids, and sludge buildup.
Preferred lubricants are those that have a high resistance to oxidation and inhibit corrosion by protecting components from water, oxygen, and chemical attacks. Angus Macdonald, Vice President at LE International Ltd mentions that, there are profitable opportunities available in Africa for companies interested in investing in high performance lubricants. Substantial savings can be achieved by significantly reducing maintenance and operating costs by reducing wear, lubricant and energy consumption.