It all started in Frankfurt am Main back in 1951. Having initially concentrated on screed construction, at the start of the 1960s Silikal began to develop new, modern synthetic resin based products for the dynamically growing construction sector, primarily for floor coatings and engineering applications in trade and industry. Silikal has continued on that path with countless research projects to date.
As the markets developed, so did Silikal. With ever changing requirements demanding constant product developments, the product range grew from year to year. Today, Silikal customers can choose from a large number of MMA, epoxy or PU products and specialties, whether coatings, sealants, mortars or PU concrete, tested to CE, TÜV and AgBB standards. On offer are resins for marking and orthopedic applications, adhesives for filling cracks or testing tensile strength and resins for design floors or tactile guidance systems for the blind, to name just some.
Silikal prides on advice, service, speed – and of course quality! Silikal responses when customers' needs us as fast as the curing times of reactive resins. A whole team of specialists, technicians, applications engineers and developers are on standby for you.
Sealants in a building are indispensable, not only offer outstanding protection against the ingress or penetration of moisture, but are also suitable for many different functional requirements in a wide variety of uses.
The benefits include;
– High flexibility in the event of temperature fluctuations
– Good adhesion to concrete, asphalt, bitumen sheeting, tiles, metal, PVC and many other materials
– Outstanding UV and weather resistance
– Resistance to the majority of aggressive media
Methyl methacrylic sealing resins from Silikal 
– Offer significant advantages over traditional seals such as foil or sheeting:
– Full, joint less installation directly on the substrate: no seams or gluing points
– Safe and simple integration of pipe lead-through, light shafts, outlets and other objects, whatever the shape and however many corners and edges these may have
– Lightning-fast curing times, allowing the surfaces to be returned to use quickly even at low temperatures
– Also available in decorative colors and with different slip resistances, e.g. for the balcony or covered walkway
This technical documentation, describes the sealing systems recommended by Silikal for the most important areas of application. It also contains the technical specifications of Silikal sealing resins and additives as well as general advice on application and instructions. Silikal reserves the right to make technical modifications.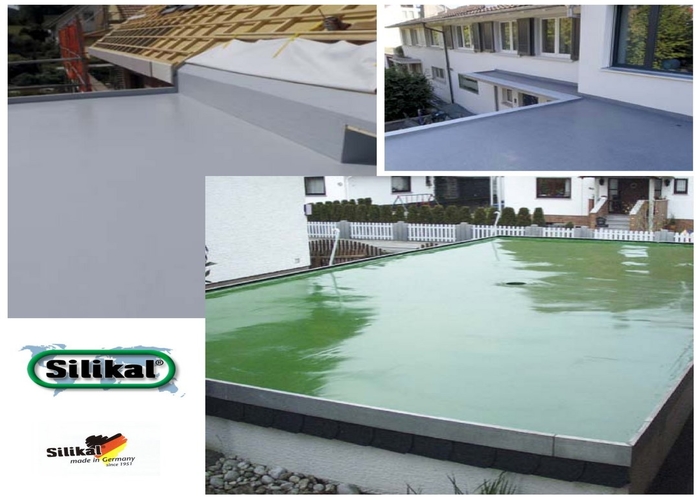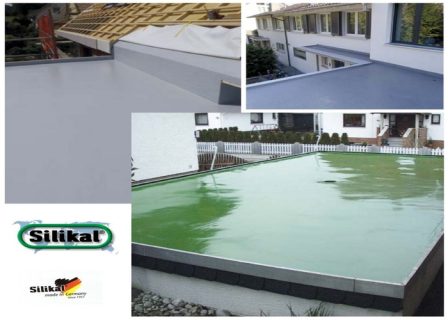 Silikal guarantees all the figures listed in the technical data sheets, but tolerances may of course occur for processing and application reasons and such deviations are permitted. The processing of Silikal materials always be left to trained and experienced experts.
Silikal attaches considerable importance to the training and technical support of its specialist layers and on providing comprehensive advice on use, including on site. The standard recipes recommended in the systems offer the greatest possible guarantee for optimal work, but this does not release the layers in each particular case from their duty to examine and assess the individual circumstances carefully.
In case of doubt, tests should be carried out before execution or Silikal consulted for advice. Because of their many years of experience, Silikal's specialist layers boasts sufficient knowledge and expertise, including beyond the application limits described here.
You must always remember that there are risks in such cases. Silikal does not offer any application-specific guarantee whatsoever that is not expressly agreed in writing in the individual case. This relates, for example, to circumstances extending above and beyond the usual normal and general use or information in brochures and other literature which is of a purely descriptive nature.
It also goes without saying that the establishment of a proper surface meeting statutory requirements (e.g. with regard to slip resistance on balconies) does not mean that accidents can necessarily be prevented on this surface or that any corresponding guarantee is offered in that regard. In principle, liquids, cleaners and the like must always be handled with care on the finished surface. Consult Silikal for advice if in doubt. The same applies for the use of materials which were not approved by Silikal.
It must be remembered that a seal (in addition to its other properties) serves first and foremost to protect the component or surface and as a wearing layer. Wear, particularly in the case of slip-resistant surfaces, is subjective and depends on the intensity of use, so that it is often not possible to give an absolute prediction of service life.
Assuming the proper treatment and due care, seals made from reactive resins in many cases represent the best and most cost effective solution for years. Silikal wishes to point out that all currently applicable standards and regulations have to be observed in principle as well, e.g. safety and environmental regulations, DIN, ISO and EU standards and the notice sheets and guidelines issued by the BEB (German Association for Screeds and Flooring Systems), third-party property rights and the generally recognized rules of the art.