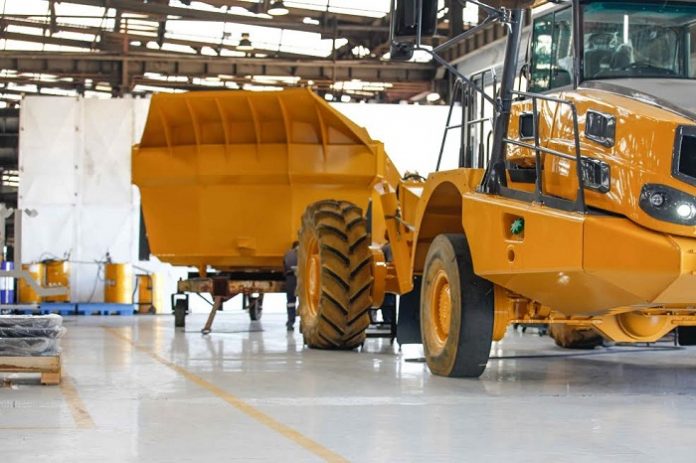 Bell Equipment Global worked with Flowcrete South Africa to find a durable and wear resistant floor coating for the first phase of an extensive refurbishment at its Richards Bay facility. 
With over 60 year's experience in the manufacturing, distribution and support of material handling equipment to a broad spectrum of industries, Bell Equipment Global produce world-class machinery, and wanted its facility to look world-class as well.
The flooring was not only important from a health and safety view point, but it also needed to be aesthetically pleasing so that clients could be shown around the plant on a regular basis. Therefore, the choice of flooring supplier was carefully considered, with Flowcrete South Africa coming out on top.
Although originally requesting a self-levelling epoxy, Bell Equipment Global was convinced to use Peran PTS for phase one of the site's refurbishment after seeing the success of this system in a similar manufacturing space and after in-depth consultations with Flowcrete's flooring experts. 
During this phase, 2,500 m2 of the chemical, temperature and wear resistant Peran PTS was installed across the Articulated Dump Trucks (ADT) assembly line. Being extremely robust, this system was able to handle the challenges inherent in vehicle manufacturing spaces, including exposure to grease and oil as well as the potential for dropped tools, high footfall and wheeled traffic. 
Whilst being exposed to substances that are often found in automotive manufacturing sites, the flooring needed to be able to withstand extreme weight from the freshly manufactured ADTs weighing tens of tonnes each. With a compressive strength of >70 N/mm2 and tensile strength of >10 N/mm2, Peran PTS was ideal for tolerating intense loads while maintaining a high-end finish that would not show signs of premature wear.
The seamless nature of the system also ensured that dust, dirt or oil could easily be cleaned away without the risk of it falling into joints in the floor's surface. This was particularly attractive to Bell Equipment Global, who could rest assured that the facility would be kept in a safe and clean condition, especially in the presence of visitors to the site. 
To further enhance the safety, bright yellow line demarcation was utilized across the assembly line, showing a clear pathway through the manufacturing areas. This would help those using the site to clearly see areas of danger when moving around the space.
Phase one of the flooring project took four weeks to complete. In total, 15,000 m2 of new flooring will be applied throughout Bell Equipment Global's site in batches of 2,500 m2. This phased approach is necessary to ensure that the facility can remain operational throughout the refurbishment.