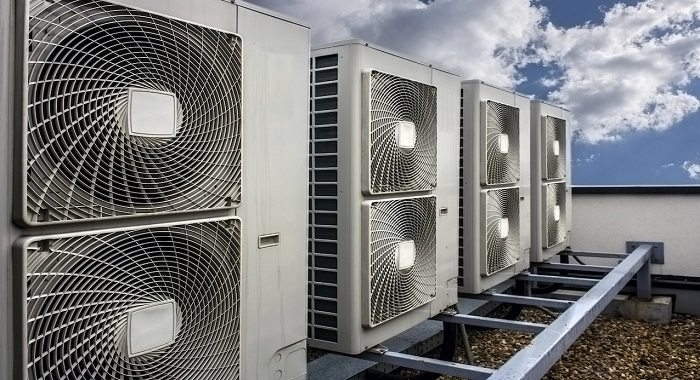 Heating, ventilation, and air conditioning (HVAC) is the technology of indoor and vehicular environmental comfort. Its goal is to provide thermal comfort and acceptable indoor air quality. HVAC system design is a sub discipline of mechanical engineering, based on the principles of thermodynamics, fluid mechanics and heat transfer.
Here are some of the companies that supply hvac product;
Caleffi
The company manufactures high-quality components for heating, plumbing, air conditioning and renewable energy, for residential and industrial systems. We also provide state of the art components for metering applications.
The Group has over 1,307 employees worldwide and distributes to over 90 countries with a recorded turnover above 329 million euros in 2018. The CUBOROSSO (REDCUBE) Studies and Research Centre and the MAV Automatic Vertical Warehouse which guarantees even faster shipment and more punctual delivery, are additional strength points. Caleffi is member of the European Association CEIR (Taps and Valves Industry) and the Italian Association AVR (Valvole e Rubinetti).
Jet-Air
Jet-Air is one of the most well known brands in Southern Africa. The supply quality air conditioning & Evaporative Cooler backed up by a wide distribution network and an international supplier network. The company's air conditioning provides solutions for residential, commercial and industrial purposes. They are suitable for areas such as offices, homes, warehouses, schools, hospitals, airports, and hotels. All the air conditioner types have fixed speed and inverter options to suit your energy efficiency needs.
All our air conditioners are powered by world-famous compressors such as Hitachi, Toshiba, Panasonic; and made by top well-known Chinese manufacturers. Our products have been granted full CB and NRCS certificates.
The company's head office is based in Cosmo City, Gauteng, and where they distribute their product in all areas in South Africa and neighboring countries, such as Mozambique, Botswana, and Zimbabwe. There are Jet-Air branches in the Western Cape, Kwa-Zulu Natal, Eastern Cape, Mpumalanga, Free State and North West, to provide better customer experiences and accessibility of the products in every region.
Also read:Good installation of HVAC systems for better results
Electrovent
Electrovent's Fire Dampers are SABS certified to SANS 193. Additionally we are ISO 9001 quality certified company, independently audited by TUV Nord. Our products have been in use in Africa for over 30 years. The company aims to maintain its recognition as the leader in manufacturing of HVAC products and components and also to provide quality products for the HVAC market and maintain market expectations on product lead times.
Briton
Bitron is a privately owned multinational company leader in the research, development and manufacturing of mechatronic devices and systems for the automobile, appliance, HVAC and energy industries.
Bitron HVAC Division is an integrated design and manufacturing organization specialized in the development, production and marketing of components and systems for OEMs in the HVAC Industry. The company's mission is to build on our history of product excellence and technology innovation to provide the highest-quality and most reliable systems and components such as water sets, controls, heat exchangers and components of all kinds, to our world-wide customers in the Heating, air-conditioning, and ventilation and pump market.
Bitron HVAC Division is part of Bitron Group, a privately owned multinational company leader in the research, development and manufacturing of mechatronic devices and systems for the automotive, appliance, HVAC, medical and energy industries with 6000 human resources in the world.
WP Manufacturing (Pty) Ltd
WP Manufacturing (Pty) Ltd is one of South Africa's leading manufacturers and suppliers of all types of heating, ventilation air-conditioning and refrigeration equipment.
WP's products locally manufactured, are an entire range of console and split type console air-conditioning units, capacities ranging from 2.6 kW to 7 kW. These units are manufactured from 304 stainless steel as well, which have been proven as high quality products in our range.
The company has a comprehensive range of Westair direct expansion and water cooled units, self contained and split type is readily available from stock with capacities available from 2.6 kW to 255 kW, [High wall, cassette, under ceiling, hide a way and roof mount type configurations].
Serfrigo
Serfrigo is an innovative company that has been operating since 1999 in the installation, maintenance and technical assistance in heating, air conditioning, regulation, industrial refrigeration, offshore and alternative fuels.
The company has been operating for many years in the Offshore sector with the revamping, maintenance and operation of conditioning, refrigeration and drying facilities in the oil industry, specializing in the international market.  Serfrigo works both in Italy and in the world with more than 50 units spread over five continents. The company is also present in Russia and in several capitals of the Arab Emirates like Abu Dhabi and Dubai, as well as in the Far East in Singapore and Korea, Latin America between Mexico, Argentina and Venezuela and on the African continent between Congo, Nigeria and Algeria.
Ecoaire
Ecoaire imports and distributes residential, commercial and industrial Air Conditioning Units.  We give comprehensive input into the manufacturing process, ensuring the product is of superb quality and suited to South African conditions. Eco Aire provides full technical support and spare parts to its clients.
The HVAC market worldwide is moving towards an emphasis on Eco-friendly units. It is vital that we stay abreast of developments which limit the release of harmful gases into the atmosphere and encourage the responsible use and re-use of energy. As such Eco Aire is in a leading position as we offer R410A, Inverter and VRF systems.
Eco Aire supplies units throughout South Africa, our head office is in Jet Park, Johannesburg. The company has sales offices in the Western Cape, Eastern Cape, the Garden Route, KwaZulu Natal, Free State, North West and Mpumalanga. The company has also supplied products to Namibia, Zambia, Zimbabwe and the Democratic Republic of Congo (DRC).
The company's products range from a simple "Fresh Air Supply Only Unit" to complex systems with temperature/ humidity control with an option of adding additional mechanical cooling that could either be from a Direct Expansion or a Chilled Water source. If filtration is needed any of the following could be added to the system: Primary, Secondary, Tertiary and Ultra Violet. Eco Aire Fresh Air products are for applications such as: Data Centres, Hospitals, Cleanrooms, Pharmaceutical, Shopping malls, Office Buildings and Warehouses.
CAREL INDUSTRIES
CAREL Controls was established in June 2008 and is made up of a workforce with more than 15 years of combined industry experience. CAREL Controls provides complete solutions for its customers and has a professional workforce able to provide solutions for humidification through to control monitoring systems.
The company has operations in the Americas (North, Central and South), Asia Pacific, Africa and Europe; we have 23 fully-owned subsidiaries and 9 production sites, in addition to partners and distributors in a further 75 countries. We serve more than 4,000 customers, with 6,200 active products and annual production of more than 7 million units.
Intramech
Intramech (Pty) Ltd is a supplier of premium commercial and industrial air conditioning, cooling and heating equipment. The company has a vision of being the preferred partner for commercial and industrial air conditioning, cooling and heating solutions in Southern Africa.
The company also distributes air side equipment under the Intramech brand, mainly ducted and duct free fan coil units, water cooled packages and small air handling units. Intramech has been associated with the Climaveneta brand since 2004, and we have installed hundreds of pieces of equipment from this supplier.
COLDWIRE (Pty) Ltd
Cold Wire Air Conditioning, Refrigeration and Electrical contractors is a South African based company that takes pride in providing a professional and personal service for all types of Air Conditioning, Refrigeration and electrical systems in South Africa and African countries.
COLDWIRE (Pty) Ltd. Works with many OEM companies to source you the best equipment to suit your application needs anything from Split type units, Central plant, Chillers. The company's suppliers are all medium to high end products to ensure we can assist every budget; the products are efficient and environmentally friendly.
 Airedale
Airedale Air Conditioning is a British manufacturer with over 40 years' experience. As the UK's number one provider of chillers, precision air conditioning and IT cooling solutions and at the forefront of controls software design and optimisation, we are experts in integrating products to reduce total cost of ownership. The company helps select optimum specifications tailored to your application and provide support which enables you to manage your cooling system for best performance.
Petra Air 
Petra is a world leading distributor and a supplier of a wide range of HVAC equipment that meet a diversity of application requirements to major international markets. The company was established in 1987 with a broad vision to accomplish the highest quality standards in our line of business. The accomplishment of successful corporate and business approaches has taken us to the maximum standards and qualified the company to compete alongside the best in the industry.
The company designs and manufactures high quality HVAC equipment in accordance with globally recognized standards. Petra's HVAC equipment offer comprehensive solutions with the highest level of comfort and luxury for its customers in all its markets.
Mastercool
Mastercool is a family owned and operated company that has been supplying professional air conditioning, service tools and equipment to the automotive and HVAC/R industry for over 35 years. Mastercool has been supplying professional quality air conditioning service tools and equipment to the HVAC industry. As one of the fastest growing companies in this market, their primary goal is to drive new product innovation and technologies to make the everyday work for the HVAC technician easier.
Cool projects
Cool Projects offers a wide range of air conditioning products to cater for any requirements from residential through to industrial and commercial climate control.
As a leader in air conditioning in the Eastern Cape, the company offers exceptional service and technical expertise to assist in the most complex environments. The company also supplies and installs heating and cooling solutions for residential, commercial and industrial applications. The company provides call out service for all manufactures air conditioning and refrigeration equipment.