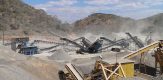 The booming construction industry in many African countries heralds a good opportunity for companies that manufacture construction machinery and equipment, as well as companies that sell used and refurbished heavy equipment and machinery.
The construction machinery used in real estate and construction activities in African countries has increased significantly, resulting in a significant increase in demand for concrete mixers, steel bending and cutting machines, excavators, backhoes and earth moving machines in Africa.
The Arab Emirates Equipment Trading Company, headquartered in the UAE, is a well-known distributor of new and old construction machinery. The company has said that its sales of excavators and backhoes to African countries have increased significantly.
In 2014, Ehab Murad, general manager of the company, said: "All of our machines are selling very well, and our net sales on the African continent have increased by 30%." The African road construction machinery industry is experiencing steady growth and transformation, moving from a low-capacity, densely used equipment structure to a high-capacity, special-purpose structure.
Growth in the African construction machinery market
Industry analysts believe that in the next few years, the main areas of growth in the African construction machinery market are excavators, loaders, bulldozers, dump trucks and cranes.
The overall economic growth of many African countries highlights the need to improve infrastructure. Governments, development authorities and even companies in some African countries have begun investing in infrastructure development projects.
In addition, many African governments have invested heavily in irrigation and mining projects across the continent, all of which have greatly contributed to the use of construction machinery.
The face of the African construction industry is changing and the continent's engineering projects are getting bigger and more complex. The annual growth rate of demand for heavy construction equipment in Africa has been stable at around 4.5% since the second half of the 1980s.
Change in demand
However, different regions of Africa have shown different changes in demand. According to reports, South Africa has the fastest annual growth rate (about 9%), and a few unstable countries have the lowest annual growth rate (about 3%).
The growth in construction machinery sales is driven by factors such as expanding infrastructure, building residential and non-residential buildings, and developing natural resources.
Many traders of used and refurbished construction equipment are taking orders from African countries on the boom of prosperity, many of whom have increased sales to African countries by up to 20%.
From the demand side, in general, African construction equipment purchasers value the lifetime cost of equipment, credit support, product quality and maintenance support.
Some African countries, such as Sudan, have smaller buyers who value the price because they have limited access to credit; in addition, the availability of parts is crucial because they buy used equipment.
In fact, it is now necessary to establish utilities in Africa, and there is an urgent need to build low-cost housing to accommodate the rapidly growing urban population. This boom in the construction industry has begun to affect other peripheral areas not directly related to the construction industry.
Manufacturers of auxiliary products such as crane ropes, cables, pulleys and buckles have also benefited from this development.