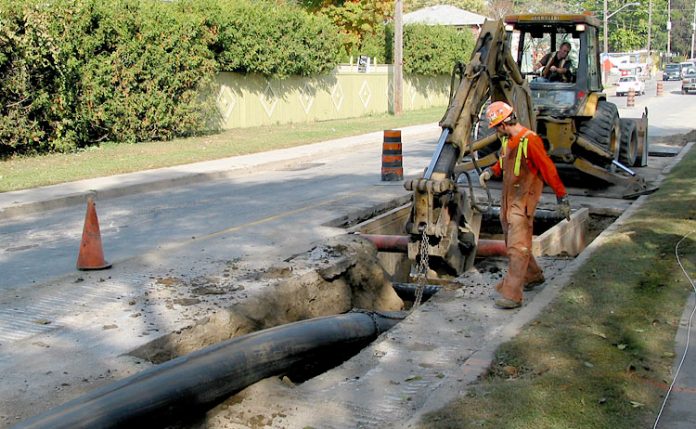 Trenchless technology has been utilized for pipeline rehabilitation for many years. Advantages of trenchless technology include; reduced surface disruptions, lower reinstallation costs, and shorter construction times.
The following are top trenchless technology equipment companies
AMC Drilling Optimization
AMC Drilling Optimization is a leading global mining equipment, technology and services (METS) company. The company specializes on Drilling Optimization, through optimizing equipment for exploration and mining related drilling but also toward HDD, pillar and foundation drilling which is a very important division in Trenchless Equipment towards construction.
The company's unique aspects of their trenchless equipment include their chemical solution which has proven track records that promotes safety, production and overall cost reduction. Their Solids Removal Units (SRU) received the AMEC Award for Environmental Excellence as well as the Winner of the Mitsubishi Corporation Innovator of the Year Award.
AMC's advice to potential is " To gain sustainable growth with less risks and greater returns in today's markets, technology is the way forward. We can not prepare for the next industrial revolution unless we fully embrace all aspects of technology that is available in all markets."
Guangzhou T-PROBE Equipment Co.,Ltd.
Guangzhou T-PROBE Equipment Co.,Ltd. is a high-tech enterprise specializing in the research and development of underground pipe network detection technology, which is located in Science City of Guangzhou high and new technology Development District of China.
The company specialize in the development, design, production, sales and technical application of HDD and underground pipe network related detection equipment. They provide advanced equipment with high quality and comprehensive engineering solutions for water supply, drainage, municipal, electric power, telecommunication, oil, gas, steel, ship, railway, construction, aviation and other industries.
T-PROBE products include HDD locators, transmitters, industrial endoscopes, pipeline cctv camera systems, pipeline periscope systems, pipeline detectors, electronic audiometers and so on.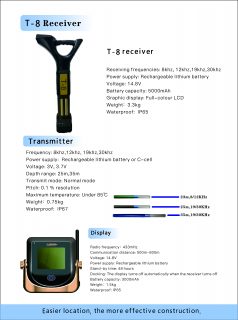 Prairie Dog Boring Equipment
Prairie Dog Boring Equipment is a manufacturer of underground boring equipment for a variety of purposes including, water, sewer, electrical, communications, pipeline. More accurate that missiles or moles and much less expensive than HDD rigs.
The company boasts its uniqueness to come from the Simplicity of design, low maintenance with high reliability of their products which are also great for bores of 150 feet or more. Their machine can bore multiple sized holes in a variety of soil conditions.
Prairie Dog, puts emphasis on the need for clients to consider productivity and cost to own and operate a machine. This includes training.
Trenchless Technologies
Trenchless Technologies has been in existence for more than two decades, and was specifically formed to cater for the growing need for non-disruptive, cost effective solutions to pipe laying problems in South Africa.
Trenchless technologies is a 70% BEE owned company with services that include directional drilling, horizontal boring, pipe ramming and microtunnelling for new pipeline installations, pipe bursting, pipe reaming, sliplining, Sekesui(RibLoc)Spiral-Wound piping, CIPP/ softlining fo rexisting pipeline replacement and rehabilitation as well as CCTV pipeline inspection,.
Trenchless Technologies has become a trendsetter in the trenchless technology industry and in the past 20 years, the company has successfully completed hundreds of contracts, and achieved a number of awards which included the 2000 SAICE Pretoria Branch Award for Technical Excellence, 2007 (SASTT) Award of Excellence for the Rehabilitation of Sewer Pipes in Klipspruit Basin, together with Johannesburg Water and consultant Vela VKE, 2009 (SASTT) Award of Excellence for the ABSA Bank Energy Centre Sleeves Reticulation project, 2010 CIDB Construction Summit Award for outstanding performance in South Africa's construction industry, and 2012 (ISTT) International Project Award for the rehabilitation of two parallel sewer pipes in Port Elizabeth's CBD.
Pipe Inspection Products and Accessories
PIPA is a UK based specialist technology provider for pipeline inspection,leak detection and cleaning techniques. PIPA is focussed on innovative ways of improving pipe inspection and cleaning of pipelines, whilst the network remains in service.
PIPA is the total solution for utility companies, consultants and contractors dealing in pipe infrastructure around the world. All equipment includes a PIPA potable passport for safe use verification
PIPA has many years of implementing pipe inspection techniques around the world, and has realised a market for innovative products that are user friendly, robust and deliver cost and time savings on standard industry techniques and applications.
The company recommends a potential client to fully understand your water network infrastructure, and detect leaks prior to catastrophic failure.
Steve Vick International
Since its foundation in 1981, Steve Vick International has been at the forefront in developing innovative products and techniques for the trenchless repair, renovation and decommissioning of pipes in the gas, water and nuclear industries.
For over a decade SVI have been producing digger mounted pipe handlers for manoeuvring and inserting PE pipe and have become one of the UK's leading producers of pipe coil trailers, pipe crackers and pipe cutters.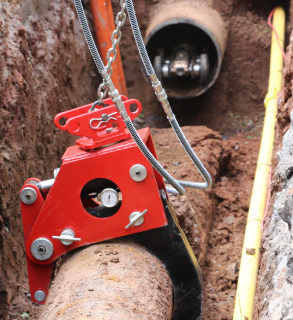 The Steve Vick International pipe cutters and crackers, including our Keel Cutters, Rotary Cutters, Window Cutters, CRACKERJACK, and MACAW offer a faster and safer alternative to the more traditional hand held methods of cutting and cracking pipe and are easy and convenient to operate.
In addition to pipe handling equipment and pipe cutters and crackers, SVI are well renowned for their signature expanding foam sealants which have enabled the company to develop several patented techniques including Live Mains Insertion and our award winning Enhanced SEAL.  SVI foam sealants are also widely used as methods for flow stopping and sealing all types of pipe across the gas, water and utility industries.