A wide variety of vehicles and machines are used in the construction industry under very extreme conditions; summer and winter, rainy and dry, dusty and muddy. It goes without saying that top performance and absolute reliability are expected of them regardless of the conditions.
In order to meet these requirements, however, reliable and safe lubrication is essential. High wear protection for all lubricated components, long-term, reliable corrosion protection and the longest oil service life are just a few examples of the complex requirements placed on lubricants.
Powerful hydraulic oils – for safe operation
ADDINOL hydraulic oils of the HLP and HVLP series reliably and precisely transmit and control the forces and movements of construction machinery over a wide temperature range, thanks to their excellent viscosity-temperature behavior. At the same time, they actively protect against wear and prevent corrosion.
2. High-performance engine oils – the right product for every application
ADDINOL engine oils ensure reliable and constant performance under heavy loads and extreme temperature conditions. In addition, they meet the stringent requirements for exhaust after treatment and exhaust gas recirculation systems and are approved by leading OEMs.
3. Efficient greases – Experts and all-rounders
ADDINOL offers an extensive range of greases and pastes for construction industry and concrete production – for all lubrication points both in vehicles or machines, in drives and bearings. They work reliably under high loads, dust and dirt, humidity and varying temperatures with extreme peaks.
4. Gear oils – for highest loads
Excavators, crushers, ball mills, belts or conveyors – they all require reliable gear lubrication under the highest loads. Here the high-performance gear oils of the ADDINOL Eco Gear range are the first choice because of their superior wear protection and scuffing load stability.
5. Mould release oils – for high-quality parts
ADDINOL mould release oils separate concrete, asphalt and ceramics optimally from moulds of timber, steel and plastics. They are used as separating agents at construction sites, at plants producing pre-cast segments and in the manufacturing of concrete elements of light-weight (e.g. aerated), normal and heavy-weight concrete. ADDINOL mould release oils reliably protect moulds against residues, environmental impact, aging and corrosion and ensure high-quality concrete products.
Experience and Competence
ADDINOL high-performance lubricants have proven themselves thousands of times in the construction industry for many years. Whether hydraulic, engine or gear oils, greases or assembly pastes – ADDINOL has the optimal product for every application – comprehensive advice and first-class service all around their use included.
The art of oil – since 1936
The lubricant production at ADDINOL has a long tradition. Founded in 1936 in Krumpa, the Mineralölwerk Lützkendorf developed into one of the most important refineries in Germany. After reunification, the name of the best-known brand became the new company name: ADDINOL.
In the year 2000, the company moved its headquarters to the chemical site Leuna in Saxony-Anhalt. Since the ceremonial opening of the new, ultra-modern production and filling plant in May 2007, all decisive steps from product development to production and delivery have taken place again at the site. Thus, ADDINOL can react quickly and flexibly to market requirements and guarantee the high-quality standard of the lubricants permanently.
Warehouse: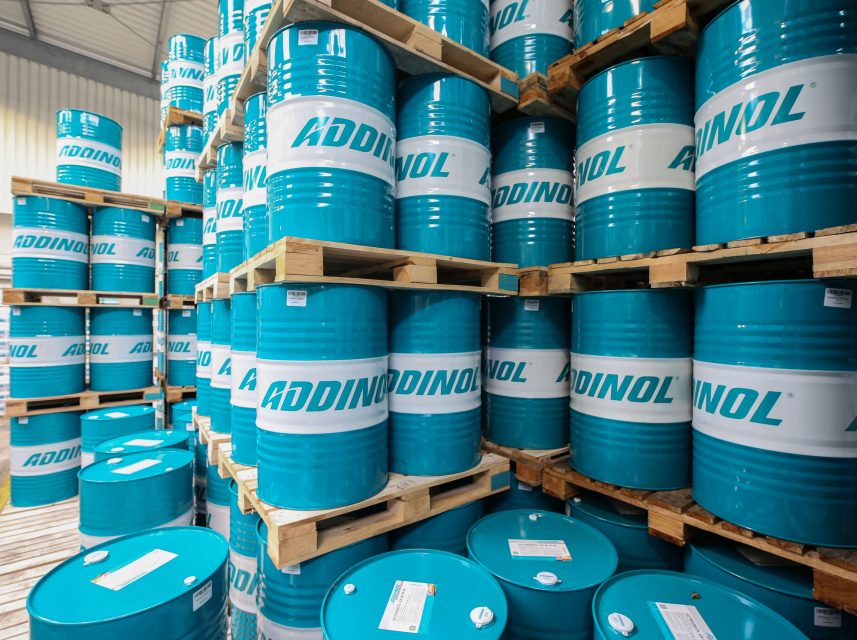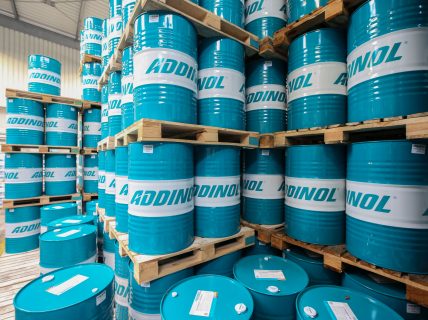 Exemplary – filled, packed, stored and shipped
Outside tanks: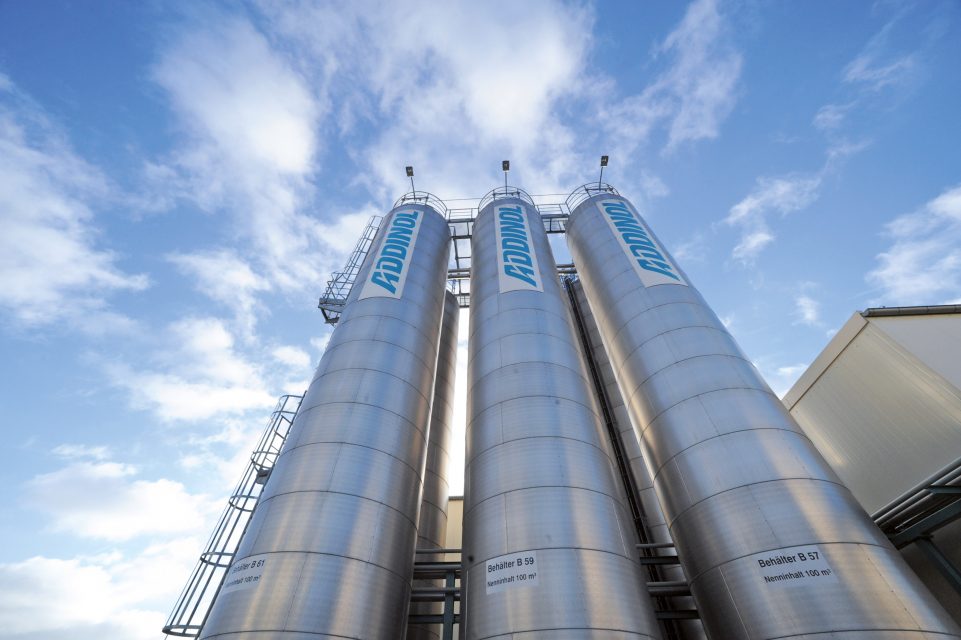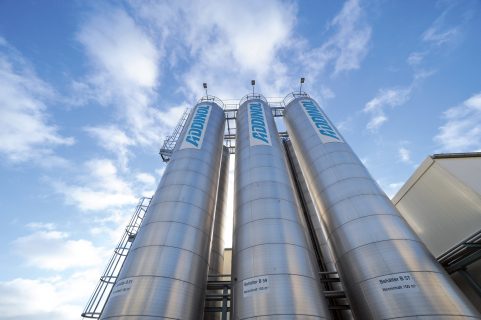 Quality – Made in Germany