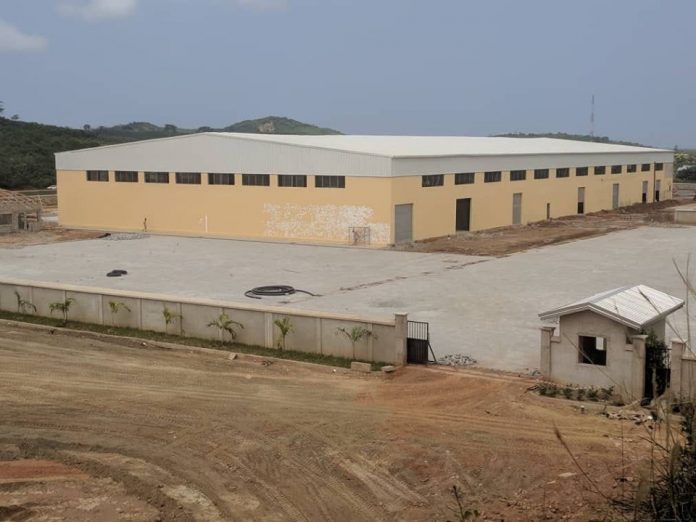 Construction of two factories in the central region of Ghana are over 90% complete. The project, under the government's "One District, One Factory" (1D1F), will have full scale commercial production expected by December this year.
Construction of the two factories, Casa De Ropa Company Limited and Ekumfi Fruits and Juices Limited both sited in the Gomoa West and Ekumfi districts respectively of the Central Region, officially commenced in March 2019. The project is being funded by the Exim Bank Ghana Ltd.
Ekumfi Fruits and Juices Limited
Being the first under the 1D1F policy, Ekumfi Fruits and Juices Limited will have  capacity to process 10 tonnes of fruits per hour with a very strong raw material supply base that will help create sustainable jobs for about 6000 youth in the Ekumfi district and beyond.
According to Director of Operations, Frederick Kobbyna Acquaah, over 13 shared-grower site in this project have currently been established in the following communities: Ekumfi Narkwa, Ekumfi Abor (2 sites),Ekumfi Nanaben (2 sites), Ekumfi Egyaakwa, Ekumfi Eyisam, Ekumfi Otuam, Ekumfi Asaman, Ekumfi Gyankoma, all with an average of 50 acres each.
 "What is left to be done here is training and knowledge transfer where within the next six weeks, we will have our products ready on the market for Christmas," he added.
Casa De Ropa Company Limited
After completion, the factory seeks to process orange fleshed sweet potatoes into products like biscuit, bread, pizza, chips among others, two central pivot irrigation systems alongside a sprinkler irrigation system are on site to ensure consistent irrigation of the 731 acre farmland.
According to Chief Executive Officer (CEO) of Casa De Ropa, Ebenezer Obeng-Baffoe, the construction of two dams on the farm for irrigational purposes had also been completed, adding that the tubers which took 90 days to mature were not only viable for economic growth but also had health benefits.