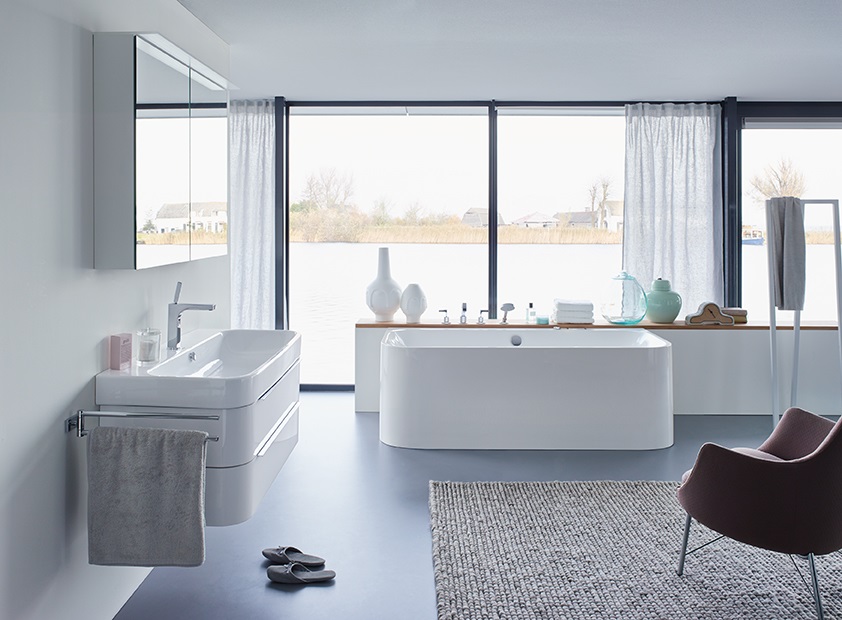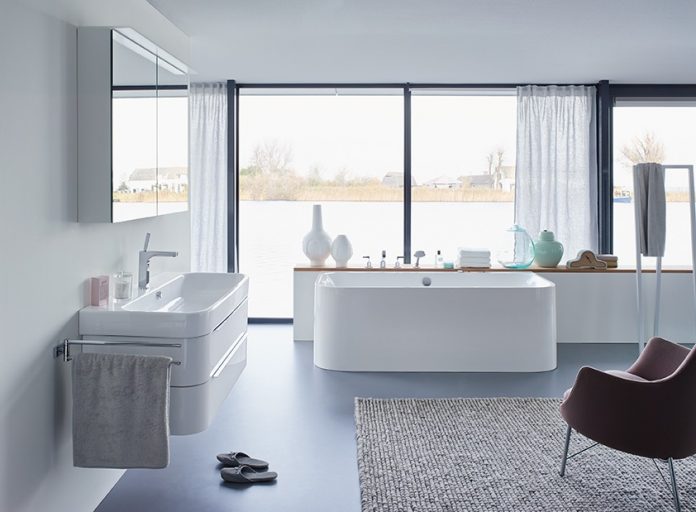 When sieger design developed the design classic Happy D for Duravit at the end of the 1990s, their vision was to create a modern archetype.
Michael Sieger translated the familiar basic form and style elements that informed our notion of a sophisticated bathroom into a contemporary design language. Since that time, the Happy D success story has advanced through a number of stages, repeatedly demonstrating new, forward-looking influences that have little time for fleeting trends.
The presentation of Happy D. at the ISH 1999 was an important milestone in the partnership between the two companies, which has now been running for more than 30 years.
1999 – Happy D. – the original
In 1999, Michael Sieger created an extraordinary series with Happy D. – a unique design innovation with a pure, timeless form that has had a lasting influence on the bathroom scene. He took characteristics from the world of historical ceramics and translated them into a new design with a low silhouette, straight lines and symmetrical curves.
The particular formal language ultimately also inspires the name: all the products are in the form of the letter "D" when viewed from above.The success of the series has much to do with the perfect interplay of design, its planning convenience, and its price.
In 2003 the range was expanded with the addition of a comprehensive, dedicated bathtub program. Just a year later Happy D. was making waves as a comprehensive all-round bathroom range: furniture washbasins and vanity units with curved doors, consoles with above-counter basins, tall cabinets, mobile pedestals, mirrors and mirror cabinets afforded an essentially infinite variety of design opportunities.
2013 – Happy D.2 bringing elegance into the bathroom
In 2013, sieger design produced an even more sophisticated and distinctive reinterpretation of the unmistakable character of Happy D. With a symmetrical basic form, washbasins, baths and shower trays have a spacious interior that is bordered by a strikingly designed all-round rim. A linen-like furniture finish with a structured surface, the refined, height-adjustable chrome console, wooden consoles with a visible edge of just 12mm and LED lighting on mirrors and mirror cabinets are unmistakable features of the new era of the series. The full bathroom program looks likely to carry the iconic status of predecessor into the future.
2019 – Happy D.2 Plus
Happy D.2 Plus is a 2019 collaboration between Duravit and sieger design to realize current trends in colors, design, and finishes. The archetypical open oval of the Happy D. design classic also runs through the elements of this new, supplementary range.
Above-counter wash bowls with precise lines, stand-alone consoles and matching semi-tall cabinets as well as circular mirrors combine to create perfectly harmonized washing areas. The new range enables elegant, expressive style collections to be individually designed with a darker or lighter basic mood.
References
Over the last two decades, Happy D. has scooped seven international design awards, and the range can be found in countless private buildings and notable hotels, including the Alpina in Gstaad(Switzerland), the Pure Salta Garonda in Mallorca (Spain) or the Crosby Street Hotel in New York (USA).
Duravit AG
Founded in 1817 in Hornberg in the Black Forest, Duravit AG is today a leading international manufacturer of designer bathrooms. The company is active in more than 130 countries worldwide and stands for innovation in the fields of signature design, the intelligent use of technology and premium quality.
In cooperation with high-profile international designers, such as sieger design, Philippe Starck, EOOS, Phoenix Design, Kurt Merki Jr., Christian Werner, Matteo Thun and CecilieManz, the company develops unique bathrooms that enhance quality of life for users on a sustained basis.
Duravit's product portfolio comprises sanitary ceramics, bathroom furniture, bathtubs and shower trays, wellness systems, shower-toilets, tap fittings and accessories as well as installation systems.
sieger design
sieger design has created icons for the sanitary sector since the start of the 1980s, continually reshaping the industry with new, pioneering designs. The design agency, which is run by brothers Christian and Michael Sieger, designs holistic brand, product and architecture concepts for international companies.
Numerous renowned design prizes testify to the agency's special instinct for innovations and long-term development. This is achieved by some 45 employees from a range of disciplines working together across various teams at the company's SchlossHarkotten headquarters.