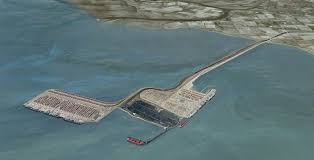 Officials from the Port of Vancouver are urging the Canadian federal government to approve its Roberts Bank Terminal 2 Project to help alleviate the economic impacts from the COVID-19 pandemic. Duncan Wilson, the vice-president of environment, community and government relations for the port reckoned that a project like Roberts Bank Terminal 2 upgrade would hold tremendous opportunity for Canada, now and in the future.
"The project would inject more than $2 billion in capital investment into the national economy and would create over 12,000 construction jobs, and over 12,000 direct and indirect operating jobs," stated Mr Wilson. The vice-president of environment, community and government relations for the port added that at a time when governments will be considering publicly-funded stimulus, the business case for Roberts Bank Terminal 2 is driven by trade and market economics that will unleash private investment to fund the project through an operator's long-term lease payments. He noted the project does not require taxpayer's money.
Also Read: Construction of Scotts Mills Dam at Lock 19 in Ontario, Canada to resume.
The Roberts Bank Terminal 2 upgrade would add a new terminal with three berths, increasing the port's container capacity by nearly 50 per cent. Wilson explained during the nearly six-year construction period, the project would greatly impact the construction industry, creating approximately 13,000 person-years of direct, indirect and induced employment, worth approximately US$726 million in wages. Direct construction jobs may include positions like operating engineers, concrete masons, ironworkers, carpenters, heavy equipment operators, welders, millwrights among others. If the project gets the green light this year and expects work to start in 2022.
In March, the Canadian federal government's independent review panel released its environmental assessment study for the project. The committee had no concerns about logistics of building and operating the facility but noted there would be major ramifications to the environment. The panel advised the port to try and reduce these impacts, including noise that could disturb salmon, crabs and whales. In addition to the Roberts Bank project, the port is also working on its Centerm Expansion Project and has a number of shovel-ready projects that Wilson said could help bolster economic activity once COVID-19 subsides.