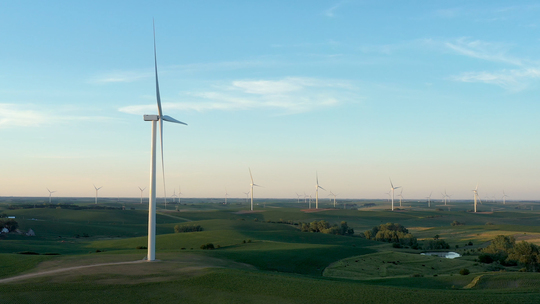 A 230MW wind farm project in Plum Creek, Nebraska has begun operation as of July first after being under construction for less than a year. The wind farm powered by Ørsted, a green energy provider from Denmark has helped bring the companies global operational power generation capacity onshore to 1.6GW. The Nebraska wind farm consists of 82-127 GE 2.8 turbines that are going to generate enough power to meet the consumption demand of 100,000 American households. The power output by the plant will be sold under PPA's to Vail Resorts Inc, The JM Smucker Co., and Avery Dennison Corp; helping the local Plum Creek community to achieve over US$3 million in benefits annually as they strive to meet their goals for clean, secure and low-cost renewable energy.
Also Read: Tanzania's First Wind Farm Completed.
Funding for the project was provided by tax equity providers, GE Energy Financial Services and BHE Renewables with other equipment suppliers and construction companies assisting where they were required. The project was completed on schedule, despite the global pandemic and involved more than 250 construction workers. The 230MW wind farm project in Nebraska will employ a staff of seven to 10 workers. That adds to Orsted's regional portfolio and expands its U.S. assets, the company said in a statement.  It brings the company's on-shore assets to 1.6 gigawatts.
Comments & More about Ørsted.
"Thanks to our team working on this project and our dedicated partners for their focus and determination in delivering the project on schedule despite the very challenging circumstances we face today," said Neil O'Donovan, Ørsted Senior Vice President and COO of Onshore. "Plum Creek is our first project in SPP (Southwest Power Pool) territory, a market which will play an important part in our ongoing growth in North America. The second project, Willow Creek, financed as a portfolio with Plum Creek, is on schedule for completion later this year." The South Dakota wind facility will have 39 turbines to produce 103 megawatts of electricity.