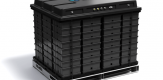 Aquion Energy, Inc., producer of Aspen saltwater batteries and energy storage systems, has announced a newly installed off-grid micro grid at a nature lodge resort in Kruger National Park in South Africa. The micro grid includes a 55 kWh Aquion Aspen battery bank, paired with a 10 kW solar array.
The solar array and Aquion's Aspen batteries offer full power for the camp, which comprise four luxury "tents," a central lounge, swimming pool, and a water pressure pump for drinking water. The batteries have been sized to contentedly sustain the site's loads during cloudy conditions before getting help from a back-up diesel generator. The micro grid runs without a sound, allowing guests to calmly enjoy the wildlife and beautiful landscape.
Search for construction leads
The system was planned, installed, and incorporated by Solarsun Solutions (Pty) Ltd, with support from Cape town-based SolarWorld Africa (Pty) Ltd, a chief South African solar energy services company.
Off-grid lodging facilities usually make use of diesel generators as their main power source, leading to air and noise pollution. A solar and energy storage micro grid allows the change to a silent and clean energy system. Aquion's Aspen batteries offer sustainable and long-term energy storage that facilitates secluded resorts to make the most of their use of renewables and reduce dependency on diesel generators. Aspen batteries have an exceptional and environmentally friendly electrochemical design, and are the initial and only batteries in the world to be Cradle to Cradle Certified™.
Kruger National Park is one of the biggest game reserves in Africa. It covers a region of almost 20,000 square kilometers in northeastern South Africa
Aquion's high-performance, safe, sustainable and reasonably priced batteries offer dependability and value for clients. The company's battery systems offer lithe, modular energy storage that allows broad adoption of renewable energy technologies such as wind and solar, decreased dependency on fossil fuels, and optimization of present grid-tied generation assets. For more information, visit aquionenergy.com.