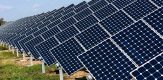 In Nigeria, five states consisting of Borno, Kebbi, Nassarawa, Niger and Taraba States will soon be profiting from the realization of solar power plants, each with a capacity to produce 100MW. General electric is spearheading the construction of the plants.
To validate the agreement, was Borno State governor and chairman of the Northern States Governors' Forum, Kashim Shettima, who signed the accord on behalf of the other governors whilst GE's senior executive, Western Europe and Africa, Armand Pineda, and the President/CEO of GE, Nigeria, Dr Lazarus Angbazo signed on behalf of their corporation .
Search for construction leads
The signing ceremony was hosted at the Transcorp Hilton Hotel in Abuja.
According to the MoU, the company is to assemble five solar power plants, of which the electricity generated will be intended for motivating economic activities and social services in the affected states as well as advance agricultural food processing and small scale trades.
Also read:Two solar power plants to be constructed in Nigeria at US$106m
The project, which is a pilot phase, is being coordinated by the Northern Nigeria Global Economic Re-integration Programme.
Press reported that the recently formed scheme has been set up to serve as a medium for the economic revival of Nigeria's northern states through international relations on infrastructure, manufacturing, stir agricultural value chain and trade.
It is also predicted to make the area an universal player in agricultural export in line with the vision of late leader of the region, Sir Ahmadu Bello.
Nigeria has of late been making perceptible strides in implementing renewable energy resources, as seen last week during the yearly West African Power Industry Convention; the nation launched its first ever Renewable Energy Association of Nigeria (REAN).
The objective of the association is to see renewable energy such as solar, hydro, biomass and wind bringing 40% of the national energy mix by the year 2030.
REAN is being supported by its founding members, as well as national and international organizations such as the Nigerian Economic Summit Group, National Competitiveness Council of Nigeria, Heinrich Boll Foundation, the Global Off-Grid Lighting Association and Power for All.