GRE ELECTRONICS PVT. LTD is an ISO 9001:2015 certified 20+ Years of Experience Indian company known as a noted Manufacturer, Global Exporter, Supplier & Service Provider of:
LED Lighting
Solar Lighting
General Lighting
Power Products
Solar Products
GRE light up your life with their world class LED & Solar lighting, Solar Rooftop / Plant and Solar & Power Products.
At GRE, they strive to offer you the most innovative and the highest quality solutions around the globe.
Dedicated Employees, Expert sourcing and Quality Control ensure that they offer the finest products at the best prices.
They have also outfitted their infrastructure with the latest machinery and highly advanced testing equipment & also well equipped with all the requisite modern amenities as well.
They have made substantial additional investments for Quality & Reliability and today they proudly aver that they are one of the best companies in India to have such a wide range of Lighting & Solar Products.
The company, over the years, has developed an accredited expertise in Engineering and Technology with the highly skilled and dedicated Professional Team.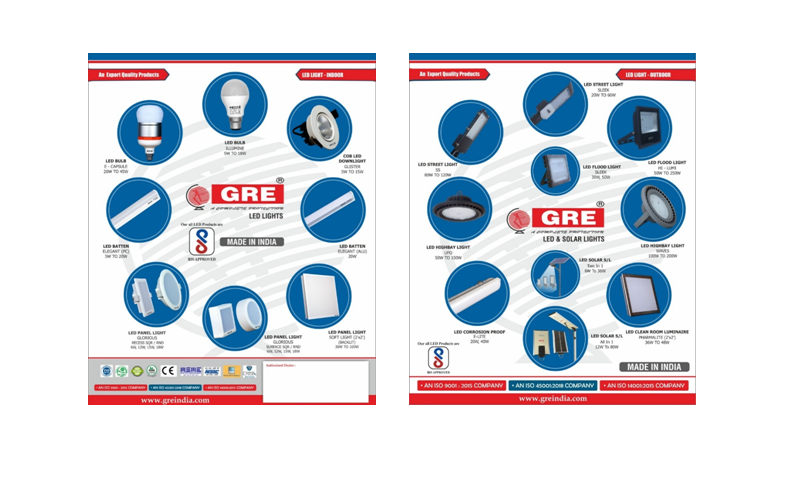 The Company is focused to bring innovation to lighting by providing Energy-Efficient and Cost-Effective Lighting solutions.
The Eco – Friendly and Energy Consumption ideas are driving growth at GRE, making an Enriching and Encouraging customer experience.
Their team includes Engineers, Designers, Research Analysts, Quality Inspectors and others who are engaged in producing Reliable, Efficient and cost-Effective Energy Saving Products.
GRE has been exporting to various countries & are most focused in African Countries as they have made investments by opening associate's distribution centers in Nairobi-Kenya, Kampala-Uganda, Benin & Botswana and still looking forward with other countries.
This history of Reliability, Innovation and Success are evident of the unmatched support you will gain by selecting GRE.
For Inquires & Details Contact at: –

Website- www.greindia.com                                Email I'd-[email protected]