SFFECO Global is a market leader that specializes in manufacturing fire-fighting equipment. With a long-standing reputation for pioneering innovation, the company has three state-of-the-art plants, with high-tech equipment, to manufacture and sell a wide spectrum of products in fire and safety industry, ranging from extinguishers to fire trucks.
SFFECO's success story has gone through various stages. The company was established in the early 1980s and slowly but surely expanded their product line to cover almost all products in the fire-fighting business. They also set up distributor network and sales offices in the region.
Search for construction leads
They expanded their market and crossed the borders of Saudi Arabia and GCC countries. To date, the company has succeeded in reaching to their clients across the globe. For instances in African region their products are available in East Africa, West Africa and North African countries. Besides that the company acquired key certificates and new products to enhance their global presence. Thus, leading to inception of manufacturing facilities in the United Arab Emirates (UAE). Working closely with their partners in various countries has enabled them to grow tremendously. As a result this has helped the company to stand out in a crowd of competitors.
The growth of the company has given them the flexibility to understand global market trends and be close to their client needs. Apart from business expansion, they are also able to understand and contribute towards the needs of the community, by ensuring safety in their daily lives. Continually expands upon its knowledge and services to keep its clients updated with the latest Fire Fighting Technology in the world. The product range manufactured by SFFECO confirms and holds approval to international standards.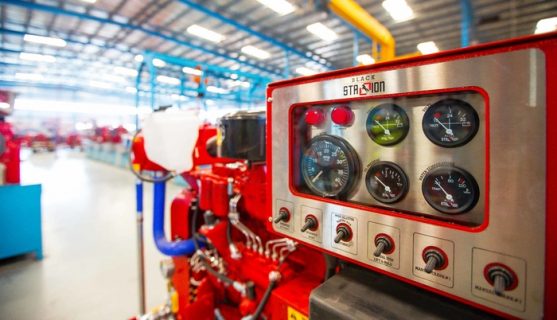 With this level of firm foundation that the SFFECO possess, every their fire pump system produced goes through quality and testing process to ensure it meets the required level of compliance standard. SFFECO with its innovative approach provides the entire gamut of products that caters to the needs of the Fire Protection and Fire Fighting industry. This makes us a one-stop-shop for customers, fulfilling their end-to-end needs in products, solutions and services for the industry.
The firm believes in producing fire safety and playing as a one stop shop for all customer's requirements and needs. Their experienced, qualified, skilled teams of engineers and workers ensure that they deliver customized solutions at all times. The company has plans to add more value to its comprehensive list of product lines, as it creates awareness and serves the community through various initiatives. SFFECO has eco-friendly and energy efficient products and gain full product compliance to international standards.