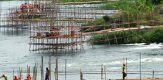 Uganda Electricity Generation Company Limited (UEGCL) has awarded SMEC a contract to provide project management and construction supervision services on the 183.2MW Isimba hydropower project.
SMEC provides high-quality consultancy services on major infrastructure projects. SMEC will help UEGCL oversee the performance of various contractors, including the engineering, procurement and construction (EPC) contractor as well as owner's engineer.
SMEC will also manage the hydropower project which is located 90km northeast of Kampala on the Nile River. The objective of the project is to boost the country's power generation capacity. The project, which is estimated to cost US$570m, has also received a debt financial boost from the China Export-Import Bank (Exim). In March 2015, the Parliament of Uganda also approved $482.5m loan from the Exim Bank.
Search for construction leads
The project will be executed on over 2,865 hectares and will include a clay-core rockfill dam, spillway, powerhouse, concrete gravity dam switching stations and auxiliary power transmission works (including the 42km 132 kV Isimba-Bujagali transmission line).
On completion the hydropower plant is expected to generate 1,040GWh of power per year and boost the country's capacity by 23% as well as implementing energy efficiency technology.
In addition, the government of Uganda will be collaborating with Umeme the power distributor to distribute 311,000 light emitting diode (LED) bulbs to some parts of the country. This LED rollout will be the third time in nine years, since distribution programme's inception in 2007.
Three LED bulbs, each with a capacity of 7 watts will be distributed to 103,000 households in different areas in Ggaba, Kireka, Kajjansi Ntinda, Port Bell, Kisugu, and Entebbe Municipality, in exchange for three incandescent bulbs of varying watts.
Isimba hydropower project is a significant project initiated by the Government of Uganda to improve severe power shortages in Uganda and accelerate the development of local economy.
Isimba hydropower plant is the fourth biggest hydropower project in Uganda. The plant is however, expected to generate hydroelectric power at 68 cents per kWh, the lowest in East Africa.
The ground-breaking ceremony for the project was conducted on October 5, 2013 and the construction is expected to be completed within a period of 40 months. The project is anticipated to come operational in 2017.