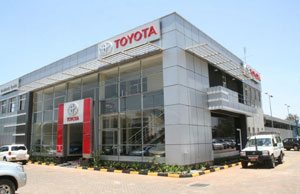 Syldon and Partners Consulting Engineers Ltd is a Kenya-based consultancy providing electrical and mechanical engineering as well as Information Technology services to the construction industry. The firm handles residential, commercial and industrial projects.
Established 13 years ago, Syldon and Partners has steadily grown and has undertaken an impressive portfolio of projects in Kenya and beyond.
Scope of Services
Syldon and Partners offers a comprehensive range of services that includes electrical installation, power transmission and distribution systems, power substations and mechanical installation. Other services are telecommunications structured cabling installation, security surveillance systems and access control.
Geographical Scope
The consultancy currently operates in Kenya, South Sudan and Rwanda and is making plans to have a presence in Tanzania as well.
Management
Under the leadership of Eng. Gordon Olando and his co-director Eng. Calleb Olali, Syldon & Partners aims at becoming a recognized brand in the engineering sector. It hopes to achieve this by understanding and converting a client's brief into an engineering concept through innovative and cutting edge technologies.
The two directors are seasoned engineers with many years of practice in engineering consultancy. Eng. Olando holds a Master's degree in Electrical Engineering from Kharkov Polytechnic Institute in the former U.S.S.R. In addition, he has Master's Degree in Business Administration (MBA-Finance) from Maseno University in Kenya. Eng. Olali,holds a Bachelor's degree in Mechanical Engineering from the University of East Africa. (This is the university that was later split to form University of Nairobi, University of Dar es Salaam and Makerere University).
Human Resources
In order to effectively serve its clients, Syldon and Partners has invested in qualified technical and support staff. The firm employs two Electrical Engineers, two Mechanical Engineers, one Associate Engineer in charge of power lines and another Associate Engineer responsible for substations.
This team is backed by a team of dedicated support staff that includes an office manager, accountant and drivers.
Projects
Since inception, Syldon and Partners has handled numerous projects of varying magnitude and complexity. A few of these are:
Aberdare Hills Golf Resort – Naivasha, Kenya
This is a new luxury golf resort coming up in Naivasha, Kenya. The resort is touted as one of Africa's most prestigious and secluded properties. Apart from the 18 hole golf course, it will consist of a club house and a spa, five star hotel, 2 to 5 bedroom villas. Syldon and Partners are involved in provision of comprehensive services infrastructure including high and low voltage power distribution, telecommunications services, solar street lighting, centralized LPG system, CCTV, electric fence, vibration sensors, standby generator power supply and a wind farm of up to 50 MW.
Toyota East Africa Service and Parts Centre – Westlands, Nairobi, Kenya
In this outlet for Toyota, Syldon and Partners designed and supervised electrical, plumbing and drainage systems as well as air conditioning and access control systems.
Upgrading of Toyota Service Centre,Uhuru Highway, Nairobi
In this project, the firm designed and supervised electrical, plumbing and drainage as well as air conditioning and access control systems.
Rehabilitation of Parliament – Kigali, Rwanda
Here, the firm undertook the review and design of a new mechanical ventilation system and a fire detection and suppression system. It also designed CCTV and access control system. In addition, it designed the sound control and broad casting system for both senate and house of deputies.
Kwale International Sugar Co. Ltd – Kwale,Kenya
This is a new sugar factory with a cane crushing capacity of 3,500 tons per day with a co-generation power plant of 20MW. Syldon and Partners undertook all electrical works for plant and non-plant buildings. Other work involved the provision of a 33KV transmission overhead line to an entire agricultural area for borehole pumping and other requirements.
Industry
According to Managing Director Eng. Olando, there is a general expectation that the business climate in Kenya will improve with the coming of a devolved government. He also foresees the creation of more job opportunities.
"The East Africa Community has also expanded, further opening up the job market", says Eng. Olando. He praises the recent signing of a Mutual Recognition Agreement among professional bodies in East Africa but feels the respective East Africa governments must do more to sensitize their people to embrace the East Africa Community both in letter and spirit.
On professionalism in the industry, Eng. Olando feels more needs to be done to rein in quacks who masquerade as professionals. "In order to avert the various mishaps in the building industry, professional bodies should lobby for submission of electrical and mechanical services drawings to the Local Authorities as a mandatory requirement before one is allowed to commence construction". Currently, local authorities pay more attention to architectural and structural drawings.
Eng. Olando would also like to see the public sensitized on the need to use professionals as opposed to taking shortcuts that later turn out to be disastrous.
Regarding professional fees charged by consultants, Eng. Olando notes that although the fees are now regulated by professional bodies, an element of enforcement needs to be put in place to ensure that fees are not the basis on which professionals are procured. "In this regard, the Public Procurement and Oversight Authority (PPOA) should revise the rules on competition based on financial proposals for public projects", he suggests.