TechFab India Industries Ltd is one of the biggest manufacturers of Geosynthetic products in India.  They are committed to finding a solution for every single Geosynthetics need of their customer. The company is well established in India as well as International market with an objective of providing world class geosynthetics requirements of various civil engineering projects.
The company has provided world-class geosynthetic products and services that have enabled owners, consultants, and contractors to design and implement reliable, economic and easy-to-construct solutions in geotechnical, transportation, hydraulic, and environmental applications.
The company has a team that is committed to solving your geotechnical challenges and delivering high-quality service and geosynthetic expertise. Furthermore, the quality and dependability of their products is backed by ISO 9001:2015 certification in all of their manufacturing facilities and each site includes a full-service, in-house testing lab. They have also engaged leading international test labs to verify the suitability of their materials for projects around the world.
Products and services
The firm has 5 factories in India and it produces Geosynthetic products such as: Polyester Geogrid, Extruded PP Geogrid, Geocell, Geobag, Geostrap, Geonet, Drainage Composite, Asphalt Interlayer Composite, Gabion, Mattress, Netting, Nonwoven Geotextile, Polyester Woven Geotextile, PVD, & Fibre.
Their products are ISO certified, and as member of the International Geosynthetic Society (IGS), ISO/IEC-17025:2005, GAI-LAP (USA), International Society for Soil Mechanics and Geotechnical Engineering – (ISSMGE), TRI, BBA, CA, BTTG, IFAI, and ITTA; TechFab proudly promotes the advancement of geosynthetics.
Polyester (PET) Geogrid call Techgrid:
TechGrid are made from superior grades of high tenacity, high molecular weight and low carboxyl end group polyester yarns which are formed into grid structure using a highly sophisticated warp-knitting process and then precision coated with a specially formulated polymeric compound to produce a strong, flexible, tough, dimensionally stable and durable geogrid.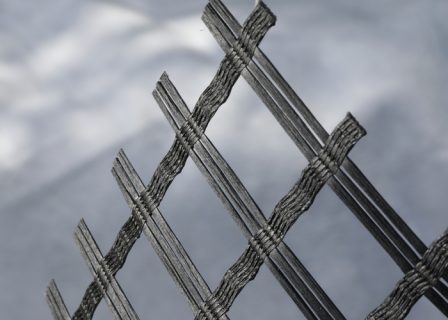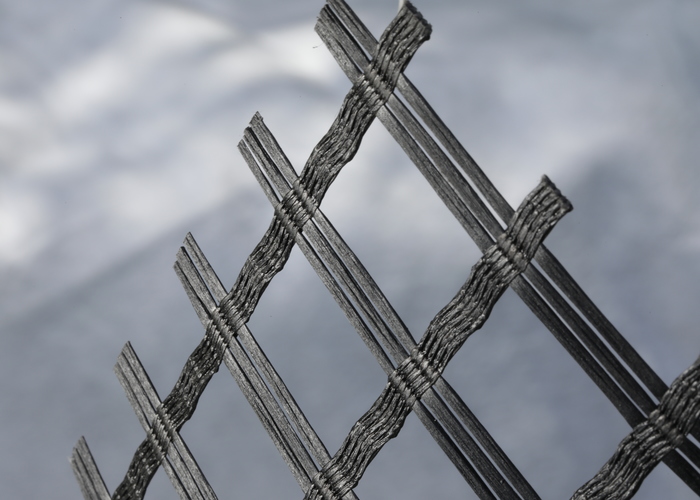 Salient Features: 
Knitted and PVC coated polyester Geogrid.
High tenacity
High molecular weight
Low carboxyl end group polyester yarns.
Applications:
Uniaxial Geogrids:
Reinforced soil retaining walls
Steep slopes
Basal reinforcement of embankments
Veneer reinforcement
 Biaxial Geogrids:
Reinforced soil retaining walls
Steep slopes
Basal reinforcement of embankments
Veneer reinforcement
TechFab Metal Gabion is MWM (metal wire mesh) product comprised double twisted hexagonally woven steel wire mesh with zinc galvanized and PVC coated compartmented baskets with a rectangular box shape.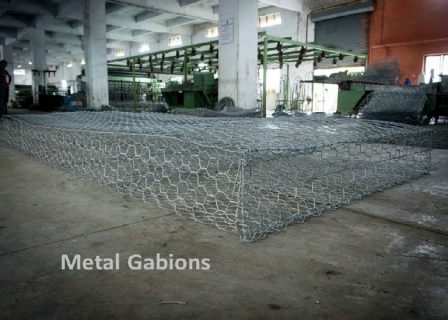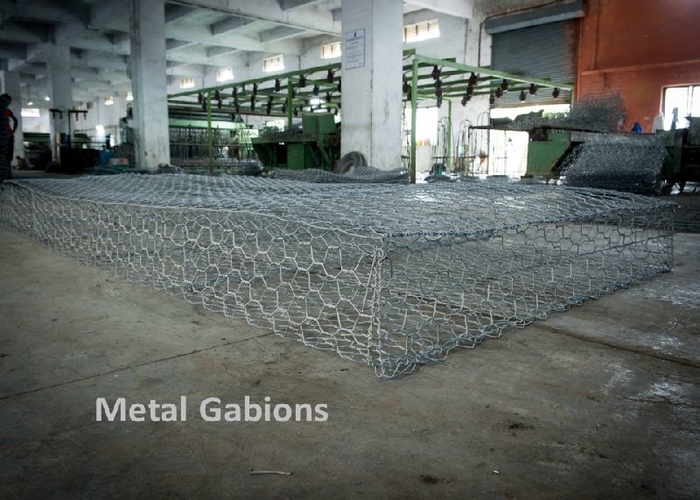 Application:-
Earth Control and soil conservation
Retaining structure/ walls and rock fall protection netting.
Protection of Highways/ Railways , Barriers at the rivers
Marine and seawall Protection etc.
TechGrid PP is a family of integrally formed biaxial geogrids manufactured from superior grades of polypropylene using a precisely controlled punching and drawing process. The product is manufactured in Techfab India's state-of-the-art manufacturing facility in Daman, Union Territory and Dadra & Nagar Haveli. Stringent controls on raw materials and manufacturing process ensures a high quality product with consistent geometry, integral junctions, superior mechanical properties and excellent durability.
Techgrid PP is a world-class integrally formed polypropylene biaxial geogrid manufactured in India by Techfab India Industries and is ideal for the reinforcement of soils and other granular materials in applications which require load transfer in multiple directions. TechGrid PP strengthens and improves granular layers through separation, lateral restraint, tension membrane and bearing capacity improvement effects. Techrid PP enables engineers to find proven, economic, constructible and sustainable solutions to diverse problems in the sectors of highways, railways, airports, ports, construction, mining, industries and logistics.
Applications of techgrid PP
TechGrid PP has a large number of applications in highways, railways, airports, ports, construction, mining, industries, logistics etc. The important applications are summarized below:
Unpaved roads: Rural roads, access roads, mine haul roads, forest roads
Flexible pavements: Highway, airport and port pavements; below or within granular subbase or granular base
Rail trackbeds: below and/or within blanket and/or ballast; construction of new lines and also rehabilitation of existing lines
Hard standages: Below/within granular subbases or base layers of parking lots, storage yards, container stations, ports
Floors: Below/within granular layers below heavily loaded floors of factories and warehouses.
Working platforms: To support movement of construction equipment and plant on sites underlain by soft soils
Load transfer platforms: Embankments supported on granular columns or concrete piles
Void spanning: Roads, railways and other facilities in subsidence prone areas with abandoned mines sink holes and other underground cavities
Secondary reinforcement in reinforced soil slopes and embankments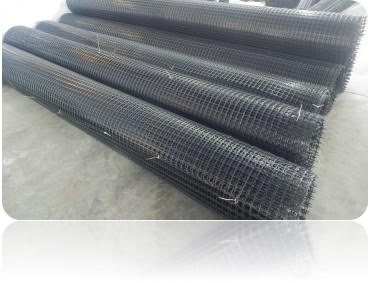 The company started manufacturing Techcell, which has a generic name Geocell. Techcell is a light weight yet strong, three dimensional honeycomb like cellular confinement system. The basic raw material used for its manufacturing is High Density Polyethylene stabilized with carbon black.There are different width of strips (as per the thickness requirement at site), connected through staggered welding and supplied in collapsed form.
When open for use, it spreads like honeycomb structure hence providing ease during installation. TechCell Working Mechanisms Techcell is perforated to allow passage of water thus dissipating pore water pressures and enhanced drainage, by performing dual functions, confinement cum reinforcement and Drainage.
Techcell is more durable over time and is available in different size depending upon weld spacing of cell available in various depths. Techcell spreads on the ground, at required level, and soil is placed within the expanded cells. With applied loads, soil tries to spread laterally, and causes lateral stresses, which are taken care by resistance on the cell-soil interface, by Techcell three-dimensional confinement. These will increase the shear strength of the confined soil, and increase load carrying capacity. With the infill granular material and holes in Techcell wall, it enhances drainage and releases pore water pressure.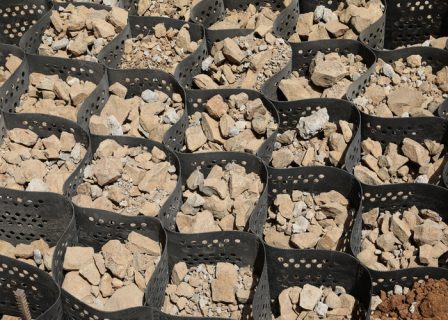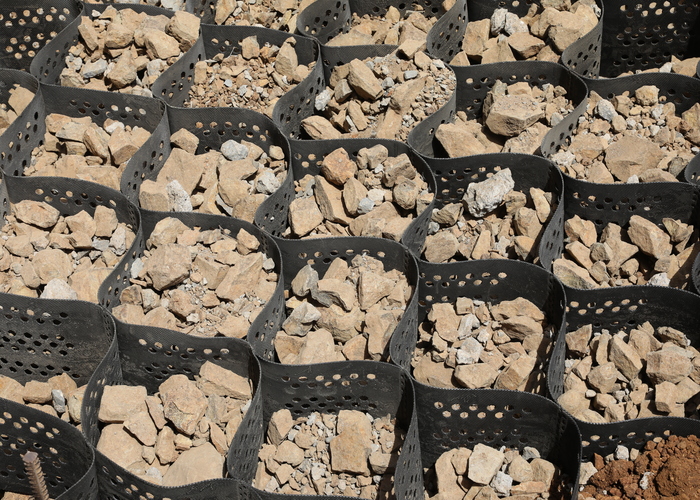 Applications-:
Roads, Rail Tracks and Airfields, Parking Lots, Hard Standages, Container Yards,Factory and warehouse Floors.
Access roads and working Platforms, area stabilization, haul Roads.
Low height gravity retaining walls, facing for reinforced soil walls and slopes, landscaping and Site Gardening Works, erosion control of natural, fill and cut slopes, River, Stream, Canal Bed and Bank Protection
By using Techcell, base / sub-base thickness can be reduced for paved and unpaved roads. Techcell allows economic usage of valuable natural resources including aggregates, sand etc., hence providing cost effective solutions to the geotechnical related issues such as ground improvement, erosion control, channel lining etc. Economical solution to the environment as they can be easily transported as flat strips and slows down carbon footprint by minimizing logistics.
 Techdrain drainage composite:
TechFab drainage composite for Tri planar drainage is manufactured by thermo bonding a drainage core – Geonet comprises of three sets of parallel overlaid ribs integrally connected to have a rhombus shape and nonwoven geotextile, working as separation,filtration and protection layer in accordance with Morth 704.2.1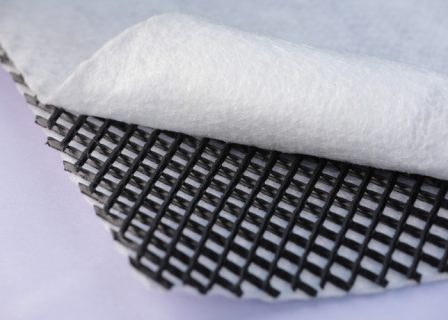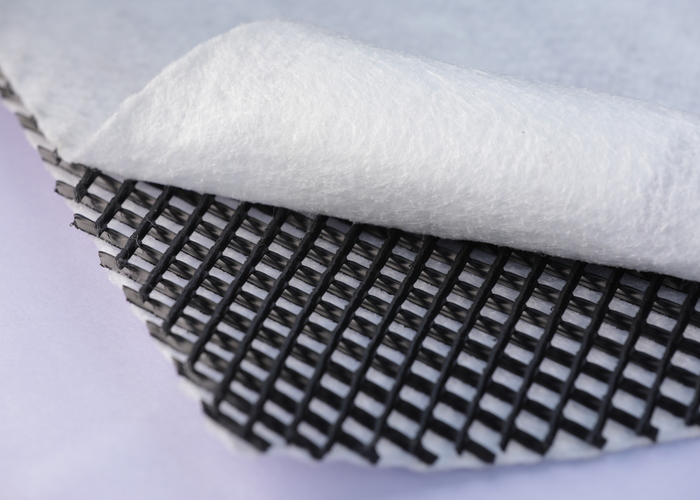 When a geotextile is used on one or both sides of a geonet, the separation and filtration functions are always satisfied, but the drainage function is vastly improved in comparison to geotextiles by themselves. Such geocomposites are regularly used in intercepting and conveying leachate in landfill liner and cover systems and for conducting vapor or water beneath pond liners of various types. These drainage geocomposites also make excellent drains to intercept water in a capillary zone where frost heave or salt migration is a problem. In all cases, the liquid enters through the geotextile and then travels horizontally within the geonet to a suitable exit.